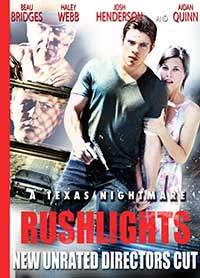 This 2013 indie film's title comes from an 18th century quotation: "Treading through the dreadful darkness of the land, I dipped the pith of a rush into tallow and soon the rushlights guided me down the somberness, the gloomy flames unveiling this unfamiliar soil." This statement quite accurately reflects the very dark nature of Rushlights as it was shot mostly at night with minimal background illumination. Antoni Stutz is the film's writer, director, and producer who eventually succeeded in getting this neo-noir flick re-released in 2016 as an "unrated director's cut."
A couple of young Angelenos, Sarah Johnson (Haley Webb) and Billy Brody (Josh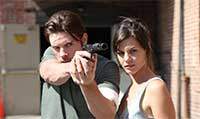 Henderson), are carrying on a pretty torrid affair when Sarah's roommate Ellen suddenly dies from a drug overdose. Going through the late girl's personal effects, Billy finds a letter addressed to her from a Texas attorney Cameron Brogdon (Aidan Quinn). The lawyer's letter states that Ellen has been named the sole heir to the estate of her very wealthy uncle, Zachary Niles who died suddenly under mysterious circumstances. Billy notices Sarah's uncanny resemblance to Ellen, and decides that the pair will pass her off as Uncle Zachary's niece. They drive off to Tremo,Texas in Billy's battered Chevy to scarf up what they believe will be a massive fortune.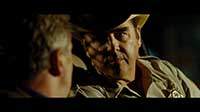 Once inside Uncle Zachary's ramshackle mansion, Sarah and Billy literally trigger a sequence of improbable events, beginning with the accidental shooting of the late Ellen's boyfriend/drug dealer Eddie Romero (Crispian Belfrage) who has doggedly tracked the couple to this backwater Texas town. Sarah, a recovering druggie herself, must somehow come up with hush money for Eddie or he will spill the beans on her fraudulent inheritance scheme. Sheriff Robert Brogden, Jr. (Beau Bridges), Cameron's older brother, and deputy Earl (Jordan Bridges) start poking around the Niles homestead and now have reason to believe that the uncle was murdered, making the estate a crime scene and adding further delays to Ellen's inheritance.  Matters become more complicated when rumors emerge that Uncle Zachary had an illegitimate son who may turn up to lay his own claim to the estate.
Rushlights Unrated Trailer from Rushlights LLC on Vimeo.
In this twisted tale of greed, corruption, brutality, secrecy, and just sheer evil, we gradually discover that the citizens of Tremo are far from the "friendly" small townsfolk that the cheerful city limits sign would suggest. The dramatic tension between the characters builds gradually and one can sense an inevitability of where the storyline is going.  The  film's final twenty minutes become a rapid ride that careens through shootings and betrayals, and ultimately deliver a measure of poetic justice.
For fans of truly dark thriller cinema, Rushlights will recall such classics like Blood Simple with its stark depiction of some really despicable characters. The two young leads of this film, Webb and Henderson, deliver outstanding portrayals of their roles and a measure of the coming-of-age brilliance that Martin Sheen and Sissy Spacek brought to Badlands. Kudos go to the supporting "bad guys," Bridges and Quinn who play off each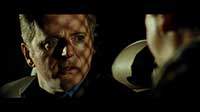 other's personas like the film veterans that they are. Rushlights also benefits tremendously from the economical and intensely intimate camerawork of cinematographer Gregg Easterbrook's crew. Jeffrey Coulter contributes an atmospheric score that fits the action like a glove and the quiet spaces between the musical segments add to the film's dramatic tension. In the words of Antoni Stutz, "this cut of the film is closer to what I had in mind initially. It is edgier. It takes a rather blunt look into the shady side of human nature." With appropriately added scenes, this re-release should surely attract the new audiences that it deserves, given its very limited screenings three years ago.
Rushlights: New Unrated Director's Cut (TheaterByte Movie Review)
Rushlines/Vertical Entertainment
Studios & Distributors
Unrated
Rating Certificate
Antoni Stutz, Ashley Scott Meyers
Writer
Summary
This well-crafted director's cut re-release of a neo-noir thriller effectively depicts the shady side of human nature.
What people say... Login to rate
Be the first to leave a review.
Show more