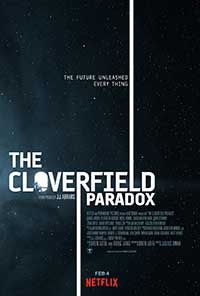 The Cloverfield Paradox becomes the third installment in J.J. Abrams's film franchise with a title that refers to a potentially devastating side effect caused by the Shepard particle accelerator on board the Cloverfield space station. This untested device might be able to create an endless supply of energy for an energy-strapped Earth but if the "paradox" happens, portals might open into other dimensions and threaten the safety of our planet.
Ava Hamilton (Gugu Mbatha-Raw) is a crew member of the Cloverfield and has left her physician husband Michael behind on an Earth verging on world war due to the  severe energy shortages. The other crewmembers led by Commander Kiel (David Oyelowo) are Chinese scientist Tam (Ziyi Zhang), Irish engineer Mundy (Chris O'Dowd), German engineer Schmidt (Daniel Bruhl), Spanish doctor Monk (John Ortiz), and Russian engineer Volkov (Aksel Hennie). After numerous failures, the particle accelerator finally starts up, but after a massive energy burst, something is now definitely amiss. The Earth disappears from view and the navigational grid, and all communication channels go silent. After the Cloverfield settles down, a strange woman, Mina Jensen (Elizabeth Debicki), is found trapped behind a wall and finally rescued. She turns out to be a NASA engineer from another dimension and is desperate to return home at any cost.
Things start going downhill for the Cloverfield crew: Volkov convulses and suddenly dies; Schmidt is suspected of being a German spy and gets confined to quarters; and Mundy gets sucked into a wall and loses his right arm. Tam extracts the missing gyroscope from Volkov's body that, when hooked up to a central console, enables the crew to see Earth again but in another time-dimension. Hardware malfunctions continue and, unless the accelerator is reactivated, a return trip to whatever remains of Earth may not happen.
Back on Earth, all contact with the space station has been lost. When Michael goes to the hospital he sees something ominous in the distance amidst massive widespread destruction. Fortunately, he manages to rescue the sole survivor of the bombed out complex, a young girl, Molly (Clover Nee) and they hunker down in a friend's bomb shelter. The cause of the far-reaching devastation  (spoiler alert) will be revealed in the film's final frames.
J.J. Abrams has produced some sci-fi film classics including Star Trek but this time he gets stuck with a clunker that lingered in development for six years! The devices of parallel universes, space disasters, and an Earth in self-destruct mode have all been previously used to better effect (think the Alien franchise). The numerous opportunities for dramatic contrast between the situation on Earth with the one in space are mostly squandered. Electromagnetic particle accelerators like the fictitious one in The Cloverfield Paradox have been around for a long time but the connection between a huge energy source and the potential ability to enter different dimensions or universes is never well explained or even made plausible. This film's cause is also not aided by Oren Uziel's meandering script, punctuated by a series of predictable disasters, and delivering characters that, with the exception of Mbatha-Raw's Hamilton, bring very little to the figurative table. Sci-fi film veteran cinematographer Daniel Mindel delivers some nice outer space shots but these also highlight the scientific absurdities going on inside the space station. The Cloverfield Paradox began streaming on Netflix after Super Bowl LII ended but viewers that had by then flicked off their televisions, tablets or other smart devices definitely made the right call on this one.
The Cloverfield Paradox is available now for streaming on Netflix
Bad Robot | Paramount Pictures | Netflix
Studios & Distributors
Summary
On an international space station orbiting Earth in the near future scientists working on an innovative energy solution called the Shepard Particle accidentally open a portal to a parallel universe where a mysterious woman informs them she was working on the same project on her version of the Cloverfield station. Famed producer J.J. Abrams gets stuck with a sci-fi clunker in this third installment in the Cloverfield franchise, which was released amidst a shroud of secrecy as a surprise on Super Bowl Sunday via Netflix.
What people say... Login to rate
Be the first to leave a review.
Show more