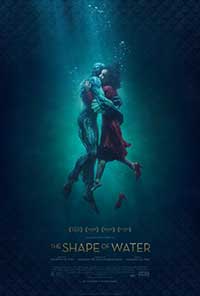 Guillermo Del Toro has written and directed numerous films but he always seems to hit his stride in the realm of fantasy. The Shape of Water clearly borrows its central theme from fairy tales like Beauty and the Beast and Del Toro tosses in an obvious black-and-white homage to this story near the film's conclusion. The gilled and spiny character also bears an uncanny resemblance to the Creature from the Black Lagoon. That duly noted, Del Toro places his unique stamp on the unlikely love story at the heart of this film.
Lonely Elisa Esposito (Sally Hawkins) has a scarred neck from a childhood injury that rendered her mute. She works as a cleaning lady with Zelda Fuller (Octavia Spencer) at a top-secret government laboratory in the 1962 Baltimore area. Colonel Richard Strickland (Michael Shannon) has just returned from South America with "the asset" (Doug Jones) that eventually costs him two of his fingers. At General Frank Hoyt's insistence, Dr. Robert Hoffstettler (Michael Stuhlbarg) will experiment on this amphibious creature to give the United States an edge on the growing Space Race with the Soviet Union. Hoffstettler is actually a Russian spy and plans to turn over his laboratory findings to his handler Mikhalov (Nigel Bennett) and then get spirited out of the country. Elisa and struggling gay commercial artist Giles (Richard Jenkins) are next-door neighbors in a group of rundown apartments above the Orpheum Cinema. Giles is Elisa's confidant and interpreter as she shares her growing attachment to the creature that she visits on her daily cleaning rounds, while introducing him to human food, music and her sign language. When she learns that the scientists are going vivisect the amphibian, Elisa convinces Zelda, Giles, and Hofstettler to rescue the creature and hide him in her apartment's bathtub. Their relationship soon becomes intensely intimate and Elisa discovers that he also has extraordinary healing powers.
The relentless pill-popping Strickland spirals out of control after receiving an ultimatum from Hoyt: find the "asset" or get fired. When the creature's health begins to fail, Elisa realizes that if she does not soon return him to the ocean he will die. The final act of the film turns into a tense race against time that will determine the fates of this young lady and her non-human lover.
I am rarely overwhelmed at the end of a movie but The Shape of Water left me emotionally drained and with a palpable lump in my throat. The closing lines, recited by Giles, sum up the imagery and symbolism of this brilliant film: "Unable to perceive the shape of You, I find You all around me. Your presence fills my eyes with Your love, It humbles my heart, For You are everywhere." Writer/director Del Toro has created a visual masterpiece thanks to Dan Laustsen's remarkable camerawork and the period perfect sets of Jeffrey A. Melvin and Sean Vieau. Renowned screen composer Alexander Desplat contributes a gorgeous score supplemented with loads of romantic standards. In the end, it is the script by Del Toro and Vanessa Taylor that gives this superb cast outstanding material with which to work. The major miracle on the screen is the creation of a heartfelt romance between the creature and frail young woman that is as credible as any that might occur between two human lovers.  Granted that the villains, on both sides, are blatant stereotypes but, after all, this is a fairy tale and there should be no question about who is good and who is bad. Hawkins, Spencer, and Jenkins have been nominated for acting Oscars, while Del Toro has received nominations for Best Director, Best Script, and Best Picture among the thirteen total bids for this picture. Films that are this creative, compelling, and unusual do not come along every year, let alone every decade. Whether or not you are a fantasy film fan, The Shape of Water is absolutely the must-see film of the year.
The Shape of Water is in theaters December 22, 2017
Bull Productions | Double Dare You | Fox Searchlight Pictures
Studios & Distributors
R (for language, sexual content, graphic nudity, violence)
Rating Certificate
Guillermo Del Toro
Director
Guillermo Del Toro | Vanessa Taylor
Writer
Summary
In his latest fantasy, writer/director Guillermo del Toro crafts a story set in the 1950s where a lonely janitor (Sally Hawkins) in a top secret facility bonds with a strange amphibious creature being held there in captivity. The Shape of Water is a modern masterpiece; an unlikely love story that is rewarded with an outstanding script, direction, cast, and cinematography -- and it is heart-warming to boot.
What people say... Login to rate
Be the first to leave a review.
Show more