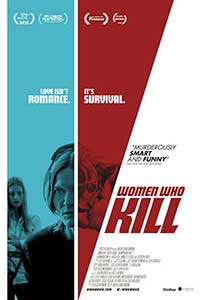 "Women who kill " are NYC Internet radio personalities Morgan (Ingrid Jungermann) and ex-girl friend Jean (Ann Carr). After their recent podcast that lists the "best" women serial killers of all time, they visit a maximum security prison to interview murderer Lila Childs AKA "The Bad Professor" (Annette O'Toole).
Morgan then goes to her day job at the Greene Hill Food Cooperative run by Grace (Deborah Rush) and meets Simone (Sheila Vand). Notorious for her inability to commit to long-term relationships, Morgan becomes completely infatuated with this beautiful young woman whom she scarcely knows. Big Alex (Shannon Patricia O'Neill) welcomes Simone into their lesbian drinking and softball club, and, before you know it, Morgan and Simone are out on a "date."
Simone admits that she knew Morgan from her podcasts and had already become a huge fan of the show. Soon the two women become a loving couple and are spending most of their spare time together. One evening, Grace is found dead under mysterious circumstances in the Co-op's rooftop organic garden. Jean's background investigation reveals that Simone Ellis is actually Allison Walker, the daughter of serial killer, Josephine "The Clipper" Walker (Jacqueline Antaramian) who clipped her victims' nails before murdering them. After sharing this information with Morgan, Jean begins to fear for her former girl friend's life, particularly after she has moved in with Simone.
As Morgan gets to know Simone/Allison better, she starts to suspect that her new roommate may really be a serial killer and may have actually been the notorious "Clipper" killer responsible for the six killings. After Morgan makes grisly discovery in a secret box stored in Simone's apartment, the film's tension rises and its mood becomes darker. Jean and Morgan begin to trail Simone as she goes to a hardware store and suspiciously buys a big shovel. You now might think that you have figured things out but there are some twists to keep you off-balance until just before the end credits begin to roll.
Women Who Kill is writer/director/actor Ingrid Jungermann's feature-length film debut and delves into women's relationships and the various forces that drive them. There is an authenticity to the dialogue that only a woman could write for other women and that is the main strength of this little film. Jungermann stints on giving us truly interesting characters, and spends precious little time with talented veteran actors Annette O'Toole and Deborah Rush. The script is also a bit of a hodge-podge, vacillating as it does between humor and horror with a dangling finale that seems awkwardly pasted in. Cinematographer Rob Leitzell, also working in his first feature-length film, deftly explores the intimacy of the relationships that fuel this show and provides some very nice Big Apple locations shots. Ivan Howard contributes a score that tells viewers from the get-go that this will be a somewhat off-center and quirky comedy-crime flick. Women Who Kill has made the circuit of the film festivals and began a limited screening on July 26, 2017.
Women Who Kill winner at the 2016 Tribeca Film Festival and Outfest is Available on TVOD/EST, DVD, and Blu-ray August 29, 2017.
FilmRise | Parts and Labor Productions
Studios & Distributors
Ingrid Jungermann
Director
Summary
A feature-length film debut from Ingrid Jungermann that takes on commitment issues, serial killers, and lesbian relationships.
What people say... Login to rate
Be the first to leave a review.
Show more