Remember the first time you ever saw massive, high-end speakers? Bigger and more expensive than anything you thought possibly logical or necessary? In my case, it was the THIEL CS5 model loudspeaker from about 20 years ago.  As a young music lover and budding audiophile, I distinctly remember reading about them in Stereophile and marveling at their massive stature.  My small Texas hometown had no proper high end audio dealer all those years ago. As such, my experience with THIEL's audio products then, and even up until now, has consisted only of reading about the company's beautifully designed loudspeakers.   Headquartered in Lexington KY, THIEL is one of only a handful of speaker companies I'm aware of that still design, engineer and manufacture a majority of their products domestically.  THIEL began building speakers over 30 years ago, headed by Jim Thiel, a respected engineer and loudspeaker designer.  Sadly, Jim passed away late last year.  The company continues its dedication to high-end full tower designs, subwoofers, on-wall/in-wall models, and front/center/surround bookshelf speakers.  The SCS4 falls into that last category, and it was with great anticipation I awaited their arrival.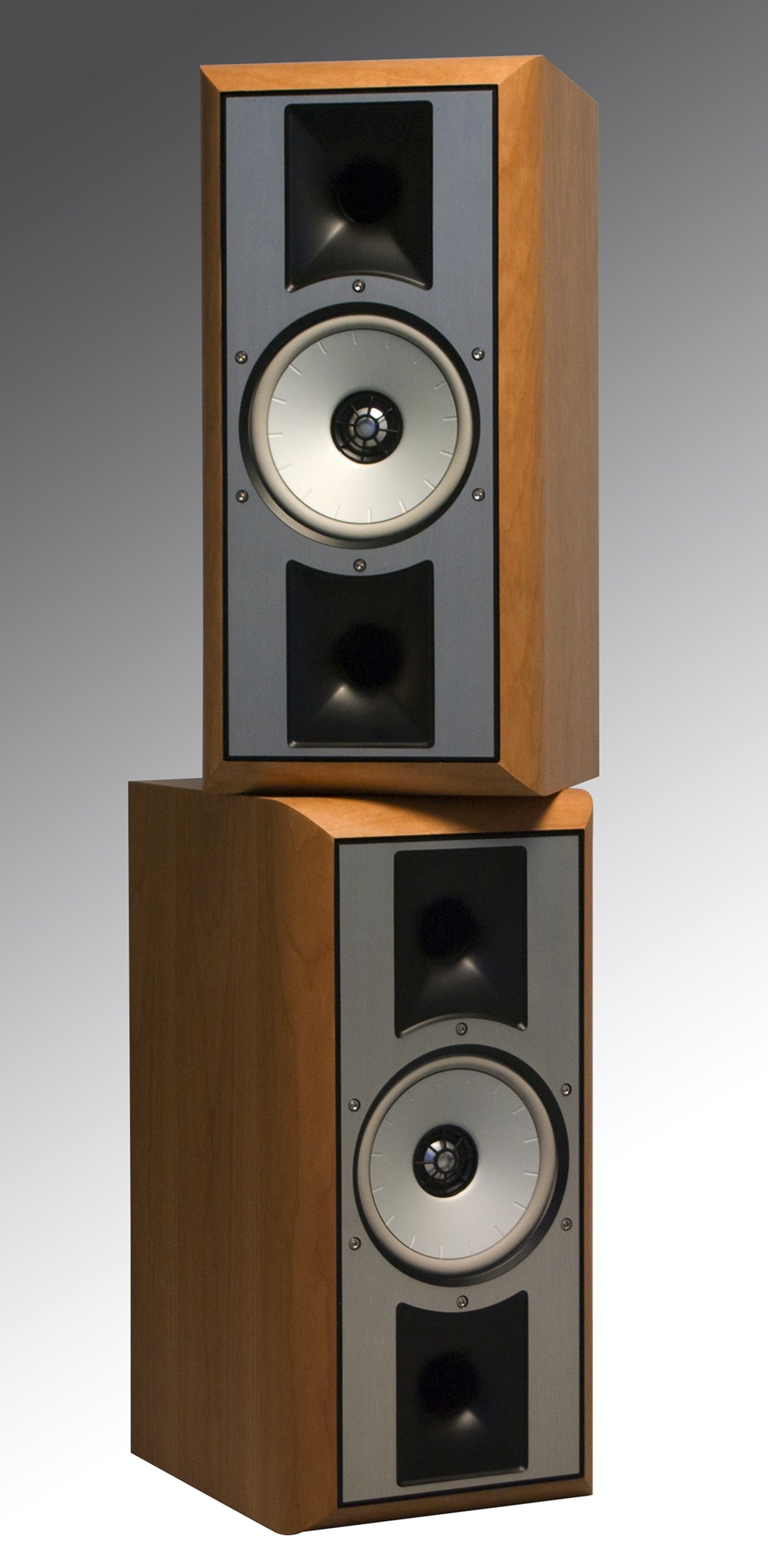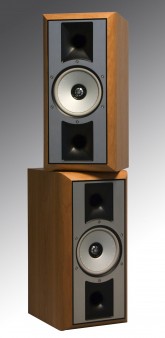 A Beauty In Design
The SCS4 designation is short for THIEL's Small Coherent Source 4th generation design.  Although manufactured in China, the final assembly and quality control of the SCS4 takes place in THIEL's Kentucky headquarters.  The SCS4 is configured with a coaxially mounted 1″ tweeter and 6.5″ aluminum midrange driver that are time and phase aligned, design choices which allows them to be placed either horizontally or vertically.  Priced at $990 each, you can easily mix and match them in them for multi-purpose duty as main L/C/R, or even as surrounds to THIEL's more substantive loudspeaker designs.  After unboxing, I was greeted with a very attractive speaker that measures 8.5″ W x 11″ D x 17.5″ H and weighs in a solid 25lbs each.  My review pair was finished in Dark Cherry and includes a magnetically attached perforated metal grill that looks to be about 50% transparent.  Just enough to see the front 'business end' of the speaker, including two front-facing ports and aluminum baffle, but not enough to call attention to itself.   I was instantly smitten by the wood veneer of the speakers.  Slightly tapered towards the front baffle and finished without any visible seams, I found their reddish-brown color gorgeous, and very similar in nature to my own B&W Nautilus series.  Around back, the SCS4 receives speaker wire via a set of hefty 5-way binding terminals, however there is no option for bi-wiring.  My reference Straightwire speaker cables are bi-wire, and THIEL made arrangements for a 16 foot pair of Wireworld's Oasis 6 speaker cable ($445 pair) to be used with the speakers reviewed here.  The Oasis 6 is a superbly constructed set of speaker wires, with an ingenious set of friction-based banana plugs which allowed for a more solid connection to both amp and speaker than any other set of banana plugs than I had ever used.
Up On Your Stands!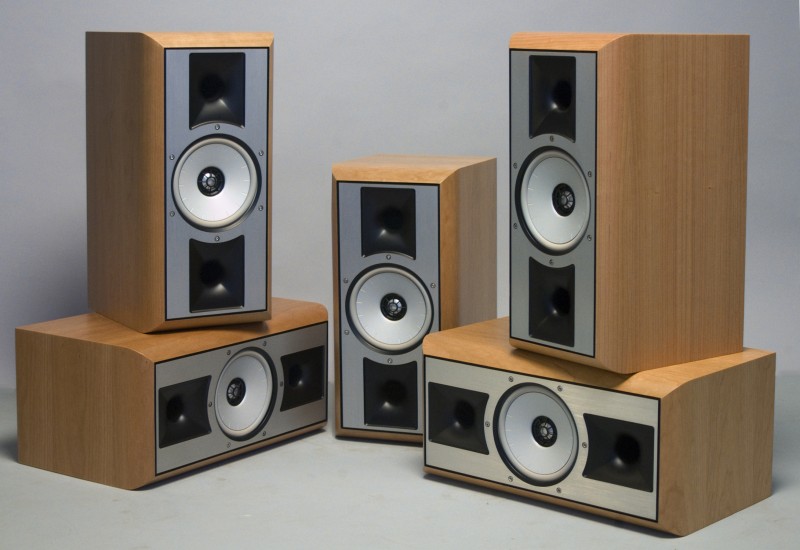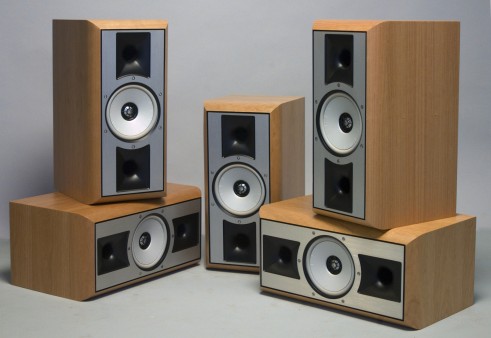 I placed the SCS4s on a pair of 26″ tall stands which allowed for the center of the woofer and coaxially-mounted tweeter to be about 35″ off the ground, at approximately the same height as my ears while seated.  To review the THIELs, I wanted to pair them with a moderately priced, but still capable, stereo amplifier.  Luckily, I had acquired a Meridian 556 100watt X 2  solid state amplifier just a few months prior. I hooked up the amp via single-ended connections to the pre-amp outputs of my Denon AVP-A1HDCI processor. I placed the speakers approximately 8 feet apart, with their front baffles tilted in towards my listening seat and 34″ away from my rear wall. Although the front/center/surround flexibility of the SCS4's cannot be denied, I really wanted to focus on their performance in a strict stereo-only set-up. From all of the past speakers I've owned and listened to, I know that beginning with standard stereo will present an honest sonic picture, that is typically only improved upon when used in multi-channel applications or with a sub.
First Listen
THIEL had kindly offered to break-in my review pair of SCS4s for a few days, acknowledging that a proper break-in period was important to reveal their true characteristics. With the assumption that the units would be sufficiently loosened up, I sat down eager for a listen. I began with the new Jimi Hendrix Valleys of Neptune CD release.  Although it doesn't purport to be an audiophile experience, I was eager to hear if these moderately sized THIELs were in the mood to rock out with the guitar god.   Starting with the track "Stone Free", the SCS4s needed a hefty twist of the volume knob to get the sound flowing at a decent level.  I remembered that their sensitivity is a lower-than-average 87dB and increased the volume accordingly. What I initially heard was a balanced and polite midrange, but one held back by a lack of low end heft.  Of course these are but a set of moderately-sized bookshelves! Still, I felt something might be lacking from a break-in standpoint.  Not wanting to taint my initial impressions any further, I put down my notepad, and left the speakers to play for several days straight as I left town for a three day visit to the great state of Pennsylvania.
Second Time's The Charm?
Upon my return to the SCS4s, I lined up a favorite stack of discs, and several albums fed from my music server.  First up was Willie Nelson's Stardust SACD.  I have always liked this recording, with songs like the title track serving up old Willie's voice calm, pure and true.  The SCS4 reproduced this very naturally with a definite audible benefit to the coherent driver design.  The sound had indeed opened up more from breaking in the drivers!  The focus and textures of the vocals was indeed coming from a singular point-source, without any audible side effects of the crossover.  Listening to Willie's lightly picked guitar arrangements and sometimes delicate voice, I was impressed by the natural, uncolored sound. Moving on to Alice In Chains SAP and MTV Unplugged releases, I enjoyed the smoothness of the many acoustic guitar phrases and separation of the layered vocals on tracks such as "I Stay Away."  The treble characteristic was detailed, but not at all overbearing or unbalanced.  I liked how the SCS4s were not fussy about getting a good midrange focus.  Their relatively narrow baffle design allowed for good imaging, letting vocals  stay anchored in the center image, with no coloration as you moved off-axis.  The magnetic grills did not impart any sound of their own to the speakers, I was unable to discern any difference in sound with them off or on.  I listened for many hours straight, including to vinyl LPs from Wilco and even more Willie Nelson.  Several times, I was able to quickly A/B my speaker/amp combo of Bowers and Wilkens Nautilus 802s and McIntosh MC-402 by simply turning off the Meridian amp and turning on the McIntosh.  This should not be viewed as comparable systems, given the size and price difference, but I knew something was missing.  That something was dynamics in bass and volume.
Top To Bottom
The "weight" or "heft" of music that a speaker can reproduce is easily one of its most distinguishing characteristics when compared among different brands or models.  As neutral as the SCS4 affords the critical midrange and competent treble balance, it does fall short in that juicy mid-bass range which holds the bass guitar, drum and overall weight of well mixed rock and pop music.  Yes, many small and bookshelf speakers cheat this sound by exaggerating frequency via design such as porting and resonance.  We've all heard the boomy home-theater-in-a-box systems on display at mass market retailers with thunderous one-note bass notes attempting to impress the novice listener.  Of course that's not what we're after here.  What I do want to hear is bass guitar thick enough to remind me that it is the foundation of a good rock band, or kick drum punchy enough to accent the beat appropriately.   The SCS4, sans sub, was not providing enough of that for my tastes.  To rule out a possible amplifier mismatch, I used my McIntosh MC-402, connected to the THIELs via the amp's 4 Ohm binding posts.  The nominal impedance of the SCS4s is rated at 4 Ohms, so no cheap home theater receivers need apply for amplification duty here.  What I heard with the McIntosh pushing the SCS4s was an improvement in the already-nice midrange clarity and balance, as well as a slight improvement to the bass "punchiness;" Enough to make me forget I was listening to moderately sized bookshelf speakers?  Unfortunately not. Just to make sure my expectations weren't too far off base, I pulled out my 15-year-old pair of NHT Super One bookshelf speakers.  Although they retailed under $500/pair, I've hung onto them as I always found their sound to be balanced for their small footprint.  In comparison to the SCS4, the NHTs gave more of that bottom-end that I was craving, while giving up some of that coherence and focused midrange that I could easily appreciate from the THIELs.  To cover all my bases, I swapped out the Wireworld cables for a too-short-for-comfort set of Straightwire Encore II speaker wire.  This was a step in the wrong direction, as the Oasis 6 from Wireworld really let the true midrange sound of the THIELs come out.  The Straightwire cables were positively veiled, and presented an obviously shrunken soundstage in comparison.  Color me impressed with the beefy Wireworld offering!
Making Their Case
The THIEL SCS4 speakers have a lot going for them.  Well-designed, both mechanically and aesthetically, they are serious speakers in many respects. Paired with a quality amplifier that is capable of meshing well with their 4 Ohm impedance, you will get a midrange that is virtually uncolored and politely balanced. However, without a sub, you will be missing that critical and satisfying "weight" of your favorite recordings and performances. Even at low volumes, the best speakers, small and large, have that ability to fill the room with sound that even a non-critical listener can recognize as something special.  The SCS4 doesn't achieve this, but that could very well be a conscious decision on THIEL's part. There is only so much that can be achieved with a smallish driver and moderately sized cabinet. If you already use a quality sub and amplifier, that point may be a moot one for you, and the nice midrange balance provided by the SCS4s may be all you need to complete your stereo or multi-channel setup.
The Good:
Versatile design allows for flexible placement options
Outstanding finish and build quality
Accurate midrange and imaging
The Bad:
Need subwoofer to extend bass and dynamics
Requires capable amplification for best performance
Expensive
The Scorecard
Design
[Rating:4.5/5]
Performance
[Rating:3.5/5]
Value
[Rating:4/5]
Overall
[Rating:4/5]
Specifications:
1″ Aluminum dome tweeter, 64g (2.3oz) neodymium magnets with copper pole sleeve, short coil/long gap design with 3mm Xmax coincidentally mounted with woofer
6.5″ Aluminum cone woofer, cast frame 1.7″ diameter voice coil, short coil/long gap motor system
Frequency Response 48Hz to 20kHz (+/-3dB)
Sensitivity 87dB/W/m
Impedance 4 Ohm (3 Ohm min)
Dimensions  8.5″ W x 11″ D x 17.5″ H
Weight 25lbs each
More information:
THIEL SCS4 (SRP $990 each)