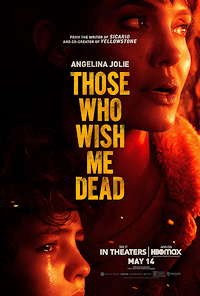 It seems like Angelina Jolie has been making movies forever, actually it has been only for a quarter of a century. While her roles have covered a wide range of characters from Lara Croft to Maleficent, Ms. Jolie has always excelled in portraying strong women who have to beat some mighty big odds just to stay alive (Salt, Mr. & Mrs. Smith, Taking Lives). Such a character is Hannah Faber, a smokejumper or parachuting forest fire fighter, who has been emotionally traumatized by her failure to save three boys during the last fire in which she was involved. Now working in a fire lookout tower in Park County, Montana, Hannah will get inadvertently drawn into a murderous web woven by two assassins, brothers Jack (Aiden Gillen) and Patrick Blackwell (Nicholas Hoult).
A forensic accountant for mob boss Arthur Phillip (Tyler Perry), Owen Casserly (Jake Weber) has just been put on the Blackwell brothers' hit list. Owen heads for Montana with his young son Connor (Finn Little) to reach his brother-in-law, Deputy Sheriff Ethan Sawyer (Jon Bernthal) who happens to be Hannah's former boyfriend. Owen and Connor make it to Montana but are intercepted by the Blackwells who fatally wound Owen but not before he gives Connor a written list of accounts that will incriminate Phillip. Connor takes off running but is soon picked up by Hannah who takes him to the lookout tower that has had its electricity and communications systems knocked out by a recent storm.
To distract the local authorities, the Blackwell brothers ignite a forest fire and go to Sawyer's house only to get the short end of an armed encounter with Ethan's pregnant wife Allison (Medina Senghore). Ethan has been alerted by Allison's distressed phone call but on returning home, he gets caught by the Blackwells who force him to guide them to Connor so they can kill the boy and get the evidence. What ensues is a serious cat-and-mouse game between the two assassins and Hannah and Connor who must contend with a near-fatal lightning strike, a running gun battle, and a raging forest fire.
Those Who Wish Me Dead (2021)
Director Taylor Sheridan came to my attention by way of Sicario and Hell or High Water. He does the best he can to deliver an action-driven thriller but, unfortunately, the formulaic hide-and-seek script provided by screen newcomer Michael Koryta gives him and his talented cast relatively little to work with. 14-year-old Finn Little, an accomplished young Aussie actor, is given little else to do except to whimper and occasionally wipe his nose—too bad! There were some glaring inconsistencies in the storyline. In the cabin scene when the Blackwell boys are "duking it out" with the pregnant Allison, I was puzzled by their sudden compassion, particularly after they had gunned down or blown up every man, woman and child whom they had previously encountered. I also wondered how Connor could have kept the handwritten sheets of his father's evidence dry when he jumped into the river to escape the fire. There is also a so-called fight scene between Hannah and Patrick Blackwell in which the latter could have easily dispatched her with his assault weapon but somehow gets close enough to get nicked by her hatchet. What rescues this film from absolute mediocrity is the overwhelming visuals of the CGI forest fire, the sweeping landscapes of green forests, and Angelina Jolie being her usual badass self. Perhaps my expectations for this film were too high, given some of the previous Jolie films that I have watched but Those Who Wish Me Dead is just plain disappointing.
---
If you found this article useful please consider clicking the button below and donating to help keep TheaterByte funded, which will allow us to continue posting great content.
---
---
Rating Certificate: R (for violence and strong language throughout)
Studios & Distributors: BRON Studios | New Line Cinema | Creative Wealth Media | Bosque Ranch Productions | Film Rites | Warner Brothers Pictures | HBO Max
Country: Canada | USA
Language: English
Run Time: 100 Mins.
Aspect Ratio: 2.39:1
Director: Taylor Sheridan
Written By: Michael Koryta
Street Date: 14 May 2021