In for a Penny, in for a Pound
Forget the ancient format war (what, there was a format war?) and forget those Super Upscaling whatsits that Toshiba was hawking, the company is actually making some decent Blu-ray players now and the BDX5200 is no exception. Loaded with a bunch of the latest internet apps and of course 3D capability, the player with a $179.99 MSRP just could be worth looking at for someone wanting to get into the Blu-ray 3D game.

It's thin, only 1.7 inches high to be exact, and with a depth of only 7.6 inches as well, it's similar to most mass market consumer brands and can fit just about anywhere. The right front of the unit bears a touch sensitive control panel that contains the normal controls for playing, fast forwarding, rewinding, skipping back/forward, pausing, and stopping discs, plus the power on/off button. When not in use, these controls disappear entirely while a light tap on the front of the player will set them aglow in bright white. Unfortunately, the bright blue glowing Blu-ray Disc logo that lights up when the unit is powered on can neither be dimmed nor turned off, nor can the the display panel on the front of the unit be dimmed or turned off, so unless you have this unit hidden away while watching a disc, it can be rather distracting in a darkened home theatre or living room setup. The far right side of the BDX5200 has a SD/SDHC card slot. You'll need at least a 1GB SD card (or USB flash drive) for BD-Live playback since this unit has no built-in storage. The SD card can also be used for playback of compatible media files. On the left front of the unit is the disc tray which is flush against the front.
The rear of the BDX5200 is where you'll find the Ethernet jack, USB port, coaxial digital out, composite video out, 2-channel analogue audio out (L/R) jacks, an HDMI 1.4 jack, and the AC power cord. The player also has built-in wi-fi so you won't have to run any Ethernet cables from the unit to your internet router to connect it to the internet if you don't (or can't) want to. And, unlike a lot of other players, "built-in" means "built-in" with this player. There are no USB dongles to plug in; the wi-fi is completely internal.
3D, The Cloud, and More
The BDX5200 is packed with most of the things consumers would expect in a Blu-ray player today. It's 3D compatible (Profile 5.0), BonusView (Profile 1.1) and BD-Live (Profile 2.0) compatible, it does Dolby TrueHD and Dolby Digital Plus, DTS-HD Master Audio and High Resolution decoding and bitstreaming via HDMI, it's DLNA compliant, meaning you can access the multimedia files stored on your computer or networked hard drive and play them back via the BDX5200, and, finally, it comes with an array of internet-enabled apps. In the case of the BDX5200, that means you get Netflix, Blockbuster, Pandora, CinemaNow, YouTube, and VUDU.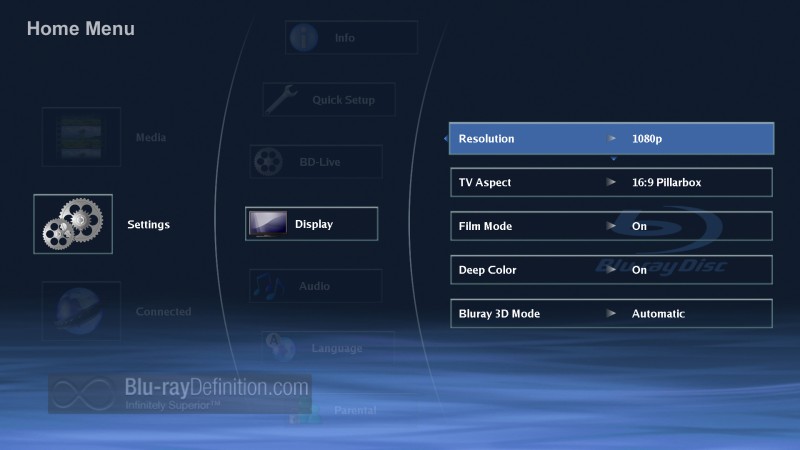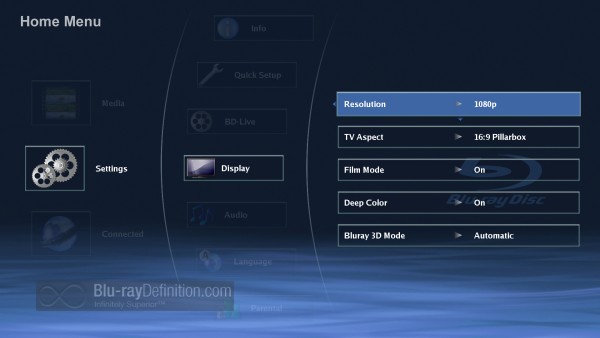 Getting' Hooked Up
I connected the unit to my system, initially for strictly 2D playback testing through my Onkyo TX-SR805 A/V receiver and passed through to my Samsung UN55C8000 LED TV via HDMI. For 3D testing, I would go directly to the Samsung with an HDMI 1.4 cable since my Onkyo is not 1.4 compliant, an issue easily avoided with my Oppo BDP-93's dual HDMI outputs. This is a definite mark against the Toshiba, which has only one HDMI 1.4 port and thus will force you to upgrade any older A/V equipment if you plan on watching 3D and on listening to the advanced audio codecs.
Unlike the Toshiba BDX3000 that I reviewed some time ago, which was quite sluggish to respond to the power on from the remote and had an issue where the unit would freeze up when powered off and require a hard reboot (unplug entirely from the power), this unit was quick to respond and startup. It also had no issues with freezing up the whole time I had it in my possession.
When I first turned the unit on, it brought up the "Quick Setup," which I went through to do basic settings on the player. This wouldn't work for the wi-fi, however, since my wireless network is hidden and requires manual input of the network name and passkey. That option isn't offered in the quick setup. When the Quick Setup was finished, I went into the settings menu to further customize and double-check all the settings. There are settings for output resolution (480 through 1080p), Film Mode (which toggles 24p support on and off), TV Aspect (16:9 Wide, 16:9 Pillar Box, 4:3 Pan and Scan, 4:3 Letterbox), Deep Color, and Blu-ray 3D Mode (Automatic, Forced 2D), all the same as the BDX3000. I set Display settings to Resolution:1080p, TV Aspect: 16:9 Pillar Box, Film Mode: On, Deep Color: On, Blu-ray 3D Mode: Automatic.
In the Audio settings menu, there are options for PCM Downsampling, Digital Output, Dynamic Range Control, and Stereo Downmix. I set these to PCM Downsampling: Off, Digital Output: Bitstream HD, Dynamic Range Control: Off, Stereo Downmix: Auto.
Other settings include Parental Controls, Time Zone settings, CEC (consumer Electronics Controls) support, Optical Disc AutoPlay, and Screen Saver Duration that can be set all the way from "Off" to "30 minutes."

One thing that Toshiba still hasn't worked out is the overall sluggishness of their menu system on these players. Starting up the BDX5200 (and the BDX3000), the player starts into the Home Menu, which is a floating "cube" design of hierarchical menus. The problem is, each submenu takes what feels like a lifetime to load and navigating from one cube to the next has an obvious lag time. This is made all the worse by a remote control that has one of the narrowest fields of operation I have come across in a long time. Moving it off angle by a slight margin causes a headache. I really had to point the thing straight at the player to get the player to recognize the commands.
More on the Remote
The Toshiba BDX5200's remote seems to have been slightly redesigned from the higher-end BDX3000's (yes, I know that 3000 is a lower number, but, trust me, it's a higher model). It is a typical wand-type remote that most enthusiasts will probably want to replace with a universal remote of their choosing, but it has the added benefit of including a Netflix button. However, they seem to have removed the Go To button, which lets you jump to a specific time code on a Blu-ray Disc. The remote still has no backlighting at all and no luminescent buttons, making it nearly impossible to use in a darkened home theatre environment and it also has a narrow field of operation, as I mentioned above.
Hey, let's network!
All of the issues with wi-fi that I came across when reviewing the BDX3000 seem to have been ironed out, because accessing and maintaining the wi-fi connection with the BDX5200 was a cinch on my hidden, password protected wi-fi network. I entered all the information manually and it logged on, 1,2 3! It never lost the connection, even after powering off, which is something I couldn't say about the 3000.
Let's Go to School
It was time to put the Tosh to the test and see how it would fare on the HQV 2.0 benchmarks. I pulled out the Blu-ray benchmarks first and, as I would expect from any halfway decent Blu-ray player, the BDX5200 was impressive in all of the high definition benchmarks I ran it through. First up were the Video Resolution Tests and in the test with a Rotating White Bar on a black background the 5200 was perfect showing no stairstepping in the bar at all; it was the same again with the Rotating White Bar against a patterned background. In the test with 12 bars in a circular waving pattern, the BDX5200 was again perfect, showing an absolutely clean pattern. A video clip showing a girl playing a violin was also flawless.
The Film Resolution tests were next, and I must admit that the Toshiba surprised me here and surpassed my expectations. I'd just reviewed the Marantz UD5005 and, not too long ago, the Marantz' sister player the Denon 1611UD, and both of those players stumbled on at least one aspect of this test, the 2:2 cadence. The Toshiba, however, was perfect on both. In a scene panning across an empty football stadium, first at 2:2 and then at 3:2, the Toshiba locked in on both and showed no flicker . It was quicker to lock in on the 3:2 material, but on the other hand, it showed some slight moiré in the empty stands before locking in on the 3:2 material where it didn't with the 2:2. Either way, the far less expensive Toshiba outperformed the higher-end Marantz and Denon in this particular test (and in all multi-cadence tests, as you will see below).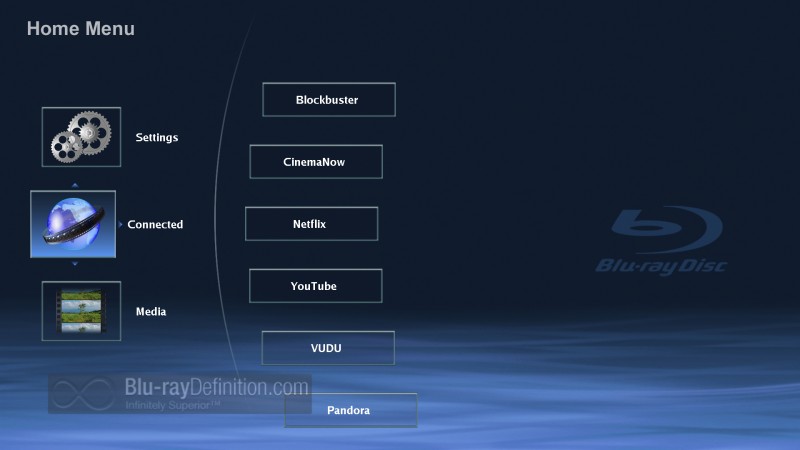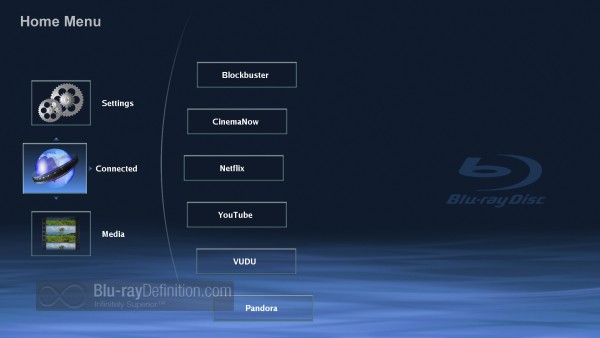 Finally, I moved on to the Text Overlays on Film and Multi-Cadence tests where the Toshiba once again had a strong showing. Vertically scrolling text showed just a little bit of judder and shredding while the horizontally scrolling text was perfectly smooth and clean. In the Multi-Cadence test, The Toshiba performed admirably, locking in on all of the unusual cadences rather quickly displaying no flicker. This is something that, once again, the Marantz UD5005 and Denon 1611UD players failed at, especially on 2:2 material, where they could never lock on to that cadence and some other cadences in the Multi-Cadence test.
In the HQV DVD benchmarks, the results for the BDX5200 were nearly the same as the Blu-ray benchmarks, but not quite as good. The Video Resolution tests yielded perfect results for the Rotating White Bar on the black background and Rotating White Bar against a patterned background test, but the 12 bars in a circular waving pattern test showed stairstepping in the lower three righthand bars. This seems to be an area where many players stumble, but it rarely yields much, if any, very noticeable results during normal playback. A clip of the U.S. flag waving in the breeze with a brown-bricked building in the background didn't show any aliasing, but there wasn't a lot of detail in the bricks in the background.
On the Film Resolution tests, showing a race car zipping by on track with an empty grandstand in the background, the BDX5200 was good at 3:2 24Fps Film; it was quick to lock in, but there was slight moiré at the beginning, just as in the Blu-ray test. With the same clip at 2:2 30Fps Video the player took a little bit longer to lock in, but the image was good without flicker or moiré
The Text Overlays on Film and Multi-Cadence tests yielded the expected results. Vertical text was smooth with no shredding. Horizontal text looked a little juddery. Guitar strings in the video clip seemed to show just a slight amount of aliasing. On the Multi-Cadence test, the player once again handled everything flawlessly with only the slightest bit of noticeable judder on the most unusual animation and Anime cadences, such as 5:5, for example.
On Your Mark…
Before I tested some discs, I did some disc load time tests, which has been the bane of the Blu-ray format from the very early days. Although there has been some improvement in that area, some stand-alone players are still a little slow on the uptake, so to speak. I wasn't confident about the BDX5200 given its already sluggish menu system, but its power on time, which I clocked at 5.3 seconds from standby to home menu was a good start. Here are some times I achieved, in minutes and seconds, testing the Toshiba BDX5200 using my iPad stopwatch App and going from an open tray to top menu, allowing all trailers and copyright warnings to play through. I've also included comparative load times for a couple other players and titles below.
Toshiba BDX5200:
Pirates of the Caribbean: Curse of the Black Pearl – 13:43
The Incredibles* – 5:05.683
*I was required to select a language for the Incredibles, which may have added some time to this result
The Fifth Element (Remastered) – 55.237
Comparative Players:
Denon 1611UD:
Pirates of the Caribbean: Curse of the Black Pearl — 13:26
Fifth Element Remastered – 37 sec.
Up — 7:47
Inception – 2:45
Toshiba BDX3000:
Avatar Extended — 2:06
Sorcerer's Apprentice — 7:54
Inception — 3:02
Marantz UD5005:
Pirates of the Caribbean: Curse of the Black Pearl – 13:20
Fifth Element (Remastered) — 36 sec.
The Incredibles — 4:42
Let's Play
Now I was ready to see how the ToshibaBDX5200 handled real world playback. First, a quick word on the playback menu. Toshiba still has the same rudimentary "Info" menu that one can access while playing discs. Unlike a number of other higher-end players like the Denon, Marantz, Oppo, Playstation 3, or even players from Panasonic and Sony that offer audio and video codec information and bitrate meters, Toshiba just gives time elapsed, time remaining, and disc type. They do allow you to access a Picture menu that lets users tweak the image further, which offers some basic sharpness, contrast, and gamma controls.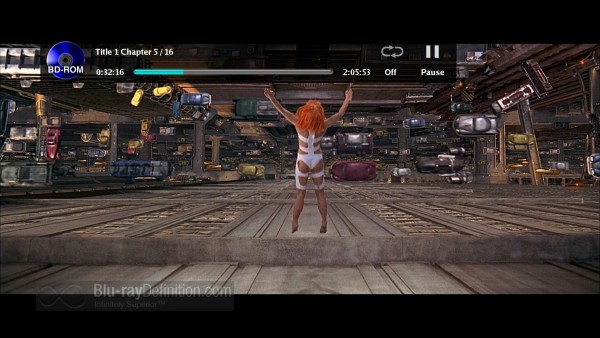 Now, onto the discs. I pulled out one of my favorite Blu-ray reference discs, The Fifth Element (Remastered) and went straight to the scene I always use as a guideline, Chapter 5, where Leeloo (Milla Jovovich) leaps from the ledge and lands in Korben's (Bruce Willis) cab. It looked clean, crisp, and detailed. Perhaps, if anything, the colors didn't seem to pop as much as they usually do, but that is something that could possibly be tweaked with calibration more specific to this player.
Next up was another favorite of mine, Disney•Pixar's The Incredibles' "100 Mile Dash" as Dash runs through the jungle at top speed away from the villains. Again, the colors didn't seem to pop, but the detail in the foliage was all there and I saw no sort of aliasing or macroblocking.
Then I tried Avatar Extended Collector's Edition Chapter 17 "First Flight" and the Toshiba again showed very good results with nice, bright colors and and strong depth of field, but compared to my Oppo BDP-93 or my Panasonic DMP-DT350, it didn't look quite as rich in tone or as "natural," if one could apply that descriptive to Avatar. With all of that said, I was quite pleased with the 2D Blu-ray playback of the BDX5200. I didn't run into any playback issues, and the player performed solidly and had a strong HD picture.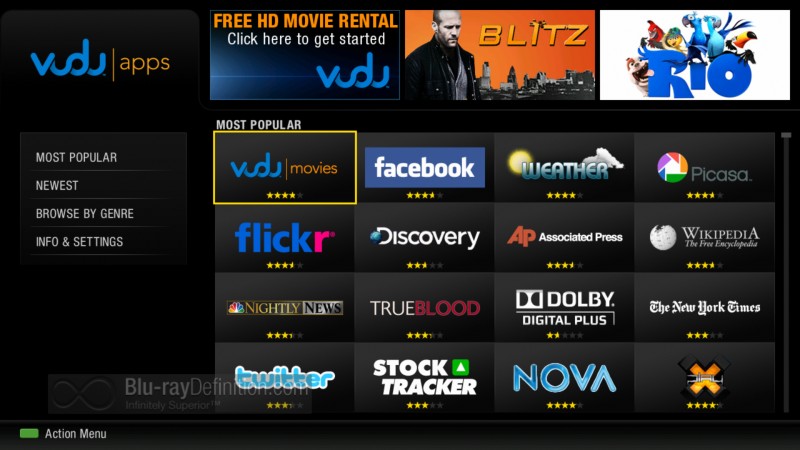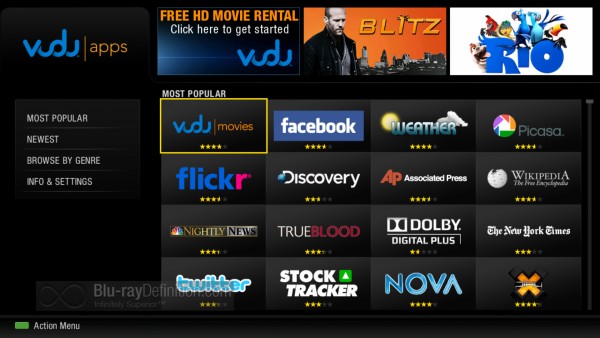 But what about 3D? Well, I switched the player over to a direct HDM 1.4 connection to my display and tried out Avatar 3D, Chapter 17 "First Flight", as well as a few scenes from Resident Evil: Afterlife 3D, Grand Canyon Adventure: A River at Risk (IMAX) and Priest 3D. Each title did what was expected – played back in 3D with good results, about the same as they do on both of my other 3D players. Despite not having the extra "Screen Size" setting that I have on my Oppo or that I have seen on the Marantz and Denon players for Blu-ray 3D playback, I really noticed no difference. As I have often said, I notice no difference on those players when adjusting the setting to different sizes. Maybe it's just me?
DVD? Well, I pulled out my old fallback, Star Wars: Episode III – Revenge of the Sith and went to Chapter 40, "Battle of the Heroes." It's where Anakin, Obi-wan, Yoda and the Emperor have their climactic showdown. As I noticed in the HQV tests, the image here, though good, looked a little too smooth and lacking in high frequency detail, though I doubt that most people would be complaining about how clean it looked. I did noticed that the opening of the scene with Anakin and Obi-wan where there are some slanted columns behind them showed far less stairstepping than I have ever seen in other players.
Drifting Down Stream
When the day inevitably comes and you grow weary of playing those shiny discs (I know, I know, "as if!?"), the BDX5200 is ready to let you access Netflix, VUDU, CinemaNow, and a number of other services and features to help keep you entertained. Although Toshiba doesn't have their own App store like, say, Samsung, and, on the surface, the BDX5200 seems a bit anemic in comparison to players and televisions from brands like Samsung and Sony when it comes to internet apps, the version of the VUDU app included here doesn't just allow for playback of on-demand high definition movies, but it comes with a wealth of internet apps of its own including Picasa, Twitter, Facebook, Weather, and lots more. All of the apps that Toshiba included seemed quite smooth and I came across no hiccups. I was rather surprised considering how sluggish the unit was in general just navigating its own menus. Do keep in mind that the quality of service for say, a VUDU movie in HDx (that's their 1080p service) will be dependent on your own network and access speed.
I tested out the BDX5200's DLNA feature as well and as soon as I selected the "My Network" icon, the player found my networked hard drive and allowed me to navigate to my iTunes library and playback MP3 files. The player will not read AAC files, Apple's format, even non-copy protected ones, and it was also extremely slow to load the file list in general. I am aware that I have a huge audio library and this is over wireless, but it took over ten minutes for the BDX5200 to bring up the complete list of artists in my iTunes folder. I've never had any DLNA compliant device take that long to do this, whether it is a Blu-ray player or a television. Even if it wasn't loading my entire library, it seemed like any subfolder that had a large number of files took at least a minute. That is totally unacceptable performance. I can't even begin to imagine trying to access a large library of high-res video files, but I wasn't about to test it out – time is money, etc.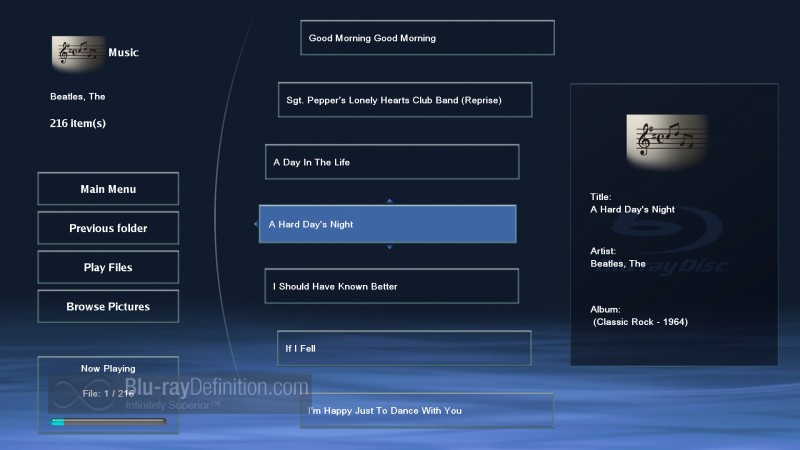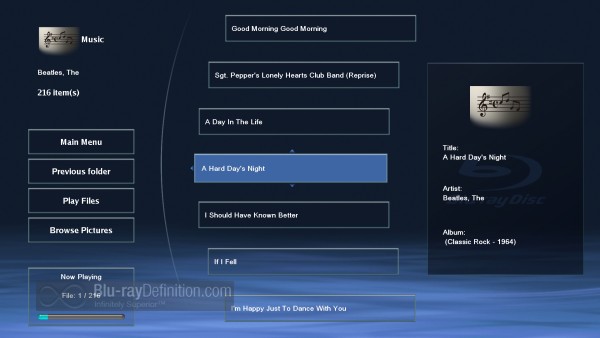 The Good:
Strong HD Performance
Quick disc loading and startup times
Built-In Wi-Fi without need of a USB Dongle
Streaming Media Services (Pandora, Blockbuster, Netflix, VUDU; etc.)
The Bad:
Poor remote control
Sluggish menu system
Sluggish remote control response times
Extremely slow DLNA
Only one HDMI Port
No analogue multichannel audio outputs
The Definitive Word
The Toshiba BDX5200 has a lot to offer as a basic, entry-level 3D-capable Blu-ray player. It has strong high definition performance that can stand up to higher-end brands, a decent array of internet apps, from the ever-popular Netflix, increasingly popular VUDU, plus Blockbuster, and, my personal favorite, Pandora, the free service that allows you to setup your own personalized radio stations based on songs and artists that you enjoy. But even with some of the issues that affected the BDX3000 that I reviewed earlier now seemingly worked out, the BDX5200 still has issues that may turn away people looking for a little extra in their Blu-ray player. DVD playback is not quite up to the standard of some of the better players from Panasonic or Oppo, menu navigation is very sluggish, and load times for the DLNA feature are just outrageously long.

The Scorecard:
The Design/Ergonomics
[Rating:4/5]
Performance
[Rating:3.5/5]
Value
[Rating:3.5/5]
Overall
[Rating:3.5/5]
–
Specifications:

PLAYABLE DISC TYPES:
BD-ROM/BD-R/BD-RE DVD-Video/DVD-R/DVD-RW/ CD/CD-R/CD-RW/CD-DA
VIDEO
Video Upconversion: 720p/1080i/1080p/ 1080p-24fps
Progressive Scan 3:2 Pulldown: Digital Cinema Progressive
JPEG
HD JPEG
Multi-Camera Angle Select
Multi-Language Select
Multi-Subtitle Select
Deep Color
3D Capable
AUDIO
Dolby®Digital
Dolby®Digital Plus
Dolby® True HD
DTS® HD
MP3 Playback
WMA Playback
LPCM
CONVENIENCE
BD-LiveTM (Profile 2.0)
BD-3D (Profile 5.0)
Bonus ViewTM
Built-in Wi-Fi®
Streaming Services: Netflix, CinemaNow, YouTube, Pandora, VUDU, Blockbuster
Remote Control
Parental Control
Screen Saver
OSD Language: English/French/Spanish
TERMINALS
HDMI®-CEC3
RCA-Video
Analog 2ch Audio
Digital Optical Out
SD Card (with SDHC)
Ethernet Port
USB Port
PRODUCT & PACKAGING
Unit Dimensions (WDH) in.: 16.9 × 7.6 × 1.7
Carton Dimensions: 18.7 × 10.6 × 3.3
Unit Weight: 2.8 lbs
Carton Weight: 4.1 lbs
UPC Code: 022265004593
More Information:
Toshiba BDX5200 (MSRP $179.99)
Related Articles:
–
[amazon-product align="left"]B004SHL4KQ[/amazon-product]
Purchase the Toshiba BDX5200 3D Blu-ray Player w/ WiFi at One Call
–