Toshiba BDX5300 Blu-ray  Disc/ DVD Player
In an era where 401K's have become 201K's, the purchase of nonessential durable goods can easily provoke domestic budgetary discussions. Fortunately, there are the occasional breakthroughs in price versus performance that make one want to get up and cheer. When a BD/DVD player appears that offers 3D, and standard 2D Blu-ray and DVD playback, and that lists for $139.00 (USD), cost-conscious home theater enthusiasts may believe that they can have their cake and eat it too. Toshiba's BDX 5300 BD/DVD Player is the top of the line player Blu-ray Player for the company and offers a truckload of features in a very compact, low profile chassis.

The Incredible Lightness of Blu-ray
As a veteran reviewer (and dues-paying AARP member), I am always pleased to snatch and jerk an equipment box like it was empty. In this case, with a boxed weight of 3.6 pounds, the BDX 5300 clearly belongs in the lightweight division. The low profile of the BDX 5300, 17.2″x 1.4″x 7.4," (W x H x D), makes placement extremely flexible. The barebones façade has the Toshiba logo, a disc loading tray, a chapter display and a group of sensor buttons for load/eject/playback. A word about the touch-sensitive sensors: you must sweep the panel briskly to get them illuminated, otherwise you cannot see them to operate. At the far right is a USB port for playback of audio or video sources.  The back panel contains a power cord, Ethernet jack, and HDMI and coaxial digital outputs.  While WiFi capable, the BDX 5300 needs a USB dongle (not supplied) to operate wirelessly.
A conveniently sized, non-backlit remote is supplied and, given the limited controls on the player itself, is mandatory for getting all of the player's functionality.  The remote has a standard control wheel, alphanumeric keypad, menu buttons, and a dedicated red "Netflix" button. This latter feature calls our attention to the fact that this  "smart" player  enables subscribers to get streaming fare that also includes Vudu, CinemaNow, Hulu Plus, and, the ever-popular freebie, YouTube.  Music fanciers can pick their favorite stations on Pandora. Photos are scrolled using Picasa.
The BDX5300 will play conventional BDs, their 3D counterparts, DVDs, and CDs. Other disc recognized formats include CD-Rs, CD-ROMs, DVD-Rs, and DVD-RWs. If you have MP3 or WMA files, you are also in luck with the BDX5300.  BD-Live can be accessed but only with the use of an outboard USB flash drive with at least 1 GB capacity.
There are a few video adjustments possible: brightness, hue, contrast, saturation, and sharpness. From the coaxial output, either bitstream, PCM or re-encoding can be selected. Both Dolby TrueHD and dts Master Audio are supported.
The menu screens are clear, uncluttered, and well organized, always a pleasure in the viewing world.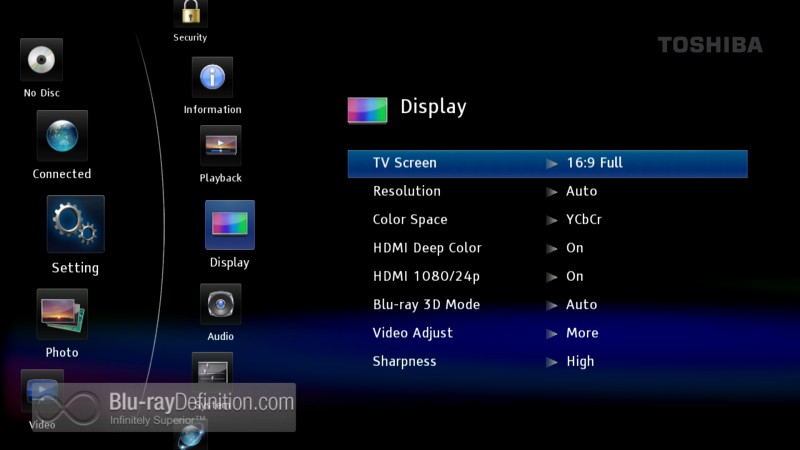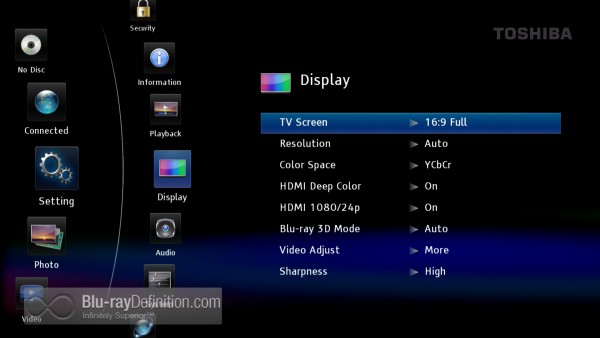 Putting the Toshiba on the Test Track
This unfussy little BD player offered the easiest set up of any that I have ever had in my home system. Network connection was nearly instantaneous after inserting my LAN cable and remained completely stable throughout its stay in my system.
Performance was initially assessed with the HQV 2.0 BD test disc. The BDX5300 scored well in the areas of video conversion, noise and artifact reduction, and image scaling and enhancements. While not the performance equivalent of my reference player, the Oppo BDP-95, there were no serious shortcomings in rendering critical elements of the BD test images. BD load times were virtually identical to the Oppo and none of the discs, including the newest releases encountered any playback problems from the BDX5300.
But testing is one thing and viewing actual BDs and DVDs is quite another. As my reference video system is 2D only (Panasonic TCP-65V10), I did not evaluate the 3D performance of this player. However, given the current disparity in amount of source material in favor of 2D playback, this will be the mode most likely to be used currently by potential buyers. Cutting to the chase, if a BD player cannot do justice to standard BD discs and, don't forget DVDs (there are still plenty of those around), then its 3D performance will be irrelevant.
The Fifth Element is not the last word in high-definition, but its blue Diva/orange Leeloo scene enables me to see how well a player handles extreme color balances as well as costume details. The BDX5300 held its own in rendering the challenging contrasts of this scene.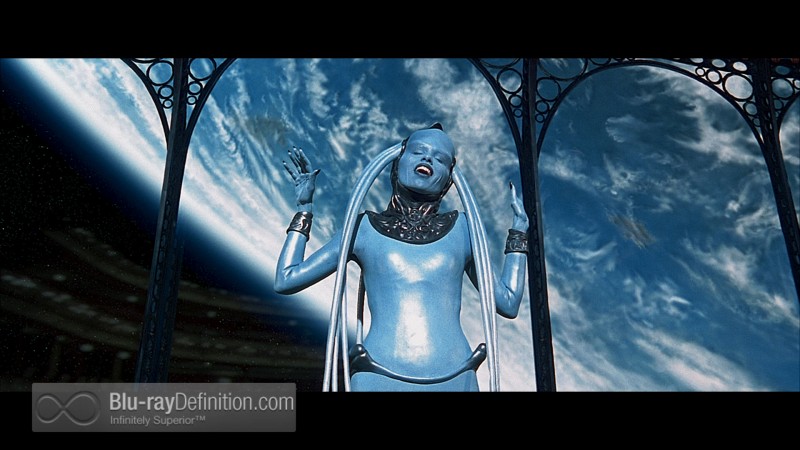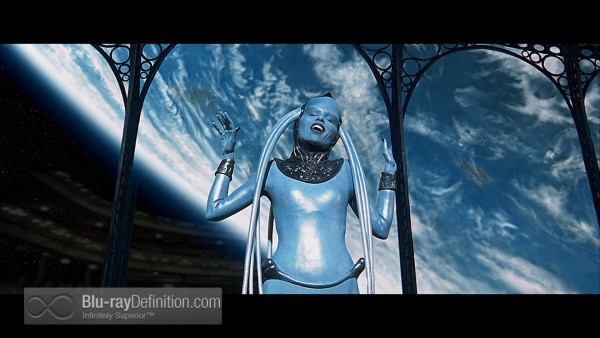 Avatar is another good test of color management with its copious greens and shades of blue. Performance here was again quite satisfactory. [Note: This BD required a USB flash drive] Putting film aside, performance videos from opera and ballet stages come the closest to rendering eye-popping detail, flesh tones, and a sense of realism.  A recent Opera Australia release of Lakme is a case in point with exotic costumes and sets and plenty of close up detail. The BDX5300 did justice to the visual impact of this BD, making for a pleasurable watch.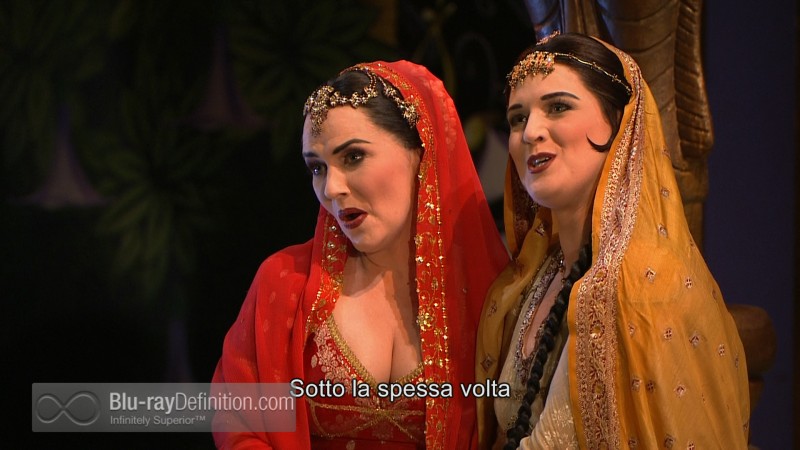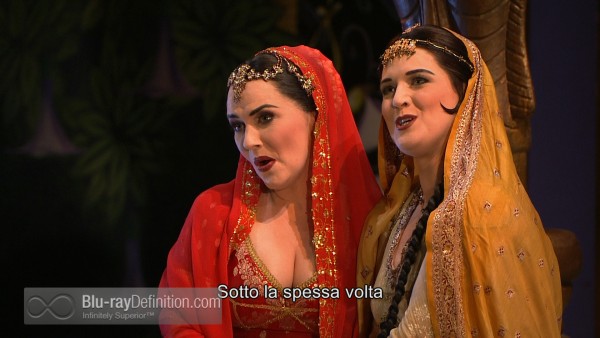 DVD playback was decent, obviously varying with the source.
Taking advantage of the streaming video services, Vudu and Netflix, I found the typical visual quality to be as good as that of my reference streamers, Boxee Box and Oppo BDP-95 with no break up, jutter or sound drop outs to speak of (Note: my internet download speed is typically 30 – 35 Mbps).
Sounds good to me
You might not consider getting this little fellow for its audio performance but, after listening for a while, you might want to reconsider. Of course, staying within budget and playing audio discs via your AVR, a switch to 2-channel might seem a bit tame, but does effectively demonstrate the versatility of this unit. Of course for a bit more excitement, you can do multi-channel conversions through your surround system that proved to be quite impressive with Pipes Rhode Island, a program of organ music mostly recorded in large spaces. While I don't consider mp3 or WMA files to be serious sources for critical listening, I was quite satisfied, overall, with the BDX5300 as a potential source for their playback in a recreational setting.
The Good
Set up is straightforward and easy
Plays all standard disc formats (except SACD or DVD-Audio)
Good video and audio performance
Smooth operation
Access to streaming video
The Bad
Remote control labels are a bit hard to read
Touch sensitive front controls are tricky
Requires USB dongle for WiFi tying up the only USB port
The Scorecard:
Design/Ergonomics:
[Rating:4/5]
Performance:
[Rating:3.5/5]
Value:
[Rating:4.5/5]
Overall:
[Rating:4/5]
The Definitive Word
Toshiba is one of the true veterans of the video wars and after a high-def stumble with its proprietary HD DVD format, the company has embraced the Blu-ray world with passion. Reminds me a bit of Sony's Betamax duel in the sand with JVC's VHS format. The BDX5300 may not be built like the proverbial tank. It also has limited inputs and outputs and requires an optional dongle to become WiFi-enabled. The remote unit's button labels are often hard to read and there is no backlighting. These cavils aside, the price of admission is incredibly reasonable for a BD player that performs this well. Although its video processing is not quite up to my reference player, the viewing sessions were all satisfactory and I never felt the urge to power down and go back to my Oppo. Just as importantly, this is an upgradable product (I performed a field upgrade successfully on day one without problems). So what does $139.00 (I saw the BDX5300 for as little as $109 on Amazon) get you? Simply, a space- and energy-saving player that will give lots of pleasure whether via discs or streaming video, operational simplicity, and, at least, in my experience, no headaches. So what's not to like?
–
Specifications :
Video Playback
Video Up-conversion

720p/1080i/1080p/1080p 24fps
Audio
Dolby® TrueHD & Digital Plus
DTS Master Audio Essential
DTS HD
Compatibility
Disc Playback Type – BD, BD-ROM,BD-R/BD-RE, DVD/CD, DVDVideo/DVD-R/DVD-RW, CD/CD-R/CD-RW/CD-DA
Video
MPEG4 (H.264), MPEG2, MPEG1 for BD/DVD/USB
AVCHD for BD/DVD/USB
WMA for BD/DVD/USB
AVI for BD/DVD/USB
Music
MP3 Playback (BD/DVD/CD/ USB)
WMA Playback (BD/DVD/CD/USB)
AAC (BD/DVD/USB)
LPCM ( BD/DVD/CD)
Photos
Wireless Connectivity
Wi-Fi® Built in
Supports Wi-Fi® 802.11 a/b/g/n
Connectivity Requirements
HDTV with available HDMI® port
Internet Streaming Content Partners:
Netflix®
VUDU®
CinemaNow®
Hulu Plus™
YouTube®
Pandora®
Picasa®
Convenience
BD Live™6 (Profile 2.0)
BD-3D (Profile 5.0)
BonusView
HDMI® CEC
Touch Sensitive Controls
LCD Display
Connectivity (Input/Output)
HDMI® Out – 1 Rear
USB 2.0 – 1 Front
Ethernet /LAN – 1 Rear
Coaxial Digital Audio Output – 1 Rear
Product Dimensions / Information
Unit Size (WxHxD): 17.2″x 1.4″x 7.4″
Unit Weight (lbs): 2.4
Package Size (WxHxD): 19.0″x 3.2″x 10.4″
Package Weight (lbs.): 3.6
Color: Black
Remote with Batteries (2-AAA)
More Information:
Toshiba BDX5300 Blu-ray Player (SRP $139)
–
[amazon-product align="left"]B007B5XQD0[/amazon-product]
Purchase the Toshiba BDX5300 at One Call
Purchase the Toshiba BDX5300 at Abt