Aspect Ratio: 2.40:1
Video Codec: AVC/MPEG-4
Resolution: 1080p/24 (23.976Hz)
Audio Codec: English Dolby TrueHD 5.1 (48kHz/24-bit), English Video Descriptive Service Dolby Digital 5.1, French & Spanish Dolby Digital 5.1

Subtitles: English, English SDH, French, Spanish
Subtitles Color: White
Region: ABC (Region-Free)
Rating: PG-13 (Theatrical Version); Not Rated (Extended Director's Cut)

Runtime: 118 Mins. (Theatrical Version); 130 Mins. (Extended Director's Cut)

Discs: 3 (2 x Blu-ray + 1 x DVD)
Digital Copies: UltraViolet

Studio: Sony Pictures Home Entertainment

Blu-ray Release Date: December 18, 2012
List Price: $35.99
–
Overall
[Rating:4/5]
The Film
[Rating:3/5]
Video Quality
[Rating:5/5]
Audio Quality
[Rating:5/5]
Supplemental Materials
[Rating:4.5/5]
Click thumbnails for high-resolution 1920X1080p screen captures
(All TheaterByte screen captures are lightly compressed with lossy JPEG at 100% quality setting and are meant as a general representation of the content. They do not fully reveal the capabilities of the Blu-ray format)
–
The Film
[Rating:3/5]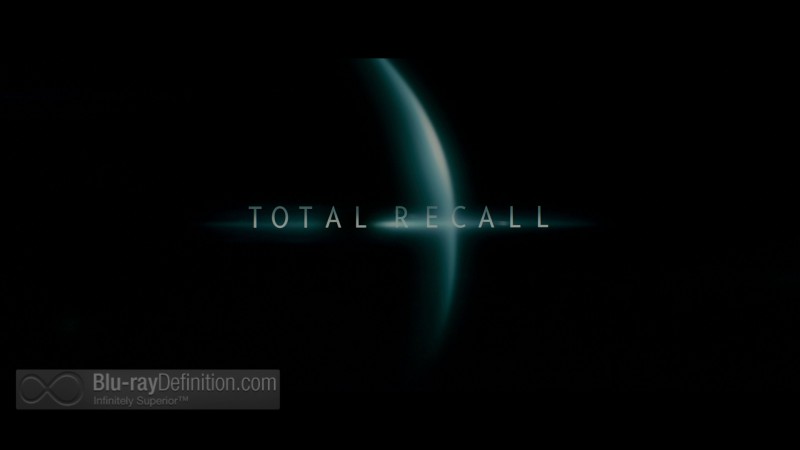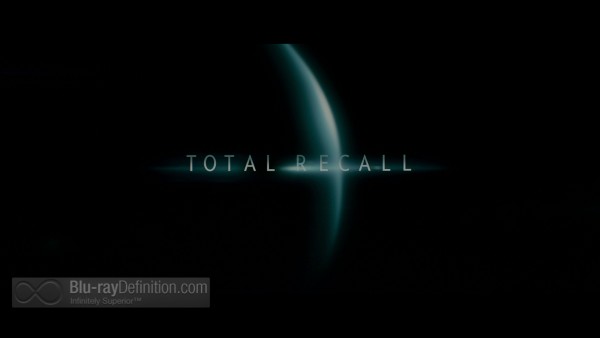 Long ago, you know, 22-years ago, Arnold Schwarzenegger starred in Paul Verhoeven's cinematic adaptation of sci-fi author Philip K. Dick's short story "We Can Remember it for You Wholesale." That weird and wacky film, the original Total Recall, was no Oscar-worthy entry in the annals of cinema, but it had style, it had color, and it had originality. In 2012, Len Wiseman (Underworld) gives us this unnecessary remake that sucks the life out of the story and opts for a paint-by-numbers approach to sci-fi actioners instead. His interpretation of Dick's work is different from Verhoeven's, so the film isn't merely a rehash, but he plucks so many cliches from the encyclopedia of Hollywood sci-fi, that it might as well have been.
Set in a dystopian 21st century where the planet has been devastated by nuclear war, only two countries remain, The United Federation of Britain, and The Colony, which resides on Australia. Connecting them is a massive "elevator" like structure that travels directly through the Earth's core, from one side of the planet to the next. Douglas Quaid (Colin Farrell; Fright Night; Horrible Bosses; London Boulevard) is a factory man commuting everyday from the Colony to Britain in a loving marriage with Lori (Kate Beckinsale; Underworld: Awakening; The Aviator; Serendipity; The Last Days of Disco). His dissatisfaction with the doldrums of their existence get the best of him and he decides to take a chance on Rekall Corporation, a company promising fantastic vacations based solely on memory implants. But during his procedure, something goes awry, and he finds himself surrounded by soldiers who have stormed into the facility before the memory transfer can complete; he is branded a terrorist. Without even thinking, he retaliates and ends up killing several of them. Now he's on the run for his life, finds that his wife may not who he thought she was, and his memories may have been altered even before he went to Rekall . Coming to his aid is a resistance fighter, Melina (Jessica Biel; New Year's Eve; The A-Team; Valentine's Day), who tres to help him get to Methias (Bill Nighy; Wrath of the Titans; The Best Exotic Marigold Hotel; Harry Potter and the Deathly Hallows: Part 1), head of a group of resistance fighters struggling against the maniacal Federation of Britain leader Cohaagen (Bryan Cranston; TV's Breaking Bad; John Carter) who's planning an invasion of The Colony that will give him control over the entire world. Somewhere along the line, Quaid, or at least his former self (or is that his real self) got caught up in this struggle, and now he must help once again to stop Cohaagen, the key being locked somewhere in the recesses of his confused memories.
An immensely dark visual  interpretation  that is swathed in greys, cold steel, earth tones and concrete with dank, overcrowded streets populated with hovercars and Asian writing, Wiseman's vision, as marvelous as it is handled by production designer Patrick Tatopoulos (Underworld; Independence Day), owes a heavy debt of gratitude, to put it mildly, to another film based on Dick's work, 1982's Blade Runner from Ridley Scott. Also imparting an obvious inspiration, director Alex Proyas' I, Robot, which can be seen in this film's "synthetics," robot soldiers that parade around and chase Quaid and Melina from one action sequence to the next.
I must admit that Kate Beckinsale seems more at home than expected playing the bad gal role, though it isn't too far of a stretch from her usual stint under her director/hubby Wiseman in Underworld. She's still a badass, gun-wielding chick that does impossible maneuvers with her body, courtesy of years of dance training and a little help from stunt doubles no doubt. Sadly, the best actors in the film, Bill Nighy and Bryan Cranston get hardly any screen time in comparison. Jessica Biel on the other hand soaks up so much screen time, yet she might as well be a glass of warm milk, she has about as much charisma in this film.
Video Quality
[Rating:5/5]
Total Recall was shot primarily in high definition with the Red Epic at 5K and also utilized the Weisscam HS-2 HD high-speed camera and Arriflex 35-III with Super 35mm for "crash cam" practical effects. It was also shot with anamorphic lenses, which one can easily spot from the numerous instances of elongated lens flares throughout the film, a common side effect of using such lenses. The combination of cameras, HD production and 35mm film for certain effects does at times show itself in some grittier moments that standout from some of the more pristine, totally digital shots. Still, the film has a beautiful appearance that has no flaws added to the high quality production in this AVC/MPEG-4 1080p encodement from Sony. Contrast is marvelous, textures are three-dimensional, and no issues with noise or processing can be seen.
Audio Quality
[Rating:5/5]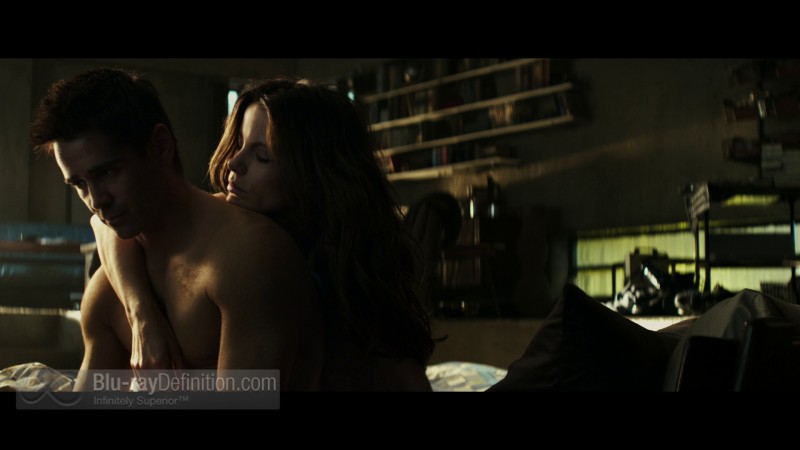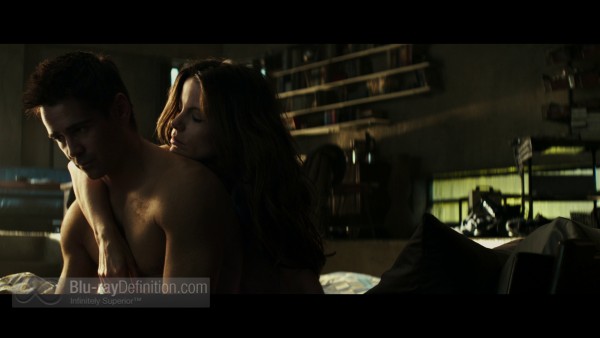 A fantastic Dolby TrueHD 5.1 (48kHz/24-bit) soundtrack is provided that will become a reference for your sound system. But here's my caveat before I launch into more detail – this release cause me some issues with audio dropouts when bitstreaming the TrueHD source on my equipment (Onkyo TX-NR818 AVR and Oppo BDP-93 region-free Blu-ray player via HDMI). Switching the settings on the Oppo to convert the TrueHD internally and send PCM to the AVR resolved the audio dropout issues.
That said, the sound is flawless and engulfing in this mix and makes an otherwise lackluster remake a somewhat fun home theatre experience. From the very opening sequences, the balance between front and surrounds is tight, offering blasts of gunfire and oodles of atmospherics. The low frequencies are deeply resounding but not unwieldy. Dialogue is clear and high frequencies quite natural and listenable.
Supplemental Materials
[Rating:4.5/5]
Total Recall comes packed with a supplementary package that adds major value to this set. The addition of the Playstation 3 video game demo for God of War: Ascension on the bonus supplements disc is yet another check in the plus column.
The supplements:
Extended Director's Cut Commentary with Director Len Wiseman
Total Recall – Insight Mode (Theatrical Cut only) – Delivers scene specific behind the scenes video throughout the movie.
Bonus Disc (Blu-ray):
Gag Reel (2.35:1; 1080p/24; 00:08:00)
Science Fiction vs. Science Fact (1.78:1; 1080p/24; 00:09:28) – Dr. Michio Kaku examines the technologies in Total Recall and offers his opinion on how or if they could happen in the future.
Designing The Fall (1..78:1; 1080p/24; 00:02:55)
Total Action (1.78:1; 1080p/24; 00:20:00):

Colin Farrell
The Tripping Den
Destroying Rekall
Kate Beckinsale
Lobby Escape
Jessica Biel
Quaid vs. Cohaagen

Stepping into Recall: Pre-visualization Sequences (2.35:1; 1080p/24; 00:25:30):

Apartment Waterfront Chase
The Fall Fight
Flight and Tripping Den
Elevator Chase
Car Chase

Exclusive Playstation 3 Game Demo: God of War: Ascension
The Definitive Word
Overall:
[Rating:4/5]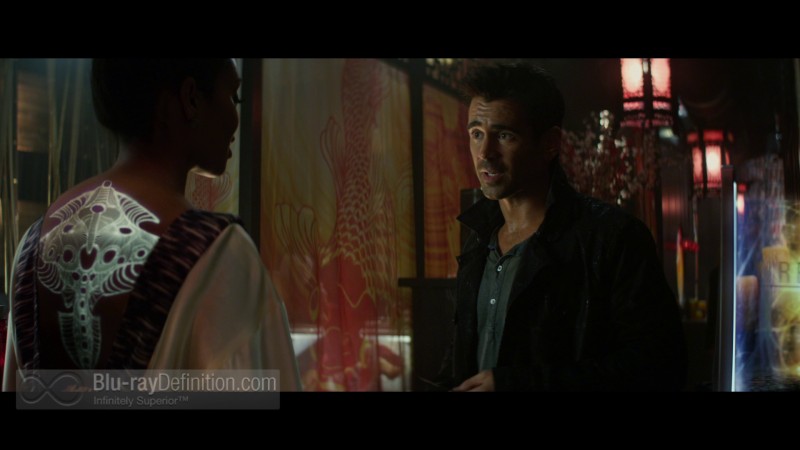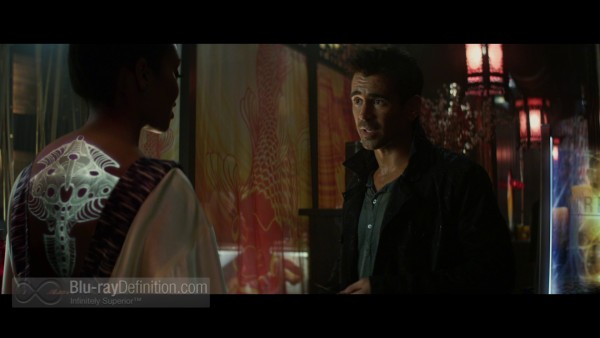 Expertly shot action sequences and overcrowded visual effects in a story that we never really end up caring about sums up this Total Recall remake. At the very least it is a marvelous feast for the ears and eyes, no doubt about it. Even if its dull color palette isn't exactly dazzling, the picture quality on this disc is superb.
Additional Screen Captures
[amazon-product]B005LAII3U[/amazon-product]
[amazon-product]B0092QITO2[/amazon-product]
Purchase Total Recall on 3-disc Blu-ray Combo Pack at CD Universe
Shop for more Blu-ray titles at Amazon.com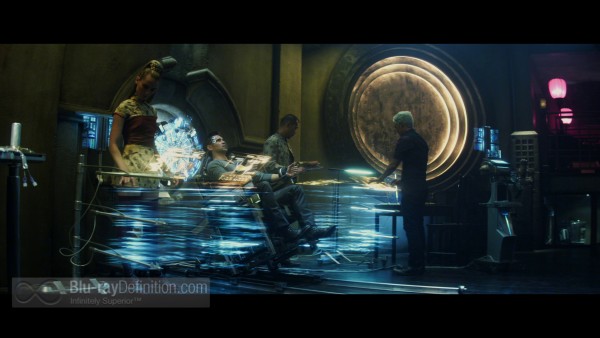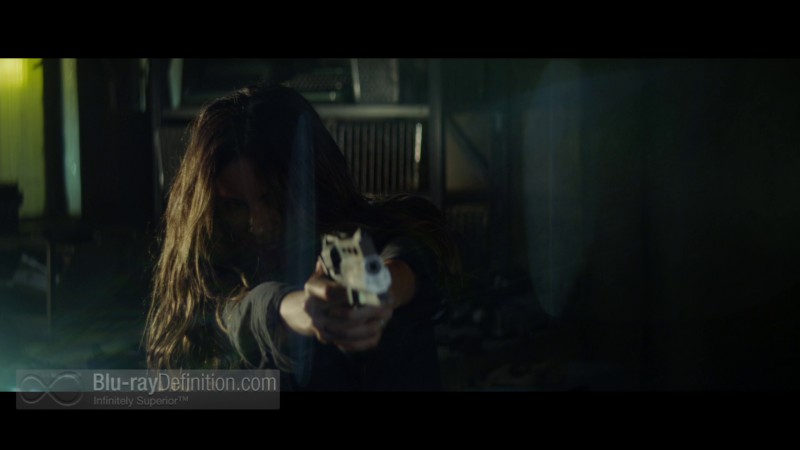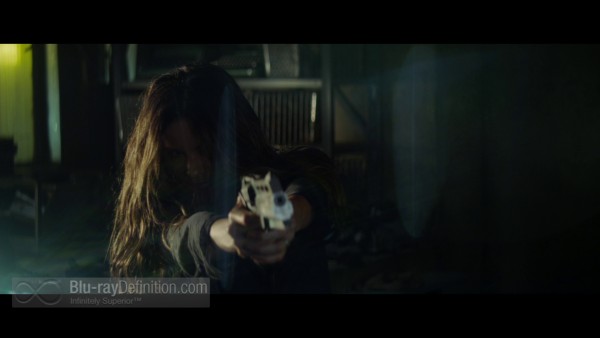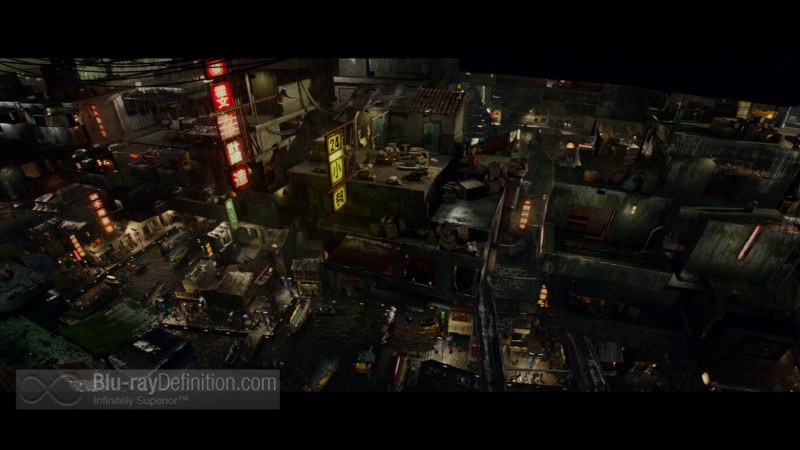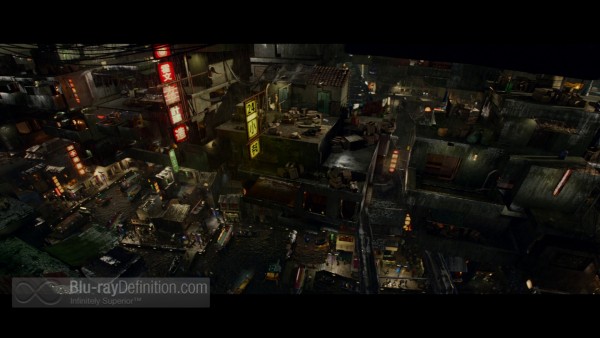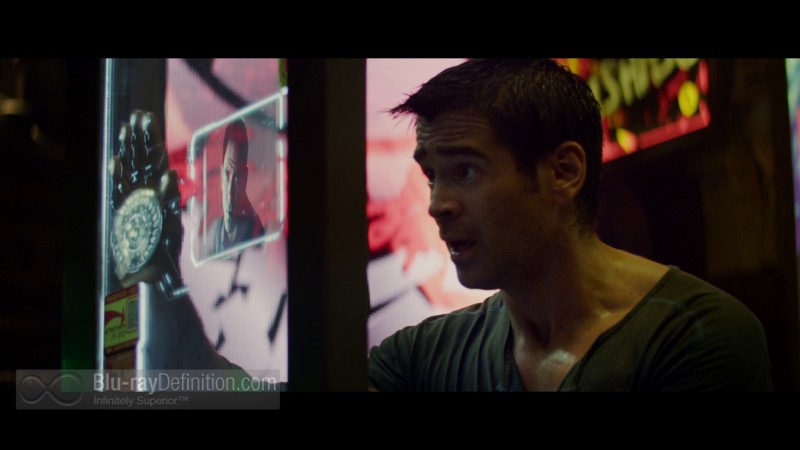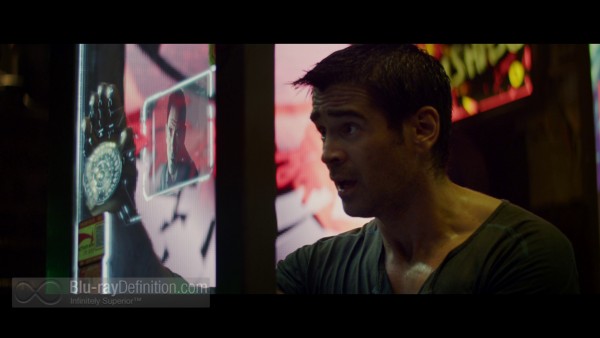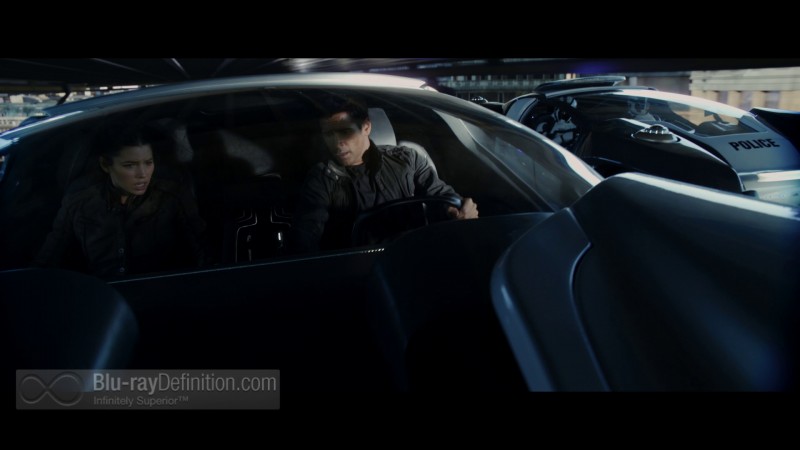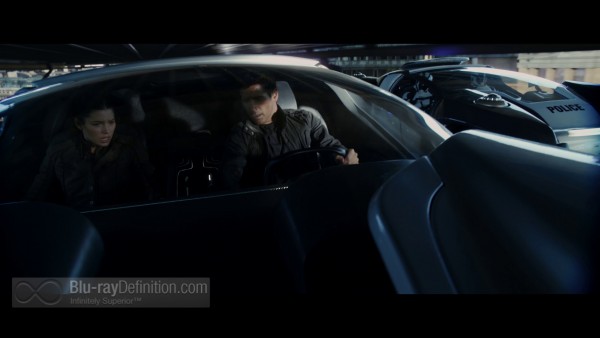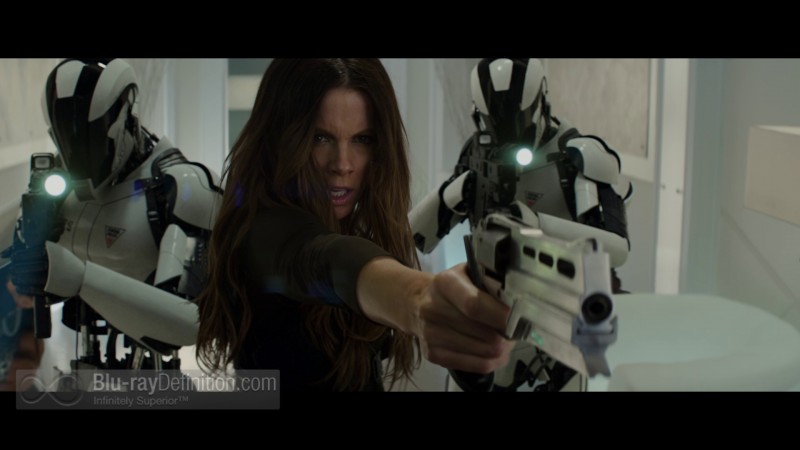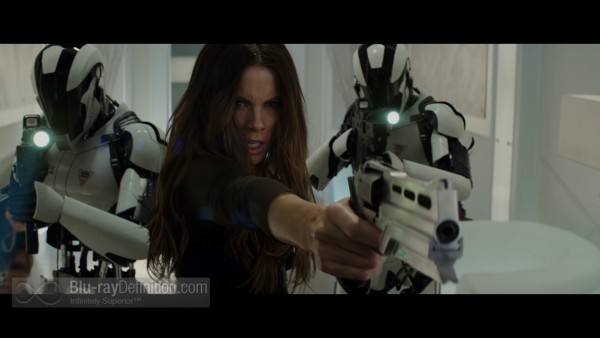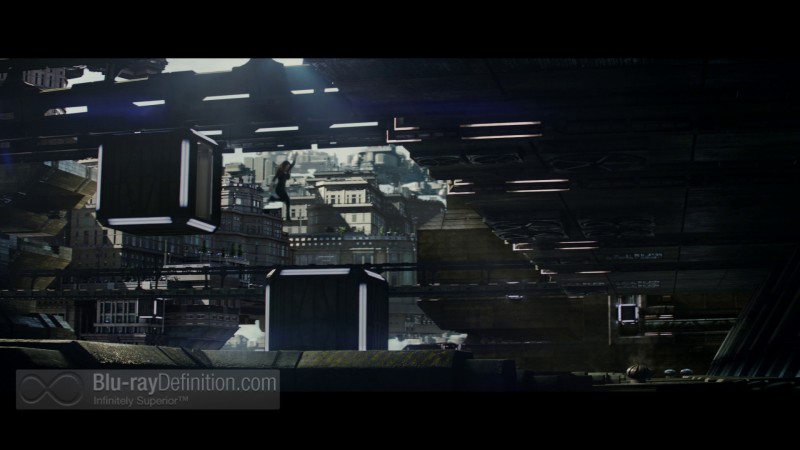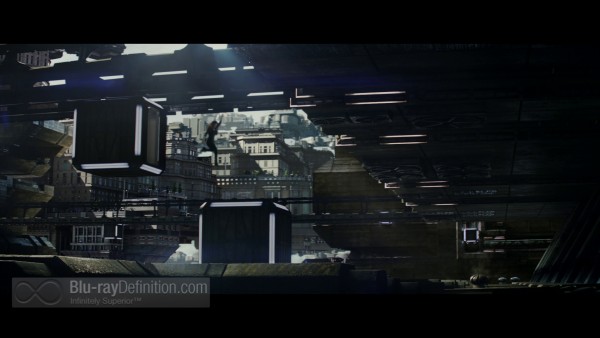 –
[amazon-product]B005LAII3U[/amazon-product]
[amazon-product]B0092QITO2[/amazon-product]
Purchase Total Recall on 3-disc Blu-ray Combo Pack at CD Universe
Shop for more Blu-ray titles at Amazon.com
Overall
[Rating:4/5]
The Film
[Rating:3/5]
Video Quality
[Rating:5/5]
Audio Quality
[Rating:5/5]
Supplemental Materials
[Rating:4.5/5]
–