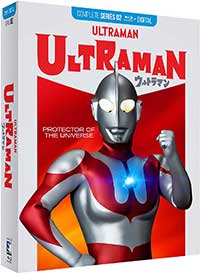 Ultraman was Tsuburaya Productions first color series. The sci-fi action adventure drama follows a the story of a giant alien from the Land of Light who enters Earth's atmosphere in pursuit of an escaped space monster and accidentally crashes into a Jet VTOL piloted by Hayata, a member of the Science Special Search Party (SSSP), an international agency meant to protect the world from giant monsters. In order to save Hayata's life. Ultraman merges his life force with Hayata's and stays on Earth vowing to help fight against the monsters and aliens alongside the SSSP.
Ultraman like all kaiju productions is not to be taken too seriously; this is all rather tongue-in-cheek, over-the-top fun with man in lizard suit and tiny toys on strings visual effects. Still, there's something compelling about the practical effects and the innocence of it all, something more personal than the 3D series from Netflix that recently streamed. Sure, the newer production looked more dazzling, but it could never touch the camp of this original 1972 Japanese production that dominated the ratings in its homeland for the year it first aired.
[envira-album id="120991″]
The Video
Ultraman is provided in a 1080p AVC encodement framed at 1.33:1 in color on Blu-ray. The color looks very vibrant for this series, maybe even a little oversaturated at times and the grain is coarse. There are some scenes where some slight haloing around edges can be seen. Compared to the Ultra Q black & white release, this one is a slight tick down in PQ, but still satisfying.
The Audio
Ultraman comes with a Japanese DTS-HD Master Audio 2.0 stereo audio mix. The stereo imagery is very subtle, with a narrow field that is practically monaural apart from some ambience and some effects that escape into the left and right channels. Still, it's a satisfying mix given it's a TV series from 1972.
The Supplements
There are no on-disc extras, but there is a 25-page Information and Episode Guide that has a brief history of the series, a rundown of Ultraman's powers, a listing of all the monsters and the episode guide.
The Final Assessment
Fans feeling nostalgic for the days when they were first discovering this Japanese import will love this collection of the series that launched a legend. The visuals and audio are more than good enough given the vintage and the best the series has ever looked.
Ultraman: The Complete Series is out on Blu-ray & Steelbook Edition October 15, 2019 from Mill Creek Entertainment
---
The Creative Content: 3.5/5
The Video: 3.5/5
The Audio: 3.5/5
The Supplements: 2.5/5
Studios & Distributors: Tsuburaya Productions | Mill Creek Entertainment
Run Time: 988 Mins.
Aspect Ratio: 1.33:1
Video Format: AVC 1080p
Primary Audio: Japanese DTS-HD MA 2.0 Stereo
Subtitle: Japanese DTS-HD MA 2.0 Stereo