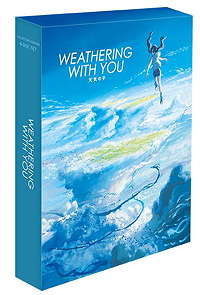 Writer-director Shinkai Makoto's (Your Name) latest film is Weathering with You, another visually stunning, fantasy anime feature film with a moving storyline.
Set in a rainy Tokyo, the story follows the sixteen-year-old high school student Morishima Hodaka who runs away from his quiet island town on Kōzu-shima in the Philippine sea to move to the big city of Tokyo. When he arrives, he finds he is quickly running out of money and unable to get a job because of his lack of a school ID. Then he finds a job working for a shady man named Suga and his niece who run a small, indie occult magazine publishing company. Hodaka also meets an older girl named Amano Hina who works at the local McDonald's restaurant. Hina helps him out one night with a free Big Mac when he is starving for food and Hodaka becomes fascinated with her. After seeing her one night being harassed by a group of men who are trying to force her to work for them in a sleazy, red-light district club, Hodaka comes to Hina's rescue, getting into a physical confrontation with the men. He pulls out a gun he had previously found and pulls the trigger, thinking it was a replica or toy, but when it goes off, it startles everyone. Hodaka and Hina run away and the two become close. He finds out she is living alone with her younger brother due to certain circumstances.
Hina also has a secret – she is the so-called "sunshine girl" possessing an ability to stop the downpour of rain that has been affecting Tokyo. When Hodaka loses his job after the cops come looking for him because he has been designated a runaway and his boss Suga marked as a kidnapper, he and Hina take off together to lay low in a love hotel, and Hodaka finds out a shocking secret behind Hina's superpower.
Just like with his previous film Makoto turns in what seems like an effortless and heartwarming romantic fantasy that involves viewers in the lives of the characters and their predicaments. The backdrop of a rainy Tokyo only serves to underpin the often very serious topics being discussed in this film like teenage runaways, violence, orphaned children, sex trafficking, or poverty. The magical backdrop of glistening buildings, sparkling diamond raindrops and supernatural powers help to offset the harder subject matter as does the budding romance between the two teen Makoto's protagonists.
By the end of this film, you'll be wanting more and hoping to see the next outing from Shinkai Makoto, who, along with directors like Hosoda Mamoru is making a strong stand to carry on the legacy of Miyazaki Hayao.
The English version of the film, features an all-star voice cast including Lee Pace (Guardians of the Galaxy, The Hobbit Trilogy), Alison Brie ("GLOW", The Lego Movie franchise), and Riz Ahmed (Rogue One: A Star Wars Story, Venom).
The Video
Before I get into the technical aspects of the video, let me first point out that Shout! Factory and GKIDS have region coded this 4K disc! Something that is technically not supposed to be a thing with this format and is the first time I have come across this. I had my Pioneer UDP-LX500 left on Region B since I was reviewing a UK Blu-ray before I slipped this disc in without a thought and got a region code error. I tried it again a few times before I switched the player to Region A and it accepted the disc. Shame!
Anyway, moving along, Weathering with You arrives on 4K Ultra HD Blu-ray in a 1.78:1 HEVC 2160p (4K) encodement taken from a 2K DI with Dolby Vision HDR. The digital hand-drawn animation was purportedly rendered in 4K, so why a 2K DI was used is perplexing. That said, the Dolby Vision grading looks beautiful, with highlights that really 'pop' from the screen, like the glistening of raindrops, the glint of light on windows, the sparkle of the cityscape at night, or the sunlight on the horizon. That said, there have been complaints about the Japanese 4K release showing some sharpening effects compared to the Blu-ray and I have to say that this US version at first seems to show some issues, but comparing it to the included Blu-ray at least, many of the issues that seem to be sharpening related are still there, only not as visible, such as some motion artifact on the CGI boat at the beginning of chapter two at the 00:04:04 mark or some aliasing on the walls of the ferry. A closer inspection shows these things are only being heightened by the lower compression and upscaling to 4K. Overall this is one of the best 4K releases of a hand-drawn animated film I have yet to see.
Merchant:

Right Stuf, Inc.

Price:

$71.98

Retail Price:

$79.98
Merchant:

Right Stuf, Inc.

Price:

$31.94

Retail Price:

$39.93
Merchant:

Right Stuf, Inc.

Price:

$18.73

Retail Price:

$24.97
The Audio
The 4K Ultra HD Disc for Weathering with You comes with a number tracks, but the two main ones for our purposes are the original Japanese-language track and the star-studded English dub, both offered up in lossless DTS-HD Master Audio 5.1. This is a superb mix with a delicate balance between whisper-quiet and fairly loud and filled with lush atmospherics that fill the room such as rainfall, breeze moving through trees, or the sound of the cityscape. The musical score is also nicely spread across the channels and balanced well with action and clean, clear dialogue. Both Japanese and English tracks sound just as good with maybe the Japanese dialogue sounding a little fuller by a hair.
The Supplements
The Collector's Edition of Weathering with You comes packed with a number of excellent collectibles and a bonus feature-length making of documentary on a separate Blu-ray Disc. This one is certainly worth the price of entry. See below for what's included and what's exclusive to the Collector's Edition.
Packaged in a high-quality chipboard slipcase
Interview with Director Makoto Shinkai (Blu-ray) (1080p; 00:11:14)
Exploring Makoto Shinkai's Filmography (Blu-ray) (1080i; 00:13:00)
"Weather Front" Featurette (1080i; 00:24:08)
Talk Show: Makoto Shinkai and Yumiko Udo (1080i; 01:10:02)
Trailers & TV Spots (1080p; 00:10:35)
Bonus Documentary Blu-ray Disc: "The Making of Weathering with You (Collector's Edition Only)
Radwimps (CD Soundtrack) (Collector's Edition Only)
Mini Poster (Collector's Edition Only)
Decal Sticker (Collector's Edition Only)
104-page Book – Features artwork, character sketches, and interviews with the Japanese cast and crew. (Collector's Edition Only)
The Final Assessment
A beautiful film with a beautiful 4K Dolby Vision transfer packaged in a feature-rich collector's edition. This is one for anime fans, families, and collectors alike. Highly recommended.
Weathering with You (Collector's Edition) is out November 17, 2020 from Shout! Factory & GKIDS
---
Rating Certificate: PG-13 (for suggestive material, some violence and language)
Studios & Distributors: CoMix Wave Films | Shout! Factory | GKIDS
Director: Shinkai Makoto
Written By: Makoto Shinkaiv
Run Time: 112 Mins.
Street Date: 17 November 2020
Aspect Ratio: 1.78:1
Video Format: HEVC 2160p (4K)
HDR Format: Dolby Vision (Compatible with HDR10)
Primary Audio: Japanese DTS-HD MA 5.1
Secondary Audio: English DTS-HD MA 5.1 | English Descriptive Audio 5.1 |French 5.1 (4K Only)
Subtitles: English SDH | English for Original Language | English Lyrics | Spanish for Original Language | French for Original Language