We are three of our readers the opportunity to win one (1) of three (3) copies of the latest actioner from director Won Shin-yeon, The Suspect, on Blu-ray Disc. See below for details and how to enter to win.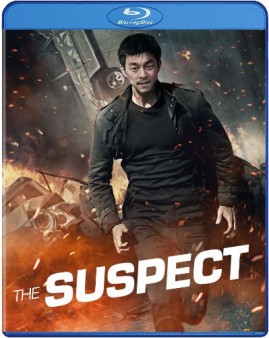 "For a movie with so many cross hairs, SWAT teams, car crashes and surveillance cameras, it is enjoyably generous with its hand-to-hand combat." ~ Andy Webster, THE NEW YORK TIMES
 
"The two stunning set pieces, both involving car chases, are so inspired and teeth-grittingly determined that they make the case for the possibility of individual heroism in a harrowingly venal world." ~ Inkoo Kang, LOS ANGELES TIMES
 
"…one of the best popcorn movies of the year." ~ Tom Keogh, SEATTLE TIMES
THE SUSPECT
He Wants the Truth. And He'll Start a War to Get It.
The Acclaimed South Korean Spy-Action Thriller,
Starring GONG Yoo and directed by WON Shin-yun,
Debuts on Blu-ray™, DVD & Digital July 22
PLANO, Texas.  (June 11, 2014) – Rising South Korean star GONG Yoo (Silenced) plays a top Special Forces agent on the run in THE SUSPECT, debuting on Blu-ray™, DVD and Digital July 22 from Well Go USA Entertainment. Director WON Shin-yun (A Bloody Aria) crafted an action-packed tale of a former secret operative on the run after he's framed for his employer's murder. The cast also includes CHO Hee-soon (The Client), 2014 Baek Sang Art Awards Best Supporting Actor nominee JO Seong-ha (Helpless, Always) and KIM Sung-kyun (The Neighbors).
Synopsis:
Dong-chul (GONG Yoo) is the best field agent in North Korea – until he is abandoned during a mission, his wife and daughter missing. Hunted and on the run, torn between grief and vengeance, he takes a job as a night driver for the CEO of a powerful corporation. The chairman is brutally assassinated – but gives Dong-chul a pair of glasses before he dies. Now, he's on the run again. Accused of murder, wanted for treason, and desperate to uncover the volatile national secrets hidden inside the glasses. Dong-Chul wants the truth. And he'll start a war to get it.
THE SUSPECT has a runtime of approximately 138 minutes and is not rated.
Ends July 30 @ 9:00 A.M. ET
[amazon-product]B00INCBASS[/amazon-product]