Cohen Media Group have announced the release of Rachid Bouchareb's independent drama Just Like a Woman for Blu-ray and DVD on October 22, 2013. The Blu-ray will sell at a SRP of $34.98. See below for details.
TWO BEAUTIFUL, EMOTIONALLY ABUSED WOMEN WITH A DARING SKILL IN COMMON SHARE A JOURNEY OF RENEWAL
JUST LIKE A WOMAN
Oscar Nominee Rachid Bouchareb's Sensual, Revealing Drama, Starring Sienna Miller, Comes to Blu-ray and DVD From Cohen Media Group On
October 22, 2013
"Sienna Miller gives the best performance of her career." – The Awards Circuit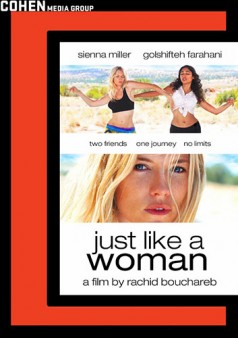 Two emotionally scarred women pair up to take control of their own lives in the moving, exhilarating and sensual JUST LIKE A WOMAN. Starring this year's Golden Globe nominee Sienna Miller as an aspiring belly dancer, the drama arrives on Blu-ray and DVD from Cohen Media Group on October 22, 2013.
Financially strapped Chicago secretary Marilyn (Sienna Miller, The Girl, Alfie, Factory Girl) has just lost her job. Already saddled with a deadbeat, cheating husband, she decides to chuck it all. With a dream of being a belly dancer, she decides to go to New Mexico to compete in a prestigious belly dancing competition. Meanwhile, Mona (Golshifteh Farahani, In the Name of the Father, upcoming in Eden with Greta Gerwig), a North African immigrant stuck in an arranged marriage, has just inadvertently killed her nightmarish mother-in-law and needs to get out of town fast.
The two beautiful women, at first just casual acquaintances, unite for the journey to the Southwest, riding across the open country in a top-down convertible. They pay their way by stopping in dumpy clubs and restaurants to belly dance, their sensuality and joy in this ancient art somehow transcending the sleazy settings. And along with the tips they make on this journey to a new life, they pick up valuable lessons in the power of true friendship and self-worth.
JUST LIKE A WOMAN was written and directed by the French-Algerian filmmaker Rachib Bouchareb, whose Days of Glory was Oscar-nominated for Best Foreign-Language Film of 2006. His other films include the equally acclaimed Outside the Law and London River. He is also the producer of several films by modern master Bruno Dumont: Camille Claudel 1915, Outside Satan, Twentynine Palms, Hadewijch and Flanders.
The Boston Herald's Stephen Schaefer said of JUST LIKE A WOMAN, "The film is so surprisingly charming, a Thelma and Louise with belly dancing." Joey Magidson, writing at The Awards Circuit, said, "Sienna Miller gives the best performance of her career." Miller and Farahani "give strong performances as women bonding over their delight in both movement and their own beauty," said the New York Post's Farran Smith Nehme. Miller is "at her peak here," praised The New York Times' Stephen Holden.
[amazon-product]B00ECXJC46[/amazon-product]