Big sound, right under your TV
When the ZVOX IncrediBase 575 showed up at my house, upon seeing the shipping box, I initially thought my wife had ordered a new dining room table. Well, I'm exaggerating a little bit. Such was the size of the unexpectedly large box that I mistook it for something that could not possibly house a 'single cabinet surround system'. Already familiar with the Z-Base 525 that I reviewed here, I was expecting a 'bigger brother' that might hang with full-fledged surround systems in performance, yet take up a manageable footprint along with simplified setup and use.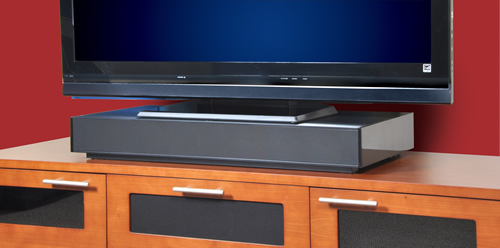 The Looks
The IncrediBase 575 resembles its smaller brother Z-Base 525, but with exterior dimensions of 36" wide by 16.5" deep by 5" high. It is attractive in its proportions and finish. The sides use the same black wood panels with seven layers of hand-finished high-gloss lacquer as found on other ZVOX products. Upon unpacking, I took particular notice to the dual 6.5″ downward-firing woofers covered by black metal grills. These are powered by a 133 watt (!) amplifier. The front of the unit houses five 3.25″ speaker drivers using ferrofluid and neodymium magnets. Serious stuff indeed. Included with the IncrediBase 575 is an 11 button remote with Power, Mute, and level controls for Subwoofer, Treble, Phasecue and Volume.

Connection Time
The IncrediBase 575 shares the same connections as the smaller 525 unit, which includes a set of Left/Right RCA jacks labeled Input 1, an additional "mixed in" pair of L/R jacks and subwoofer output jack (more on that later). There is also a detachable power cord, very handy! A typical connection scheme would be to use your TV's audio-out L/R jacks into Input 1, and/or using Input 2 for connection to a DVD player if that devices is not already sending the audio directly to the TV. There is also a version of the 575 that includes optical and coaxial digital inputs for $100 more. I have to hand it to ZVOX for including the same simplified manual I saw in their 525 unit. Four pages total, with only one required for actual hook-up and use! It is well-written, and is a model for other companies to follow.
My bedroom was the most appropriate place to connect the IncrediBase 575, as I have a 42″ Sharp LCD that sits upon its included base on top of a low dresser. I sometimes listen to the TV speaker's sound as opposed to firing up my receiver and tower speakers. I connected my AT&T U-verse box to get TV sound, and the analog L/R outputs from my OPPO BDP-80 Blu-ray player into Input 2. Connection was a snap, I was watching/listening to TV in under 5 minutes.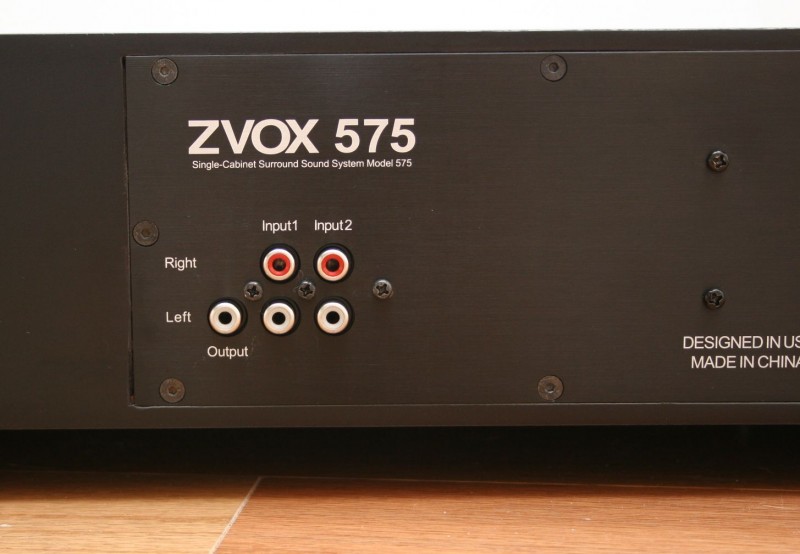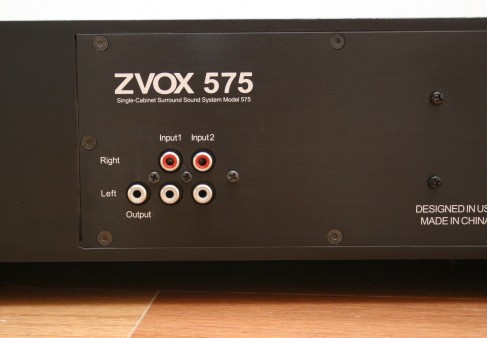 Sound Wise
I started off with a bit of casual TV viewing, major network stuff that is often mixed for 5.1 sound, but output from my AT&T U-verse as standard L/R analog outputs. It was impressive what the IncrediBase 575 could do with some of the embedded sound effects buried within the stereo signal. Using the Phasecue +/- control on the remote, I could shrink or expand the soundstage by a remarkable amount. Much more so, and with greater fidelity than on the smaller Z-Base 525. Dialog was very intelligible at all levels. The IncrediBase 575 performed noticeably better with male voices and other dialog than the smaller 525 version. I attribute this to the increased amount and number of front panel drivers. Size does matter when trying to reproduce voices that our ears are most accustomed and 'tuned' to.
Beast of Bass
As impressed as I was with TV sound, I was not prepared for what happened when I played several pop/rock CDs via the IncrediBase 575. The "Base" or bass in its name made itself noticed right away! Adjusting the Subwoofer control via remote to its midpoint or greater, there was no doubt I was hearing impressive woofers at work. This thing can really thump the bass! It definitely has the output and clarity of a medium size standalone subwoofer. It filled my large master bedroom with bass you could feel in your chest without distortion. There would be absolutely no need to use the dedicated subwoofer output to augment the bass from this unit.  What impressed me just as much is the fact that since the woofers are integrated into the unit, I didn't experience that 'bass hump' that you often get with a standalone sub. Even properly integrated with main speakers, a separate subwoofer will often activate standing waves which make for boomy bass in some parts of the room, while weak in others. No such problem here. ZVOX says the bass extends to 35Hz. While I did not specifically measure, my experience with my larger speakers and subs leads me to believe this is no exaggeration.
Overall Sound
Using music as my reference, I definitely needed to tweak the Phasecue/Treble/Subwoofer +/- controls to suit my tastes and to get the best overall sound balance. With Phasecue at a minimum, the IncrediBase 575 acts similar to a dedicated center channel. It has a virtually mono sound, with high directionality. This can be a very helpful thing for listening to dialog-heavy TV programs. Bumping Phasecue up a few notches extends the stereo image, but recesses the vocals somewhat. Season to taste here. The Treble control actually extends down to the upper midrange, so it took some tweaking to get the most natural sounding vocal presentation. A Midrange tone control on this device would have the potential to really dial the 575 in for true HiFi sound. Even without this, I came away impressed with the IncrediBase 575. The sound was much more full and open than the smaller 525, with a more natural sound with all sources.
The Verdict
ZVOX has really impressed me with the IncrediBase 575. The bass output is better and stronger than it has any right to be, and the quality of the midrange drivers can hold their own for both TV sound and music reproduction. It is incredibly simple to hook up and use. Definitely check this out to use in any room where separate components don't make sense cosmetically, or you want the simplest user interface for very respectable sound. Recommended!
The Scorecard:
Design:
[Rating:4/5]
Performance:
[Rating:4.5/5]
Value:
[Rating:4/5]
Overall:
[Rating:4.5/5]
Specifications:
(5) 3.5″ full-range speakers and (2) 6.5″ subwoofers
Phasecue virtual surround sound
Auto-on/auto-off circuit
Remote control included
(2) Analog stereo inputs (mixing inputs) Power: 133 watts
36″w x 16.5″d x 5″h
More information:
ZVOX IncrediBase 575 (SRP $799.99)