Simplifying Sound In Tight Places
Home theater components and connections can be difficult. Even the most seasoned installer or life-long enthusiast has had moments of frustration when it comes to hooking up A/V gear or trying to decipher a user manual. The ZVOX company slogan is "Great Sound Made Simple." I was given the opportunity to review the new ZVOX Z-Base 525 'Single-Cabinet Surround Sound System." I have seen a variety of sound-bar type components in local stores that seemed to be targeted towards folks that have flat panel TVs but would like something more satisfying than the built-in TV speaker.  I assume these customers are not willing to put up with the clutter, expense or set-up of a full blown component system. But, at some point, someone in the household had a hard time hearing the TV speakers, or felt unsatisfied with how the onscreen action of the latest DVD or Blu-ray translated into wimpy sound from a flat-panel TV's internal speakers.
The Box
So here we have the Z-base 525 aiming to improve upon the sound you get from flat panel TV and do it as simply as possibly with quality sound. The unit is a flat 24″W x 12.5″D x 3.5″H black box that looks somewhat handsome in proportions and design.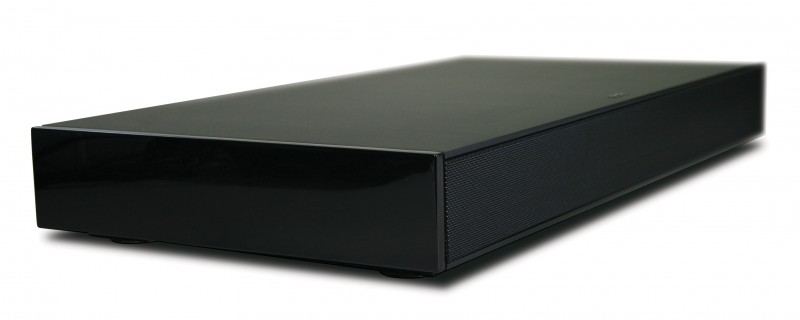 The top and bottom are constructed of a vinyl composite material, the rear panel is metal, and the ends are wood panels with seven layers of hand-finished high-gloss lacquer. The front is a black painted metal speaker grill. Peaking below, the underside reveals a downward-firing 5.25″ diameter 'woofer' protected by a non-removable grill.
The design and construction lend best to placing your LCD/plasma TV with base directly on top of the unit. I understand the recommended TV size to be between 22″-32″. You could certainly put the ZVOX on a cabinet by itself below a wall-mounted display. My bedroom TV is a 42″ 1080p Sharp Aquos LCD that fit perfectly on the top of the ZVOX, which in turn sat upon a wood dresser. Although my TV is bigger than the recommended size, I encountered no problems, and imagine you could even put a slightly larger set on the ZVOX unit.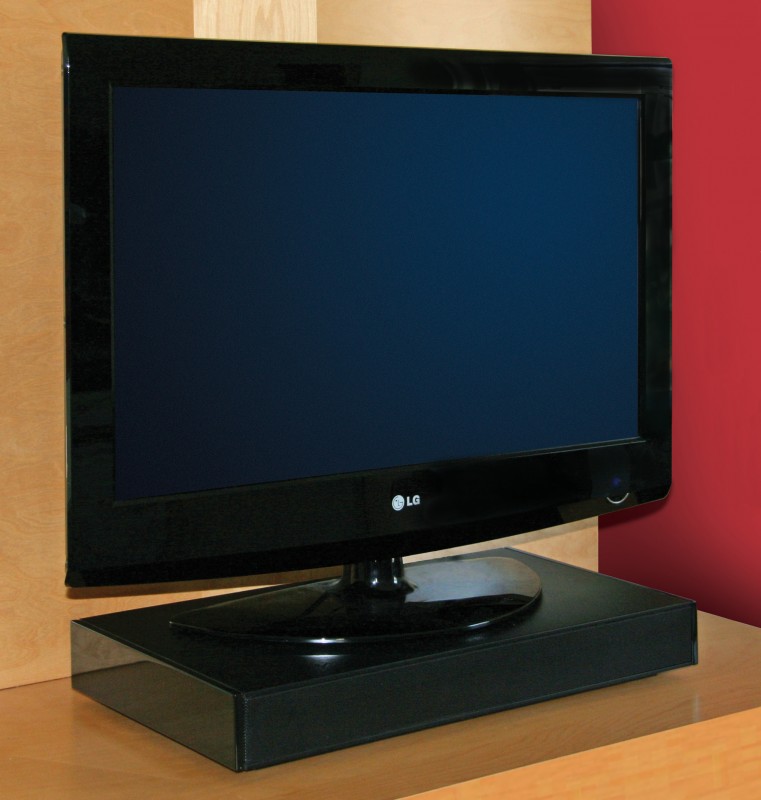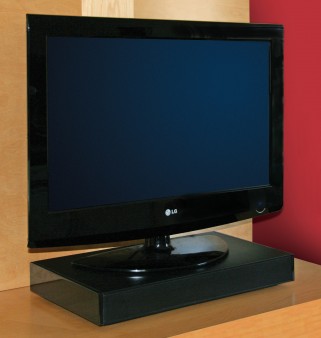 The Z-Base 525 includes a simple 4-page "manual." I'm hesitant to call it a manual, because there is really only 1 page of set-up instructions! This should expel set up fears for even the most novice of users. In fact, the front of the manual boldly states "Don't Worry – This Is Going To Be Simple". We shall see! A set of RCA cables, power supply cord and 11-button remote control are also included.
Hooking It Up
Rear panel connections are surprisingly simple, or sparse, if you're used to a typical home theater receiver. In fact, the ZVOX only supports two analog L/R inputs, labeled Input 1 and Input 2.


In use, the second input is a mixed-in input, and something must be connected to the first input for the second input to work. This simplifies things, but makes for a bit of a quandary if your brain would normally want to hook up the Z-Base to the audio output of your cable/satellite box and the analog outputs of a DVD/Blu-ray player. The instructions make no specific reference for this (common, I think) scenario. I suppose someone with sound already coming from their TV speakers would have the DVD/Blu-ray player already connected to the TV, so the most simple scenario would be to use the display's audio output jacks into the Z-Base 525. This would ensure that whatever TV input you select, your sound would follow out of the output jacks accordingly. This type of hookup does hold some merit, as nothing is more frustrating to the novice user than sound that doesn't match the picture due to improper input selection.
In practice, I used a direct hook up from my AT&T U-verse box for TV sound, and re-connected to the audio outputs of my OPPO DV-980H DVD player. There are no front panel controls on the Z-Base 525, just a small blue light that glows from behind the speaker grill. The remote is a simple 11 button affair, with Power, Mute, and level controls for Subwoofer, Treble, Phasecue and Volume. My first reaction upon listening to TV sound was amazement at the amount of bass output from the ZVOX. TV programs, and music channels had an incredible amount of punchy bass. I backed down on the Subwoofer button, even the minimal setting provide a surprising amount of low frequencies. Interestingly, there is a single RCA subwoofer output jack on the rear panel. According to the manual, the is a full-range signal, but with the respectable bass provided by the internal speaker, I think most users will be satisfied without a sub addition.
The control that had me the most intrigued was the Phasecue +/- buttons. The manual indicates this controls the 'ZVOX virtual surround sound system' and adjusts the size of the perceived sound-stage. I can verify that this works as advertised. There are nine levels of adjustment, the extreme positive setting did indeed manage the phase in such a way that the sound was very wide, but not "surrounding" you in the technical sense. I ended up preferring it somewhere in the middle, so as not make dialog or speech sound unnatural. Treble and volume also worked as advertised, and I could get some respectable volume out of the unit before distortion kicked in.
Big Sound?
How does it sound? For TV watching, it is acceptable compared to my (and other) internal TV speakers. Music listening highlights the one major flaw – a recessed midrange.  The Z-Base 525 has five 'full-range' 2″ speakers.  The audio purist in me is hesitant to agree with any claims that a 2″ driver should be called "full range." For regular TV watching, female voices sounded fairly natural, if you keep the Subwoofer control to the minimum or very low. Male voices exhibited more chestiness than I like to hear, especially with any increase in the Subwoofer setting. I found that using the Phasecue at near maximum setting made everything sound too hollow, with an unfocused sound-stage.
Overall, the Z-Base 525 was decent for casual TV watching. Even the chestiness in sound that I heard is probably a better trade-off than what you get from the typical TV speakers. If you're limited in space, or have a friend or relative that is overwhelmed by the typical home theater setup, this will probably be a good solution. It certainly looks attractive, without calling attention to itself.
The Scorecard:
Design:
[Rating:4/5]
Performance:
[Rating:2.5/5]
Value:
[Rating:3/5]
Overall:
[Rating:3.5/5]
The Verdict:
Does ZVOX fulfill on its promise for "great sound made simple?" Well, it is certainly simple. Great sound is usually subjective, and I cannot call it "great". But, the ZVOX Z-Base 525 does deliver on its goal to leave a small footprint and improve upon the sound that you'd normally get from your TV speakers, without all the A/V component fuss.
Specifications
(5) 2″ full-range speakers and (1) 5.25″ subwoofer
PhaseCue virtual surround sound
Auto-on/auto-off circuit
Remote control included
(2) Analog stereo inputs (mixing inputs) Power: 60 watts
24″w x 12.5″d x 3.5″h
More information:
ZVOX Z-Base 525 (SRP $399.99)