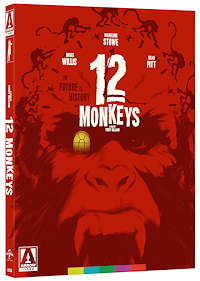 An intense and hyperactive film about time travel, the 1990s cult favorite 12 Monkeys was the second film from director Terry Gilliam (a member of the comedy troupe Monty Python to help him on his way to building back his trust with the big studios after the battles with Hollywood that were his classic Brazil and the disaster of Baron Von Munchausen.
This steampunk classic based on Chris Marker's benchmark 1962 short film La Jetee, follows James Cole (Bruce Willis), a prisoner of the state in 2035 who is sent into the past by the authorities that be to help avert a plague that will wipe out most of humanity in 1996. Cole arrives six years too early in 1990 and finds himself locked up in a psychiatric hospital since his warnings about a plague sound like the ravings of a lunatic. While in there, Cole meets a scientist named Dr. Kathryn Railly (Madeleine Stowe) and fellow patient Jeffrey Goines (Brad Pitt), the raving son of a virologist (Christopher Plummer). Cole is brought back to 2035 where he is questioned and reprimanded on his failed mission before being sent back to the correct year of 1996. He eventually kidnaps Dr. Railly and forces her to help him in his quest to avert the impending doom. Meanwhile, Goines also becomes a central figure in his mission.
Gilliam's 12 Monkeys fits easily into the director's style with its almost chaotic and surreal plot, but Gilliam keeps it from completely falling apart and these qualities are what make the film interesting. The actors all put in excellent performances, with Bruce Willis' Cole falling somewhere between his Korben Dallas from The Fifth Element and his John McClane from Die Hard. Brad Pitt is convincingly unhinged and maniacal while Madeleine Stowe acts as a calming focal point. Visually, the film looks much more interesting than its meager budget should allow and evokes Gilliam's 1981 comedy/fantasy Time Bandits.
The Video
12 Monkeys is a brand new restoration from a 4K scan of the original negative by Arrow Films, approved by director Terry Gilliam. It arrives on 4K Ultra HD Blu-ray in an HEVC 2160p (4K UHD) Dolby Vision HDR encodement. This 4K release grants the film a noticeable step-up in quality in what was an already beautiful Blu-ray release from Arrow. The 4K may even work to expose more of the production budget hindrances that were previously not so exposed. Even so, we still get very rich, crisp, and natural looking grain – this is and always has been a very grainy film. There are some frames that are a little on the soft side, but this is from the production and budget restraints not this transfer. The Dolby Vision adds that extra bit of dimensionality to the image that is not there on the previous Arrow Blu-ray, but it is subtle, not gimmicky. There are good specular highlights in the light that comes through in the cell when Cole is in the future. We also see nice 'pop' in lights and flames that get that subtle three-dimensional appearance and bright orange glow that looks a lot flatter on the Blu-ray.
The Audio
12 Monkeys comes to Blu-ray with an English DTS-HD Master Audio 5.1 mix that is engaging and has a good low end. There are good sound effects mixed around and lots of ambience, but for a more authentic experience, the strong DTS-HD Master Audio 2.0 stereo track is also a great option, though not as spacious for obvious reasons.
The Supplements
Arrow brings all the fantastic bonus materials from their previous Blu-ray release 12 Monkeys over to this release, so if you're double-dipping you won't be getting anything new, but if this is your first purchase, rest assured that these are all worth watching and/or listening to.
Commentary by Terry Gilliam and Charles Roven
The Hamster Factor and Other Tales of 12 Monkeys (1.33:1; 1080p; DV; 01:27:34) – A feature-length fly-on-the-wall documentary on the making of the film, directed by Keith Fulton and Louis Pepe.
The Film Exchange with Terry Gilliam (1.33:1; 1080p; DV; 00:23:51) – An interview with Terry Gilliam conducted by Jonathan Romney, recorded at the 1996 London Film Festival.
Appreciation by Ian Christie (1080p; DV; 00:16:10) – A newly filmed appreciation by the author of Gilliam on Gilliam
Twelve Monkeys Archive
Theatrical Trailer (1080p; DV)
Reversible sleeve featuring original and newly commissioned artwork by Gary Pullin
FIRST PRESSING ONLY: Illustrated collector's booklet featuring new writing on the film by Nathan Rabin and archive materials
The Final Assessment
Arrow does it again with another reference quality 4K Ultra HD Blu-ray release packed with wonderful bonus materials and collectible packaging. Well worth owning and highly recommended.
12 Monkeys (Special Edition) is out April 26, 2022 on 4K Ultra HD from Arrow Video
---
Rating Certificate: R (for violence and language)
Studios & Distributors: Universal Pictures | Atlas Entertainment | Classico | Twelve Monkeys Productions | Arrow Video
Director: Terry Gilliam
Written By: Chris Marker (inspired by the film 'La Jetée' written by) | David Webb Peoples (screenplay by) | Janet Peoples (screenplay by)
Run Time: 129 Mins.
Street Date: 26 April 2022
Aspect Ratio: 1.85:1
Video Format: HEVC 2160p (4K UHD)
HDR Format: Dolby Vision (HDR10 Compatible)
Primary Audio: English DTS-HD MA 5.1
Secondary Audio: English DTS-HD MA 2.0 Surround
Subtitles: English SDH