The Film
[Rating:3/5]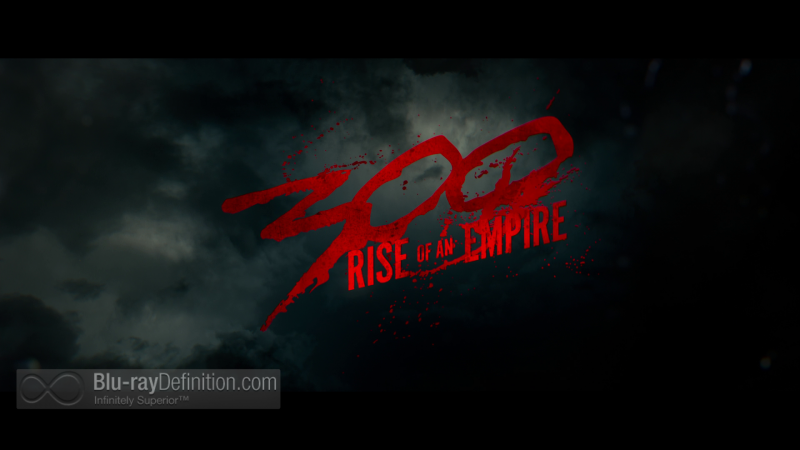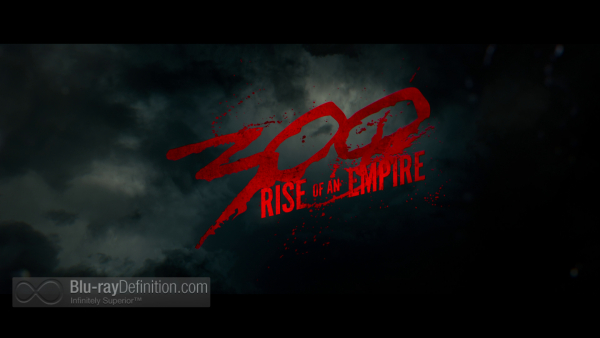 One can hardly believe that it has been seven years since the stylized adaptation of Frank Miller's graphic novel 300 exploded onto screens, forever changing the landscape of action films and historical fiction, influencing everything from Starz's Spartacus: Blood and Sand to the Clash of the Titans remake. Now the story is back, sort of, again taken from a Frank Miller graphic novel (Xerxes) – 300: Rise of an Empire isn't exactly a sequel and not really a prequel. It's a concurrent storyline that takes place during the battle of the 300 Spartans depicted in 300.
During a far too drawn out prologue narrated by Queen Gorgo (Lena Headey; TV's Game of Thrones), we learn of how Xerxes (Rodrigo Santoro), the king of the Persians, came to power and went through a metamorphosis from mortal to god, becoming the God King, aided by his deadly sister Artemisia (Eva Green; TV's Penny Dreadful) who earns her reputation as a murderess by immediately killing off everyone closest to him and becoming his closest confidante and adviser. As Xerxes goes to war against King Leonidas, Artemisia sets her sights on Athens and its leader Themistocles (Sullivan Stapleton), who is busy rallying the people of Athens and trying to convince Sparta to join him in unifying the city states of Greece into one nation. His efforts are rebuffed by Queen Gorgo who leaves him to fight an arduous battle at sea against Artemisia and the powerful Persian naval fleet.
As escapist fun, 300: Rise of an Empire delivers the goods – it has the gore, the guts, the sex. In fact, it doesn't take long before the nudity comes out, the abs start flexing, and the now-famous blood splatter effects and stop-motion is resorted to. If that's what you're into, then Rise of an Empire has it in spades. It has the hammed up acting too– David Wenham as Dilios is a particular stand out in this regard. The guy's voice sounds like a frog who sucked down too much helium. There are two standout performances in Rise of an Empire that help it overcome some of its structural and performance issues, however, and those are that of Eva Green and Lena Headey. Green is deliciously sexy and vicious as Artemisia, going toe to toe with all the pumped up, testosterone-heavy muscle heads in the film without batting an eye. Headey's performance is a bit more tempered, but no less engaging. She's strong, powerful, and lends the right amount of gravitas to her queenly role, not unlike what she does on Game of Thrones, only here with much less pathos.
Editor's Note: For a different take on this film, read our theatrical review of 300: Rise of an Empire by Tim Baros
Video Quality
2D HD: [Rating:4.5/5]
3D Effect: [Rating:4/5]
This original HD production captured on the Red Epic looks fantastic, like a modern, updated version of the 300 production from some seven years ago now. While it doesn't have that artificial layer of grain added to it, tt still has a cinematic appearance and very strong contrast. The colors don't quite pop, but that's a good thing; it fits the moodiness of the film. The 3D looks good as well, with a natural sense of depth, if only having a little bit more crosstalk than usual for most modern 3D productions. It stands out most during those battle on the sea, especially in the scene where Themistocles and his men end up under water after their ship explodes and a giant sea creature starts to attack. And, well, who can argue with the gorgeousness that are Eva Green and Lena Headey in 3D?
Audio Quality
[Rating:5/5]
An awesome showcase soundtrack in DTS-HD Master Audio 7.1 (48kHz/24-bit) is on offer here. It creates a tight 360-degree sphere oozing with atmosphere, clarity, and dynamic range. The big low frequencies will give your subwoofer a workout as well, when the wooden ships start colliding and the explosions start, well, exploding. If there's one issue, it's that the high end might be just a little on the crispy side, but it's minor. It hardly gets fatiguing.
Supplemental Materials
[Rating:3.5/5]
Blu-ray 2D:
Behind the Scenes: The 300 Effect:

3 Days in Hell (1.78:1; 1080p/24; 00:07:08)
Brutal Artistry (1.78:1; 1080p/24; 00:09:08)
A New Breed of Hero (1.78:1; 1080p/24; 00:04:40)
Taking the Battle to Sea (1.78:1; 1080p/24; 00:08:52)

Featurette: Real Leaders & Legends (1.78:1; 1080p/24; 00:22:52)
Featurette: Women Warriors (1.78:1; 1080p/24; 00:12:22)
Featurette: Savage Warships (1.78:1; 1080p/24; 00:10:36)
Behind the Scenes: Becoming a Warrior (1.78:1; 1080p/24; 00:04:39)
The Definitive Word
Overall:
[Rating:4/5]
It may not be as original as the first 300 movie, but it's just as silly and fantastical in its own right, bigger visually in many ways, and has a powerful acting duo in Lena Headey (who returns in the role as Queen Gorgo) and Eva Green, who steal the show. 300: Rise of an Empire is a cool popcorn flick.
[amazon_link asins='B00I6JODV4′ template='ProductCarousel' store='theaterbyte-20′ marketplace='US' link_id='3319bf4b-498f-4a2a-8178-48e23f070e5d']