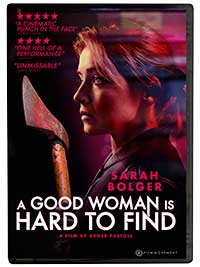 A Good Woman is Hard to Find, directed by Abner Pastoll, stars Sarah Bolger (Mayans M.C., Counterpart) as recently widowed Sarah, mother of two children. Her husband was murdered, and she is determined to find out why and who the killer is, but the cops don't seem too keen on doing much to solve the case, putting it down to her husband's drug dealing. Things get complicated when a man named Tito (Andrew Simpson) barges into Sarah's house and hides a cache of stolen drugs in her bathroom. Fearing for her life and her children's safety and believing she can get information out of him about her husband's murder, Sarah goes along with Tito's plan of leaving the stolen drugs at her house in exchange for a percentage of profits from his sales. But the situation quickly begins to spiral out of control as local gang leader Leo Miller (Edward Hogg), the person whom Tito stole the drugs from, begins searching for him and his stolen drugs, putting Sarah and her two kids in danger.
A Good Woman is Hard to Find is a slow-burning, stylish, and surprisingly visceral, violent crime thriller that brings together many elements we have seen before but in a fantastic way. It's an amalgamation of feminist empowerment, revenge thriller, and matriarchal domestic drama.
[envira-album id="123527″]
Sarah Bolger steps out and steps up in a layered and complex performance as the fragile yet powerful momma bear willing to go all out to protect herself and her children as the film rises to a slow, steady, and increasingly violent crescendo that slams you like a hammer. Her performance here in this indie drama may be one of the greatest of her career to date, a pity it's likely to fly under a lot of radars.
As for the direction in A Good Woman is Hard to Find from Abner Pastoll – it is taut and slick and he manages to keep the narrative in sight, despite some quirky storyline twists in the screenplay. It proceeds steadily over its story arc at an even pace, with few unnecessary sidesteps along the way, making the culmination at the conclusion, after we've had time to follow Sarah's path and empathize with her fully; all the more a satisfying catharsis of rage.
A Good Woman is Hard to Find was released 8 May 2020 (USA) and is out 23 June 2020 on DVD (USA) from Film Movement
---
The Film: 4.0/5
Studios & Distributors: February Films | Frakas Productions | Superbe Films | Film Movement
Country: UK | Belgium
Language: English
Run Time: 97 Mins.
Aspect Ratio: 2.39:1
Director: Abner Pastoll
Writer: Ronan Blaney
Release Date: 8 May 2020 (USA)
Street Date (DVD): 23 June 2020 (USA)