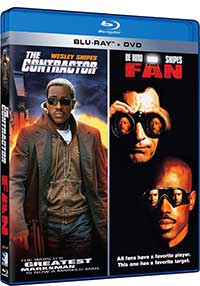 This double feature release from Mill Creek Entertainment features two action/thrillers starring Wesley Snipes from his heyday. The Contractor and The Fan. In the former, Snipes stars as a black ops assassin who ends up being the one hunted after one of his assignments in London goes haywire. Lena Heady also stars.
In the latter, Snipes plays superstar baseball player Bobby Rayburn, recently signed to a $40 million deal by the Giants. No one is happier than his "#1 Fan" Gil Renard (Robert De Niro, but when Rayburn gets mired in a terrible slump, Renard decides to turn to violence to get him out of it by any means possible – even if it takes murder to do it.
There are no great films in these two, but certainly, Tony Scott did his usual thing directing The Fan offering up good thrills even it often pushed a little too far beyond the ability to suspend disbelief. The Contractor is best for its action sequences and gunplay, but the story is convoluted and only gets worse the further along the movie gets, even the unnecessary closing that feels tacked on just for feel-good purposes that don't even match the tone of the rest of the film. Despite their flaws, however, both of these Snipes vehicles are decent popcorn entertainment for a lazy afternoon and pair together in this bargain release. Note: The rating provided is an average for both films.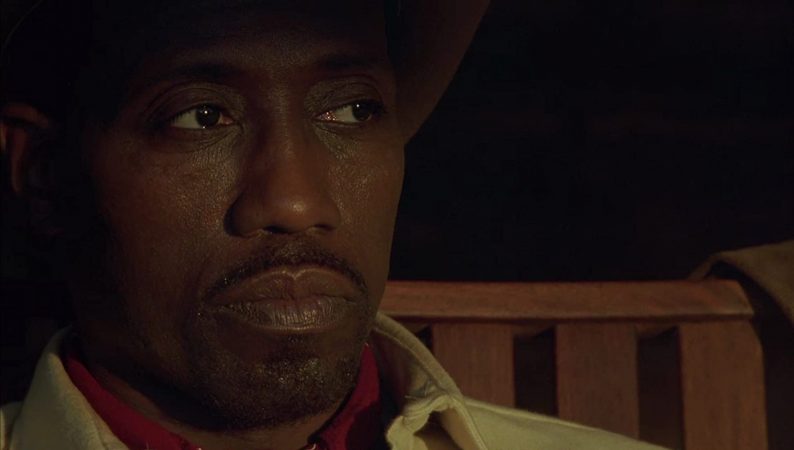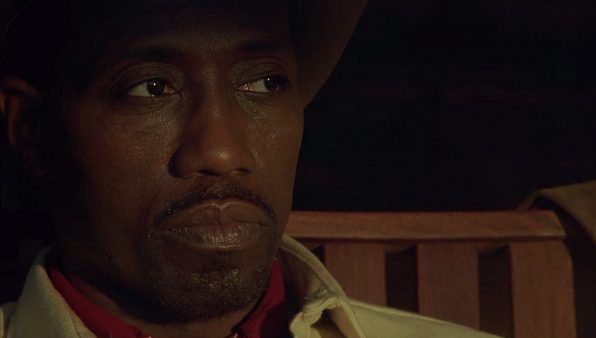 The Video
Both films included in this set were originally shot on 35mm film stock, with The Fan being an anamorphic production in 2.35:1 and The Contractor shot spherically in 1.85:1. Both come to Blu-ray in AVC 1080p encodements. It's not surprising, given that neither of these films looks like they have had a major restoration, that the better-looking film is The Contractor (2007), which is about a decade younger than The Fan (1996). The Contractor has some very mild noise in some frames here and there but is generally clean and looks detailed with organic grain structure, good shadows, and flesh tones. The Fan, on the other hand, suffers from issues with source damage straight through. We see some dirt and scratches on the source and overall brightness is just a little bit dim to my eyes. Note: The rating provided is an average for both films.
The Audio
The Contractor comes with a DTS-HD Master Audio 5.1 mix and The Fan a DTS-HD Master Audio 2.0 stereo mix. While the former is certainly aggressive and fills up all the channels it sounds like an upmix more than a truly discrete and well balanced 5.1 mix, with sounds from the score to foley effects all bleeding into the surround channels. The Fan's lossless stereo mix is a stronger offering despite being "only" stereo. It has wide stereo imaging and dynamic range with clear dialogue. Note: The rating provided is an average for both films.
The Supplements
Mill Creek provides a barebones release with this double feature offering zero bonus features on neither the Blu-ray nor the DVD.
The Final Assessment
A perfectly paired set of flawed but fun Wesley Snipes thrillers on Blu-ray/DVD from Mill Creek offer good value for genre fans and offer up strong performances despite weak scripts from the casts.
The Contractor and The Fan Double Feature Combo Pack is out now from Mill Creek Entertainment
---
The Creative Content: 3.0/5
The Video: 3.5/5
The Audio: 3.5/5
The Supplements: 0/5
Rating Certificate: R
Studios & Distributors: Mill Creek Entertainment
Directors: Tony Scott (The Fan) | Josef Rusnak (The Contractor)
Run Time: 215 Mins.
Original MSRP: $14.98
Street Date: 17 March 2020
Aspect Ratio: 1.85:1 (The Contractor) | 2.35:1 (The Fan)
Video Format: AVC 1080p
Primary Audio: English DTS-HD MA 5.1 (The Contractor) | English DTS-HD MA 2.0 Stereo (The Fan)
Subtitles: English SDH