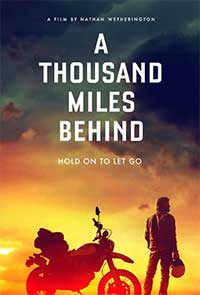 In A Thousand Miles Behind, Preston Avery (Jeffrey Doornbos) seems to have it all: a beautiful wife Theo (Bre Blair), a bright young daughter Anna (Payton Lilee Glasgow), and a nice home in SoCal suburbia. While we do not get to witness the deadly auto accident that claims the lives of Theo and Anna, it happens moments after the curtain rises and sets the stage for most of this melancholic drama.
Overcome by grief and unable to sleep in his own bed, Preston begins sleeping in his backyard. One morning, good friend Gary (Greg Evigan) discovers Preston's makeshift sleeping bag and tries to console him. Sheltered in his own house, Preston has crying jags until he "rediscovers" his Ducati Scrambler motorbike, parked outside of his workshop. After tinkering with the bike and getting it road-ready, Preston heads for the highway to try to bring meaning back into his life.
A Thousand Miles Behind becomes a picaresque road movie that finds Preston biking aimlessly through the desert by day and sleeping in his portable tent by night.  After days of bike travel, he reaches a campsite by the Pacific Ocean. His Ducati needs some minor repair work and he meets Tracey (Vanessa Campbell) who is also visiting the campsite. After Tracey offers the widower some hot coffee, the ice gets broken, and she begins to help Preston work through his grief, knowing that this will be only the first step in his long road to consolation and recovery.
[envira-album id="123568″]
Writer-director Nathan Wetherington has given us a moving storyline about his principal character's attempts at coping with despair so overwhelming that it makes much of the 90-minute running time a challenging watch. Tracey is the solitary ray of sunshine in this film—her cheerfulness in sharp contrast to Preston's profound sadness.
While dialogue is sparse, this small cast frequently uses body language and facial gestures to convey the shifting tides of their emotions. Veteran cinematographer Keith Dunkerley leverages the sweeping vistas and natural beauty of the open road to create the perfect backdrop for the motorcyclist's long trip.  Composer Sten Bowen makes his film debut with a fine score that parallels the personal journey of self-awareness undertaken by the film's lead. As the bulk of the action is borne by Jeffrey Doornbos, viewers will appreciate how effectively he conveys Preston Avery's profound suffering and the start of his eventual return to a life with meaning and purpose. All of us who have mourned the passing of a loved one should be moved by this performance as we recall our own feelings during this sad period in our respective lives. A well-done indie film that has made the festival rounds and is quite worth watching.
A Thousand Miles Behind is now available for viewing on-demand and streaming
[youtube https://www.youtube.com/watch?v=A65BM8omQg4&w=654&h=368]
---
The Film: 4.0/5
Studios & Distributors: Lemoyne Street Pictures | Level 33 Entertainment
Rating Certificate: TV-MA
Country: USA
Language: English
Run Time: 87 Mins.
Aspect Ratio: 2.35:1
Director: Nathan Wetherington
Writer: Nathan Wetherington
Release Date: 9 June 2020