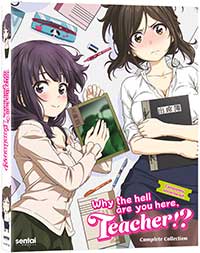 Why the Hell Are You Here, Teacher!? is an absurd ecchi romance/ecchi anime series based on the manga series by Soborou. The 12 episodes plus OVA, all included on this single Blu-ray, disperse with concerns about taboos over sexual relations with underage kids or teachers seducing their students and gets right down to it. This seems to be a running theme in a lot of Japanese anime and is perhaps something that is just culturally strange for many Westerners to get a hold of. That said, this series follows the goings-on at Kawanuma West public high school where three separate young female teachers, Kojima Kana, known as the demon teacher, Matsukaze Mayu, a diminutive arts teacher with a quiet and pleasant disposition, and Hazakura Hikari, a physical education teacher from Kawanuma East, who has a boisterous and mischievous personality, all start the school year trying to get closer to their students – and get closer they do, but not in the way they expected.
Kana finds herself falling in love with Satō Ichirō, around whom, rather than being the "demon teacher" she becomes shy and clumsy. Hikari finds she is drawn to the student she advises, Takashi, a longtime childhood friend who she suddenly realizes she has maybe always been in love with. Mayu sets her sights, rather clumsily on outcast Suzuki Rin, who is actually very kind, but has a lonely school life because his face looks mean. Finally, there's Tachibana Chizuru, the school nurse whose silver-colored hair is perfectly aligned with her seemingly icy, emotionless personality. She wants to relate better to the students and finds herself getting closer to Tanaka Ko, in front of whom she seems to have no qualms changing her clothes.
What all of these teachers have in common is that they have a tendency to end up in the most unusual circumstances around these male students that they have suddenly realized they're attracted to, like having their rather buxom breasts pop out of their blouses accidentally because they get caught on something, or their panties slip off, or their crush faceplanting between their legs. One interesting, hard to fathom scenario has Takashi getting incredibly dehydrated and getting so delirious that he collapses between Mayu's legs and starts licking up some water from you know where.
Each arc between teacher and student plays out over the course of about three or four episodes and follows along much of the same line. If you put out of your head what is actually going on here – teachers sexually preying on their underage students, family friends, or otherwise notwithstanding – this is actually a solid ecchi series with excellent animation and gorgeous moe character designs for the female characters in particular. Fans of this genre will have a lot to like here and are sure to be both amused and titillated.
[envira-album id="123587″]
The Video
Why the Hell Are You Here, Teacher!? arrives in an AVC 1080p encodement framed at 1.78:1 on Blu-ray Disc. Generally speaking, the image looks good, better than it would streaming or on DVD. It's free from compression noise and excessive motion artifacts and the colors look vibrant, but not oversaturated. There is some very mild aliasing that occasionally crops up on the edges of the line art.
The Audio
The series hits Blu-ray with its original Japanese-language mix and English dub in DTS-HD Master Audio 2.0 stereo. I used the Japanese track as my main reference and it sounded great, with a strong sense of stereo panning and clear dialogue. The voice actors were quite lively and hilarious. The English dub is mastered at a slightly lower level, so I needed to bump the volume up a few notches when switching to it. The actors do I decent job, but the translation leans a little bit too much on profanity than the already whacky and taboo circumstances of the episodes that should be enough to offer up their own comedy and irreverence.
The Supplements
Only the clean opening and closing and additional Sentai Filmworks trailers are included on Why the Hell Are You Here, Teacher!?. The release does come in a slipcover that reveals an uncensored jacket underneath.
The Final Assessment
A titillating and tantalizing ecchi series that is both taboo and funny. Great animation, character designs, and good audio/video quality.
Why the Hell Are You Here, Teacher!? is out on Blu-ray May 26, 2020 from Sentai Filmworks
Merchant:

Right Stuf, Inc.

Description:

Kawanuma West may be a public school, but some of its students are about to get private lessons in sex ed courtesy of four very attractive teachers! To be clear, none of our lady educational professionals begin their semesters by writing "get involv...

Price:

$37.49

Retail Price:

$49.98
---
The Story:3.5/5
The Animation: 4.0/5
The Video: 4.0/5
The Audio: 4.5/5
The Dub: 3.5/5
The Supplements: 1.0/5
TV Rating: TV-MA (DS)
Animation Studio: Tear Studio
Distributor: Sentai Filmworks
Directors: Kaneko Hiraku (Chief) | Tokoro Toshikatsu
Writers: Takabayashi Yūki | Fujimaru Yuri
Run Time: 195 Mins.
Street Date: 26 May 2020
Aspect Ratio: 1.78:1
Video Format: AVC 1080p
Primary Audio: Japanese DTS-HD MA 2.0 Stereo
Secondary Audio: English DTS-HD MA 2.0 Stereo
Subtitles: English