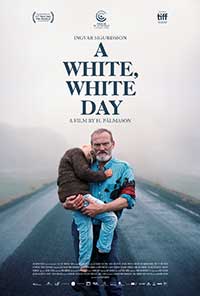 In the latest film from Icelandic filmmaker Hlynur Palmason (Winter Brothers), A White, White Day (Hvítur, hvítur dagur), is a slow-burning Scandi-noir that explores grief, unconditional love, and revenge.
Set in a remote Icelandic town, off-duty police chief Ingimundur (Ingvar Sigurdsson) begins to suspect that his recently dead wife, who died tragically in a car accident, was having an affair with a local resident. Despite being surrounded by his family and having a close relationship with and caring for his young granddaughter, Ingimundur's obsession over getting to the truth about his wife's affair grows out of control and it bubbles up into a violent conclusion that puts him and his family in danger.
A White, White Day is a thoughtful and calculated film that dives into the depths of grief, paranoia and obsession. From the icy, cold, white cloak that shrouds the proceedings and adds a bit of gravitas to the story, on the whole, courtesy of the brilliant cinematography from Maria von Hausswolff to the pensive editing and often lingering camerawork, Palmason manages to draw us into Ingimundur's life, so we feel his obsession as it slowly grows and brings us to what is perhaps an inevitable denouement.
[envira-album id="122861″]
Sigurdsson's performance is a workshop in understated rage, but also loyalty, tenderness, and love. The core of the film is always the relationship Ingimundur has with his granddaughter. Particular touching is one scene where Ingimundur is severely injured and he still finds the wherewithal to worry if his granddaughter is okay and seat belted in his car. Sigurdsson plays this all so convincingly.
For a film that is thoughtful, provocative and another installment of great Scandi-noir, but with a little softer edge, A White, White Day is a great film to watch.
A White, White Day is streaming now on Film Movement's Virtual Cinema
---
The Film: 4.0/5
Studios & Distributors: Danish Film Institute | Danmarks Radio (DR) | Film i Väst | Glassriver | Iceland's Ministry of Industry and Commerce | Icelandic Film Center | Join Motion Pictures | Kukl | MEDIA Programme of the European Union | Nordisk Film- & TV-Fond | Ríkisútvarpið-Sjónvarp (RÚV) | Sena | Snowglobe Films | Swedish Film Institute | Film Movement
Countries: Iceland | Denmark | Sweden
Language: Icelandic
Run Time: 109 Mins.
Aspect Ratio: 2.39:1
Director: Hlynur Pálmason
Writer: Hlynur Pálmason
Release Date: 29 May 2020 (USA)