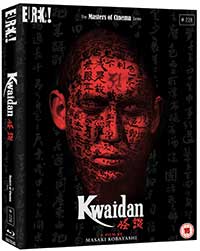 Kwaidan (literally "ghost stories") is the 1965 Japanese anthology horror film directed by Kobayashi Masaki. The film is based on stories from Lafcadio Hearn's collections of Japanese folk tales and encapsulates four separate tales, "The Black Hair," "The Woman of the Snow," "Hoichi the Earless," and "In a Cup of Tea".
In the first story, "The Black Hair," a samurai who has fallen on hard times due to the fall of his master deserts his weaver wife to go marry the daughter of an upper-class family, thereby gaining himself wealth and status. His new marriage is immediately defined by unhappiness as he finds his new wife uninteresting, and selfish, and he is tortured by the memory of his first wife.
"The Woman of the Snow" finds a woodcutter falling in love with and entering a relationship with a mysterious, ageless woman named Yuki who holds his life in her hands.
"Hoichi the Earless" is about a young blind musician who plays the biwa hoshi. Playing for the nobles, he finds his life in after going to a graveyard and reciting the Tale of Heike to the court of the dead Emperor.
Finally, "In a Cup of Tea" a strange face begins to appear to man in a cup of tea.
Like the best ghost tales or campfire stories, the stories in Kwaidan delve into all manner of surprising and eerie aspects of the supernatural and they are bolstered in their spookiness by a strange, artful production done almost entirely on a set. This set offers a sense of hyper-realism that filming on-location cannot provide – these are the surreal, feverish settings of our dreams and nightmares. Often shifting from shadow to stunning displays of color, Kobayashi leaves behind the realm of realism, spurning any indication of being planted in the waking world.
If there is an anthology of horrors you would like to watch, you can't go wrong with this stunner Kobayashi.
[envira-album id="122899″]
The Video
This Masters of Cinema release of Kwaidan is taken from a 2K digital restoration of the film. It arrives in a 2.40:1 AVC 1080p encodement that looks stupendous, rich in detail, organic film grain, and brilliant with color. There are excellent shadow nuance and dynamic range and little in the way of noise. Some film softness is still visible, but it doesn't hinder the overall detail.
The Audio
The original Japanese-language mono audio mix is supplied in a solid LPCM 1.0 track that is full, clean, and free from any excess noise, clipping, or hiss.
The Supplements
The on-disc bonus features for Kwaidan are excellent enough, given the always fun to watch Kim Newman and the video essay by David Cairns, but then this limited edition also comes with a 100-page collector's book.
Shadowing: A Video Essay by David Cairns (2.40:1; 1080p; 00:35:54)
Kim Newman Interview (1.78:1; 1080p; 00:24:24)
B+W Japanese Teaser
Colour Japanese Teaser
Japanese Trailer
Limited Edition hardbound case and 100-page Collector's Book
The Final Assessment
The colors, the performances, the cinematography, the set designs – they all come together for what are a fantastic and lingering set of stories in Kwaidan, here available for the first time on Blu-ray in the UK from Eureka's Masters of Cinema.
Kwaidan Limited Edition Blu-ray is out in the UK 27 April from Eureka Entertainment
---
The Creative Content: 4.5/5
The Video: 4.5/5
The Audio: 4.5/5
The Supplements: 4.5/5
Rating Certificate: UK: 15
Studios & Distributors: Bungei | Ninjin Club | Toho Company | Toyo Kogyo Kabushiki Kaisha | Eureka Entertainment
Director: Kobayashi Masaki
Writers: Mizuki Yôko (screenplay) | Lafcadio Hearn (novel) (as Koizumi Yakumo)
Run Time: 183 Mins.
Street Date: 27 April 2020
Aspect Ratio: 2.40:1
Video Format: AVC 1080p
Primary Audio: Japanese LPCM 1.0
Subtitles: English