Estimated reading time: 6 minutes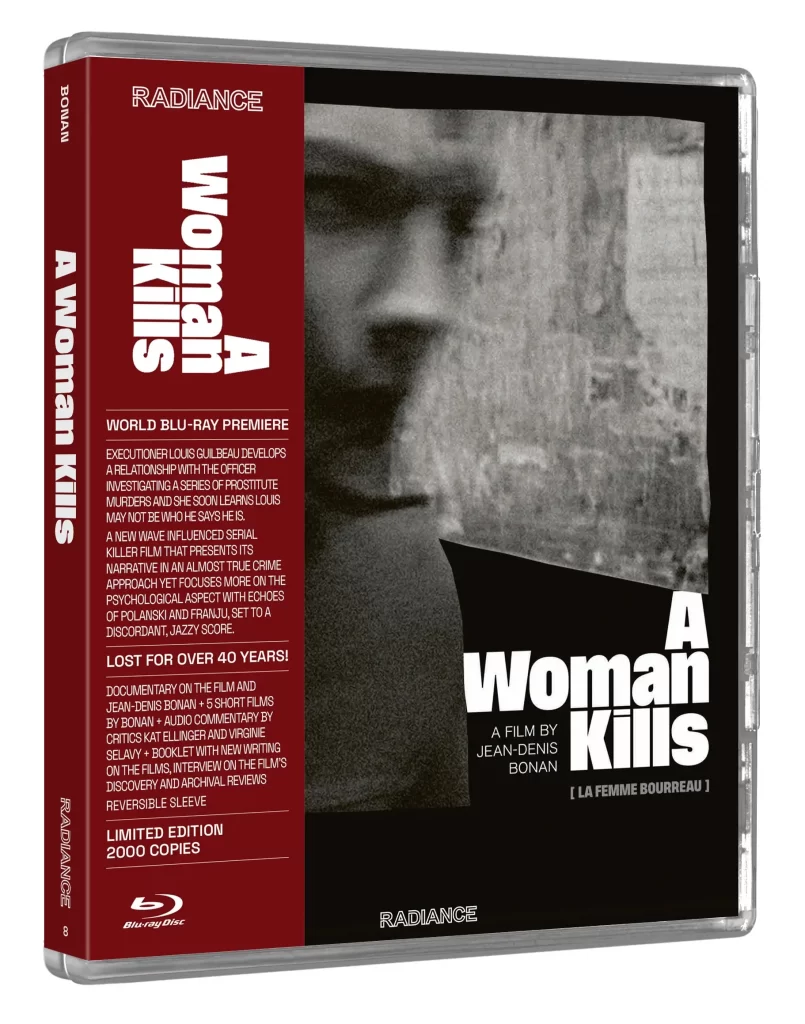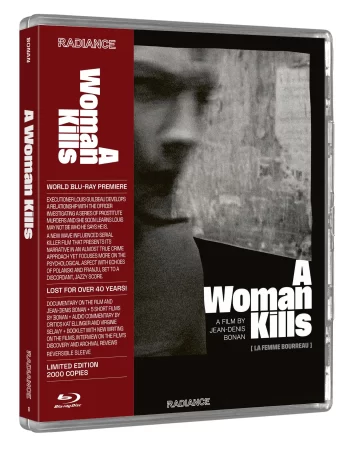 A lost film from writer/director Jean-Denis Bonan which was discovered over four decades later, A Woman Kills or La femme bourreau was filmed during the tumultuous Paris events of 1968 and it both incorporates the Nouvelle vague and anticipates the coming styles of 1970s Italian gialli.
A series of murders of prostitutes has occurred and with the public alarmed at the thought of a serial killer on the loose, Hélène Picard, a prostitute herself, is sentenced and executed for the murders. But it doesn't take long before the murders begin again and the authorities realize they executed the wrong person. Executioner Louis Guilbot (Claude Merlin) develops a relationship with the beautiful investigating officer Solange Lebas (Solange Pradel) as the murders continue. Solange soon discovers an unexpected secret about Louis' personal life that could have a profound effect on her investigation.
A Woman Kills clocks in at a brisk 68 minutes so barely qualifies as a feature-length film. In that span of time Bonan packs a lot of information into this film. It verges on the erotic but is never salacious in its depiction of nudity and sexuality. He makes sure to give a rundown via voice over of each of the prostitute victims' lives and backgrounds before we see them killed, so they are not mere fodder for the meat grinder. He also plays with the visuals making the film very surreal – we may see a pot about to boil over just as emotional tensions build up, or in one particularly strange lovemaking scene he shoots from the beneath a wire mattress. The result is an almost mechanical, painful, S&M sex scene.
If there is a major flaw in the film – and this is most likely do to the mores of 1968 – is the psycho-sexual undercurrent that finds a particular character, a crossdressing male, being used in a stereotypically unhinged role.
In the end, A Woman Kills is a film that proves itself ahead of its time thematically and visually, and is a special treasure that has been excavated from the world of lost films.
The Video
Radiance says A Woman Kills was restored by Luna Park Films from the original film elements and supplied to them as a HD digital file. Luna Park restored the film in 2K from the original 16mm elements. It appears on this Radiance Blu-ray in a 1.33:1 AVC 1080p encodement.
Considering the film was lost for over 40-years until being found and restored approximately 10 years ago, this transfer, in its original, stark black and white cinematography, looks exceptionally good. There is an obvious layer of grain and good details for a 16mm production. Blacks don't always achieve that obsidian level of darkness, but there isn't any really washed-out look. There are places where the source damage just could not be overcome, with lots of splotches and scratches over the frames. That said, the image is mostly stable and free from harmful visual effects and source damage most of the time.
The Audio
A Woman Kills comes with its original French mono audio mix in LPCM 2.0. The sound quality is limited by the technology of the time and the source, but it is mostly satisfying, especially on the music by Bernard Vitet. There aren't any serious issues with the dialogue.
The Supplements
Radiance includes a trove of bonus features including several short films and a thick limited edition booklet packed with in-depth writing and production stills. The audio commentary with Kat Ellinger and Virginie Sélavy is one of the better ones I have had the pleasure of listening to. The two ladies offer plenty of insight into this film and its filmmaker.
Introduction by Virginie Sélavy (1080p; 00:04:53)
Audio Commentary by Kat Ellinger and Virginie Sélavy
On the Margin: The Cursed films of Jean-Denis Bonan (2015/2022) (1080p; 00:37:51) – This documentary by Francis Lecomte was produced by Luna Park films in 2015 and features interviews with director Jean-Denis Bonan, cinematographer Gérard de Battista, editor Mireille Abramovici, musician Daniel Laloux, and actress Jackie Raynal. In 2022 some footage was added by Lacomte for this release.
Short Films:

The Short Life of Monsieur Meucieu (1962)
A Crime of Love (1965), Rushes
Sadness of the Anthropophagi (1966)
Crazy Mathieu (1967)
A Season with Mankind (1967)

Trailer (1080p)
Limited edition booklet featuring new writing on the film by author and scholar Catherine Wheatley ("A Killer on the Streets"); writer and broadcaster Richard Thomas on the short films ("Everywhere and Nowhere: Jean-Denis Bonan"); writing on gender identity tropes in A Woman Kills and the horror film by Cerise Howard ("A Woman Kills, or: The Belated Return to the Fold of a Cousin of the Founder of the Spoiler-Industrial Complex (Once-Removed)"); an interview with Francis Lacomte, the French distributor who rescued the film; newly translated archival reviews; and film credits.
Reversible sleeve featuring original and newly commissioned artwork by maarko phntm
The Final Assessment
Radiance continues to impress in their early lifespan as a distributor with this newfound treasure from the deep. A Woman Kills is a film that all cinephiles should investigate at some point. Radiance's Blu-ray release does it good service.
---
A Woman Kills is out on Blu-ray February 7, 2023, from Radiance
---
Rating Certificate: Not Rated
Studios & Distributors: Luna Park Films | Radiance
Director: Jean-Denis Bonan
Written By: Jean-Denis Bonan
Run Time: 69 Mins.
Aspect Ratio: 1.33:1
Street Date: 7 February 2023
Video Format: AVC 1080p
Primary Audio: French LPCM 2.0 Mono
Subtitles: English