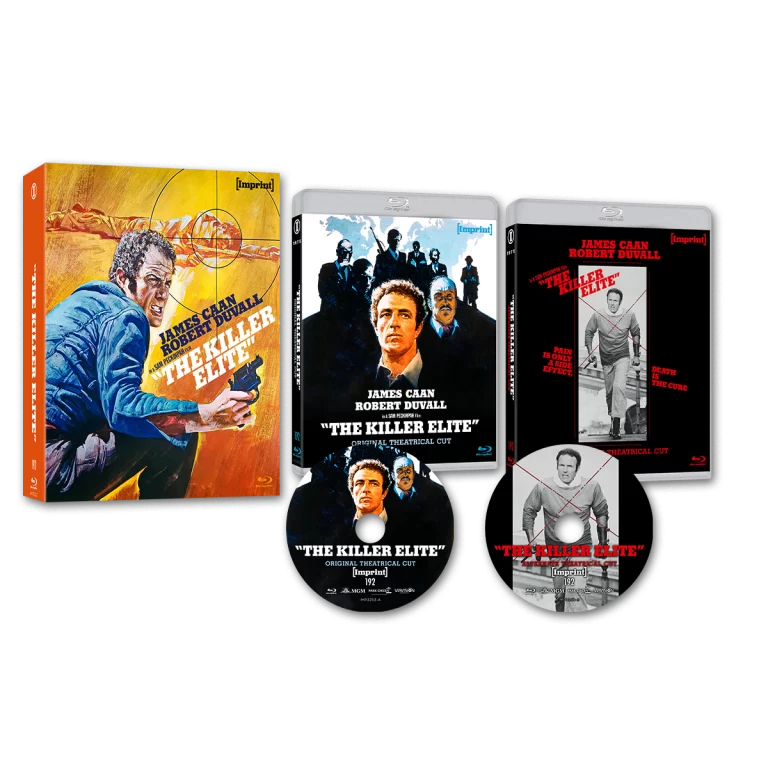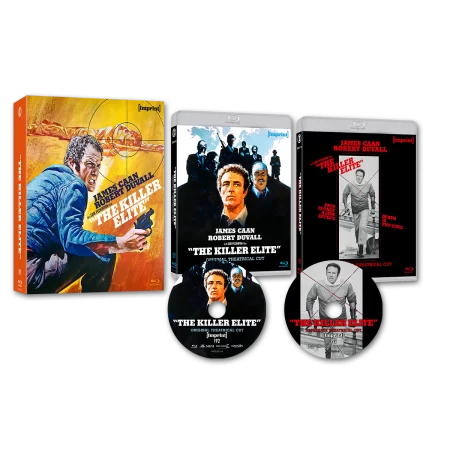 Estimated reading time: 6 minutes
In 1975, director Sam Peckinpah was going through serious issues both in his career and personally, as a result his creative output was affected very negatively. The Killer Elite is a product of this tumultuous period.
While The Killer Elite is far in quality from the best of Peckinpah's work like The Wild Bunch or The Getaway, there is much here that has those flashes of action brilliance and tension that Peckinpah made his career on, like the opening scene's explosive action sequence or the finale's showdown between Mike and George.
A pseudo-political espionage action-thriller that also incorporates some of the kung fu mania of the era, the story follows a mercenary hitman, Mike Locken (played well by James Caan), who contracts to the CIA through shady security firm. He is double-crossed by his friend and partner George Hansen (Robert Duvall), shot by him in the shoulder and knee, left disabled and suffering a long journey of rehabilitation. He goes through an extended period of rebuilding his strength determined to get revenge on George, but his employer has no use for him until he is enticed back to help protect an Asian politician, Yuen Chung, who has a contract out on his life – a contract that his old pal George is on the other end of.
The problem is the poorly thought-out screenplay by Stirling Silliphant loses its way very quickly and budget constraints also hinder the film's development. After the first half where we are invested in Mike's recovery as Caan turns in a believable and tormented performance, things go badly. The second half of The Killer Elite turns into a badly put together action film where Caan's character must get together a crew, there are some bad car chase sequences through eerily empty streets of San Francisco, and awkward kung fu moments that are wedged into the storyline.
Ultimately Peckinpah is never able to point the film in the direction he perhaps wanted it to go and bring up to the level of other political thrillers of the era such as Three Days of the Condor or The Parallax View. What rescues it for fans are the few action sequences that to have those glints of brilliance and the fine performances turned in by Caan and Duvall.
This 2-disc Blu-ray collection from the Australian distributor Imprint includes the Original Theatrical Cut and Alternate Theatrical Cut, which trims about 7 minutes from the run time.
The Video
Both cuts of The Killer Elite are presented in 2.35:1 AVC 1080p encodements of original MGM masters. The picture across both looks identical and fairly good. There is some slight noise and posterization early on in a dark scene, but otherwise, we are given a natural and filmic presentation with good colors and flesh tones. I saw very mild ringing around faces, particularly in a scene with James Caan in the bathtub.
The Audio
An English LPCM 2.0 track with the original mono mix presents sound for the film very well, especially the score from Jerry Fielding, which has a lot of natural dynamics and open, listenable high frequencies.
The Supplements
Limited Edition 2-Disc Hardbox edition. 1500 copies only. Imprint packages this in a beautiful hardbox with gorgeous artwork. I have come to believe Imprint has some of the most gorgeous packaging alongside 88 Films. Apart from the artwork, they include a boatload of special features, including two excellent audio commentaries and the always enjoyable to hear from Kim Newman.
Audio commentary by Peckinpah expert Mike Siegel (NEW)
Audio commentary by film historians Paul Seydor, Garner Simmons and Nick Redman
Passion & Poetry: Sam's Killer Elite – featurette (2013) (1080p; 00:29:02)
The Passion & Poetry Project – Mike Siegel and his works on Sam Peckinpah (NEW) (1080i; 00:43:35)
Passion & Poetry: Peckinpah Anecdotes – featuring Kris Kristofferson, Ernest Borgnine, James Coburn, David Warner, Ali MacGraw, L.Q. Jones, Bo Hopkins, R.G. Armstrong and Isela Vega (NEW) (1080i; 00:25:42)
Film historian Kim Newman on The Killer Elite (NEW) (1080p; 00:22:41)
Elaine on Elite – interview with Hollywood stylist Elaine Bowerbank (NEW) (1080i; 00:12:06)
San Francisco Plays Itself – video essay by filmmaker Daniel Kremer (NEW) (1080p; 00:13:05)
Promoting The Killer Elite – Image Gallery (1080p)
Shooting The Killer Elite – Image Gallery (1080p)
The Killer Elite in pictures – Image Gallery (1080p)
US TV Spots and Radio Spots (1080i)
Theatrical Trailer (720p)
The Final Assessment
This may not be the best or close to it from Sam Peckinpah, but there are some things to enjoy in this film and both discs here offer satisfying transfers and a windfall of bonus features.
---
The Killer Elite (1975) – Imprint Collection #192 is out in Australia 28 December 2022 from Imprint Films.
---
Rating Certificate: Australia: M
Studios & Distributors: Exeter Associates | Persky-Bright Productions | Arthur Lewis Productions | Baum/Dantine Productions | Imprint Films
Director: Sam Peckinpah
Written By: Marc Norman (screenplay) | Stirling Silliphant (screenplay) | Robert Syd Hopkins (novel "Monkey in the Middle")
Run Time: 238 Mins.
Street Date: 28 December 2022
Aspect Ratio: 2.35:1
Video Format: AVC 1080p
Primary Audio: English LPCM 2.0 Mono
Subtitles: English SDH