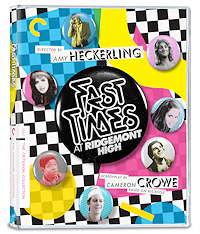 Director Amy Heckerling's 1982 teen coming of age comedy Fast Times at Ridgemont High is the blueprint for so many of the raunchy teen comedies that followed in its wake, from 1984's Revenge of the Nerds to 1999's American Pie, or even somewhat tamer but no less funny fare such as 1986's Ferris Bueller's Day Off. What many of the imitators miss in this film from Heckerling, which also boasts a screenplay from Cameron Crowe that is based on a book which itself is based on his real high school experiences, is it is not just a crude exercise in teenage misbehavior and political incorrectness. Crowe's screenplay paired with Heckerling's fast-moving direction that also adds her feminine perspective grants the film an authentic sense of kids grappling with coming of age, the changes in their bodies, pushing against or breaking away from the authority figures overseeing their lives, and of course, experimenting with new things. Fast Times is filled with lots of classic one-liners and memorable moments that have made it one of the most enduring comedies from the 1980s. How many guys from the era can forget the slow-motion image of Phoebe Cates emerging from the pool in the red bikini or the subsequent embarrassment of Judge Reinhold that follows? Or pick a line from Sean Penn as the perennially high Jeff Spicoli and his confrontations with U.S. History teacher Ray Walston as Mr. Hand. Add to the comedy, the gags, the sex, the drugs and the authentic teen awkwardness the absolute fire of the musical soundtrack that pulls from the best rock and new wave acts of the day such as Jackson Browne ("Somebody's Baby"), Tom Petty and the Heartbreakers ("American Girl"), The Go Go's ("We Got the Beat"), and Oingo Boingo ("Goodbye Goodbye"), and you have all the makings of a brilliant and enjoyable coming of age comedy that never seems to get old.

Fast Times at Ridgemont High (1982)
The Video
This is a new digital restoration of Fast Times at Ridgemont High overseen by director Amy Heckerling created in 16-bit 4K resolution from the original 35mm camera negative on a Lasergraphics Director film scanner. The film is presented in its original aspect ratio of 1.85:1 in an AVC 1080p encodement on Blu-ray. The image looks generally good for this film. It has a natural grain structure and grain haters may definitely not be enamored of the look of this, but it looks as good as it ever has. The colors look warm, vibrant, there's a pinkish hue to skin tones. Some frames look soft, but this is more due to the original production and the inevitable aging of the source than this transfer. This comedy has never been total reference material, but as far as this transfer goes, this is a good reference for this film.
The Audio
The soundtrack is provided in English DTS-HD Master Audio 5.1. This was created by Universal Studios Sound Department in 2004 from the original 35mm DME magnetic track and the half-inch magnetic music masters, with additional restoration done by the Criterion Collection. This is a straightforward mix that is mostly front-heavy with mild surround atmospherics, but it has good stereo imaging and very punchy midrange and dynamics for its 1980s rock and New Wave music tracks.
The Supplements
This is not one of the most loaded up releases from Criterion, but the ported over interviews and audio commentary are great and it's always special to see the TV edit of these comedies, which themselves can be quite funny to laugh at.
Audio commentary recorded in 1999 featuring director Amy Heckerling and screenwriter Cameron Crowe.
Reliving Our "Fast Times at Ridgemont High" (1080i; 00:39:16) – This 1999 documentary features director Amy Heckerling, screenwriter Cameron Crowe, producer Art Linson, casting director Don Phillips, and actors Brian Backer, Sean Penn, Judge Reinhold, Robert Romanus, Eric Stoltz, Scott Thomson, and Ray Walston.
The TV Version (1.33:1; 1080p; 01:35:07) – The ninety-five-minute version of Fast Times at Ridgemont High that was edited and dubbed for television broadcast in the 1980s. It includes some alternate footage not in the theatrical version.
Interviews:

Olivia Wilde, Amy Heckerling, and Cameron Crowe, 2020 (1080p; 00:34:27) – Actress and filmmaker Olivia Wilde interviews director Amy Heckerling and screenwriter Cameron Crowe via video call.
Amy Heckerling at the AFI, 1982 (1080p; 00:47:42) – Audio interview with director Amy Heckerling at the AFI from 1982.

Booklet: New introduction by Crowe and an essay by film critic Dana Stevens.
The Final Assessment
A classic comedy and an excellent transfer from Criterion Collection. Highly recommended.
---
If you found this article useful please consider clicking the button below and donating to help keep TheaterByte funded, which will allow us to continue posting great content.
---
Fast Times at Ridgemont High is out on Blu-ray May 11, 2021 from Criterion Collection
---
Rating Certificate: R
Studios & Distributors: Universal Pictures | Refugee Films | Criterion Collection
Director: Amy Heckerling
Written By: Cameron Crowe (screenplay & book)
Run Time: 89 Mins.
Street Date: 11 May 2021
Aspect Ratio: 1.85:1
Video Format: AVC 1080p
Primary Audio: English DTS-HD MA 5.1
Subtitles: English SDH