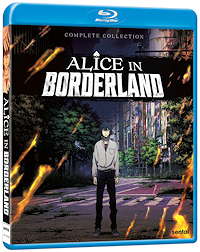 Alice in Borderland is a three-episode OVA anime series based on the manga series written and illustrated by Haro Aso. There is also a 2020 Japanese live action series from Netflix. This anime series closely resembles the live action series on Netflix but begins in a slightly different way.
The series traces three listless high school students, Arisu, Karube and Chōta, who find themselves at a fireworks festival dreaming about escaping their boring lives when they are suddenly transported to an alternate version of their current reality and meet with a strange woman. They are now caught in a deadly game. They have to win or literally die, each new level decided by a draw of playing cards that decides the type of game and the difficulty. These three episodes include a game where thr friends and other 'players' are chased around an apartment complex by a gun wielding person wearing a horsehead and they must find the safe room before they are killed. This episode is mirrored almost exactly in the Netflix live action series.
What this OVA brings to the table the live action cannot accomplish is the visual aesthetic and looser physics, the gorgeous character designs, and a more kinetic pace. This ends where the live action continues but it doesn't suffer for it.
If you have seen the Korean series Squid Game, also from Netflix, then you will have an idea of the themes in Alice in Borderland. It is similar but it leaves out some of the sociopolitical commentary that makes Squid Game a bit more complex. Still this is a quick and fantastic anime series.
Alice in Borderland (TV) (Anime) (2014)
The Video
The three episodes are provided in 1.78:1 AVC 1080p. The bitrate averages around 17 to 20Mbps, so it's not the highest or crispest animation on Blu-ray, but it is satisfying with good detail, color, and show reproduction, showing just the slightest softness and occasional color banding.
The Audio
Original Japanese-language and English dub are included in DTS-HD Master Audio 2.0 stereo. The mixes are solid, stereo mixes with wide stereo panning and good dynamic range. The dialogue is clean and full for both versions. The Japanese cast provide more neuroses and angst in their performances than the English cast. Stick with the Japanese, but the dub is a reasonable alternative.
The Supplements
This comes with the clean closing animation (1080p) and additional Sentai trailers (1080p).
The Final Assessment
An awesome, visceral anime series where players in a parallel universe must play games with their lives on the line. Three quick episodes that look and sound great. Recommended.
Alice in Borderland (Complete Collection) is out on Blu-ray December 21, 2021 from Sentai Filmworks
---
Rating Certificate: TV-MA (VSD)
Animation Studio: Silver Link | Connect
Distributor: Sentai Filmworks
Director: Tachibana Hideki
Written By: Nakamura Ryōsuke
Run Time: 75 Mins.
Street Date: 21 December 2021
Aspect Ratio: 1.78:1
Video Format: AVC 1080p
Primary Audio: Japanese DTS-HD MA 2.0 Stereo
Secondary Audio: English DTS-HD MA 2.0 Stereo
Subtitles: English