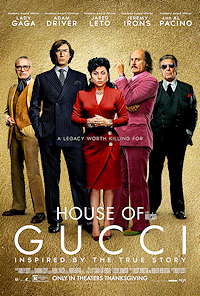 On March 27, 1995, 46-year-old Maurizio Gucci, former CEO of his family's legendary high fashion empire, was gunned down on the steps of his Milan residence. Director Ridley Scott's House of Gucci retraces the events leading up to this highly publicized murder.
The film opens innocently enough in 1978 when pretty Patrizia Reggiani (Lady Gaga) meets Maurizio (Adam Driver), a law student, at a costume party. Patrizia works as a secretary for her father Fernando (Vincent Riotta) who owns a small trucking company.  She eventually wheedles her way into Maurizio's affections but his father Rodolfo (Jeremy Irons) bluntly tells him that if he marries this gold-digger, he will be left on his own.
When a now-pregnant Patrizia charms Maurizio's Uncle Aldo (Al Pacino), half-owner of the Gucci company, during his seventieth birthday party, the old man sees Maurizio as the company's future because his son Paolo (Jared Leto), a talentless would-be clothes designer, is "an idiot". Rodolfo dies a few months later but had never signed a transfer of his shares to Maurizio, a problem quickly resolved by Patrizia's forging of the dead man's signature.
Things start going downhill for the Gucci clan, as Patrizia engages the psychic Giuseppina "Pina" Auriemma (Salma Hayek) to help her get Maurizio more involved in the family business. She dupes the gullible Paolo into providing evidence to the IRS that gets Aldo one-year in prison for tax evasion and prevents Paolo from using the Gucci brand name for his clothing designs, forcing him to sell his shares to Maurizio.
Maurizio flees from the Italian police who suspect that he forged Rodolfo's signature and joins Patrizia and their daughter Alessandra (Mia McGovern Zaini) in Switzerland.  There, he begins a steamy affair with long-time friend Paola Franchi (Camille Cottin) that ultimately destroys his marriage. Maurizio's extravagant lifestyle and poor business decisions trouble his new business partner Investcorp that buys Aldo's Gucci shares. Although rising star designer Tom Ford (Reeve Carney) eventually helps Gucci regain its elite fashion status, Investcorp also buys Maurizio's share of the company.
The final straw for the Gucci family fortunes occurs when Maurizio asks his lawyer Domenico De Sole (Jack Huston) to arrange a divorce from Patrizia. Deprived of her social standing and luxurious apartment, an outraged Patrizia has Pina hire two hitman who shoot her husband to death.  The end titles show Patrizia, Pina, and the two killers getting  sentenced to long prison terms for Maurizio's murder.
House of Gucci is Ridley Scott's 27th feature-length film as a director and its subject matter and style recall his All the Money in the World as a mostly true story of a family fractured over wealth and power.  A major plus for this film is the return of ace cinematographer Darisuz Wolski who works the same magic with the Italian countryside as his cameras did for the earlier movie. What also works well for HOG is the casting of Lady Gaga as the manipulative, Lady Macbeth-like character who seeks revenge when the husband that she prodded to seek more power deserts her. Gaga is also one of the few non-Italian cast members that, along with a nearly unrecognizable Jared Leto, speaks English with a reasonably consistent Italian accent. Driver does an excellent job in portraying a young man seduced by an attractive woman—"are you Elizabeth Taylor?" he asks Patrizia—and who becomes a reluctant, faltering head of a famous family business. The rest of a powerhouse cast—Al Pacino, Jeremy Irons, and Salma Hayek—create credible  characters that make this intriguing story worth watching despite an overly long adaptation of Sara Gay Forden's book by Becky Johnston and Roberto Bentivegna. What is particularly jarring is a rapidly tacked on ending with no explanation as to how Patrizia and her co-conspirators were finally apprehended for Maurizio's murder [in real life, it was through an anonymous tip]. Such shortcomings aside, this emotion-laden film delivers a sensational headline grabbing story that is just as fascinating in 2021 as it was in 1995. Recommended.
House of Gucci is now being shown in theaters worldwide
---
Rating Certificate: R (for language, some sexual content, brief nudity and violence)
Studios & Distributors: Bron Studios | Metro-Goldwyn-Mayer | Scott Free Productions | Universal Pictures | United Artists Releasing
Country: USA | Canada
Language: English | Italian
Run Time: 158 Mins.
Aspect Ratio: 2.39:1
Director: Ridley Scott
Written By: Becky Johnston | Roberto Bentivegna
Release Date: 16 November 2021