Aspect Ratio: 1.85:1
Video Codec: AVC/MPEG-4
Resolution: 1080p/24
Audio Codec: English DTS-HD Master Audio 5.1, French Dolby Digital 5.1, Portuguese Dolby Digital 5.1, Spanish Dolby Digital 5.1

Subtitles: English SDH, Cantonese, Mandarin, Portuguese, Spanish
Region: A
Rating: PG-13

Discs: 2
Studio: 20th Century Fox

Release Date: December 22, 2009

List Price: $39.99[amazon-product align="right"]B002SYAGN2[/amazon-product]
BestBuy.com:


Purchase All About Steve
on Blu-ray at CD Universe



Shop with us for more Blu-ray releases at Amazon.com

Win a brand-new Blu-ray Copy of All About Steve
courtesy of TheaterByte and 20th Century Fox

Overall
[Rating:3.5/5]
The Film
[Rating:3.5/5]
Video Quality
[Rating:4/5]
Audio Quality
[Rating:4/5]
Supplemental Materials
[Rating:3/5]
Click thumbnails for high-resolution 1920X1080p screen captures
More Screen Captures (12 Total)
(Screen captures are lightly compressed with lossy JPEG  thus are meant as a general representation of the content and do not fully reveal the capabilities of the Blu-ray format)
The Film
[Rating:3/5]

I sat down to view All About Steve fully expecting to hate the film. The film has been panned by nearly every film critic and its ranking currently sits at a lowly 6% on the Rotten Tomatoes Tomatometer. So with much hesitation and uncertainty, I inserted the disc into my player and began watching Sandra Bullock prance around in her bright red patent leather boots. To my amazement, it was only within moments that I was already drawn in to the scattershot world of All About Steve and genuinely laughing.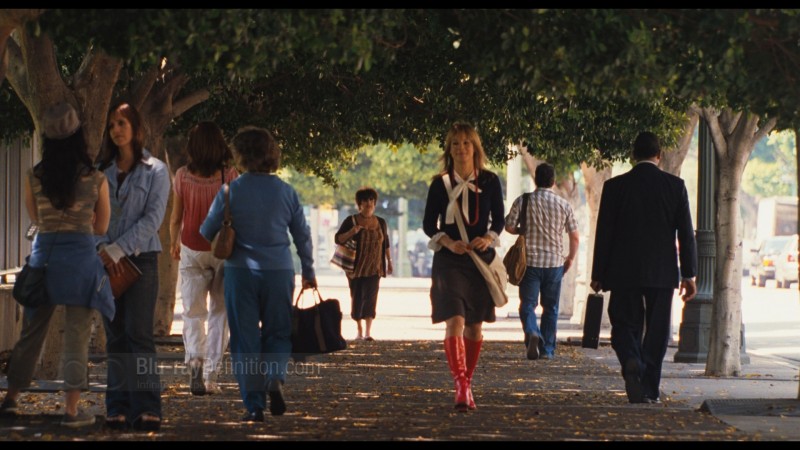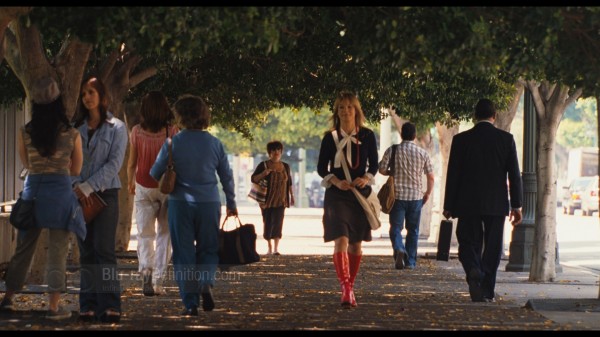 Bullock's breakthrough role in Speed may be well behind her, but she has been on a long run of successful (and not so successful) romantic comedies ever since. From Miss Congeniality to her last film, The Proposal, people seem to love Bullock in these comedies. All About Steve is something of a different matter, however. Her character in All about Steve is annoying from the get go, and perhaps that played a big part of the film's poor success at the box office.
Bullock plays Mary Magdalene Horowitz, a geeky crossword constructor for a local Sacramento newspaper. Just to tell you how geeky Mary is, she refers to herself as a "cruciverbalist." Mary's hyperactive intellect means she is perfect for constructing crosswords, but she also pushes people away with her incessant regaling on all manner of facts tucked away in the recesses of her brilliant mind. It's not a bad thing at all for a beautiful woman to be intelligent by any means, but it is certainly overwhelming, and definitely annoying, for anyone when confronted with a perpetually gleeful and verbose woman going nonstop with obscure references.
Mary lives at home with her well-intentioned parents who set her up on a blind date with the titular Steve (Brad Cooper) and Mary is immediately smitten with the TV news cameraman. She jumps his bones in his car right in front of her house before they can even leave for their date, and Steve likes it at first, but then realizes Mary is too much too handle; it's the non-stop talking again. Steve makes a crucial mistake, however, when he makes up an excuse when trying to get away. He says it would be great to have Mary on the road with him. She of course takes this as an open invitation, so when she loses her job at the paper the next day after creating a crossword puzzle with clues "All About Steve," she hits the road in search of Steve; following every ridiculous tabloid story in the country.
The film becomes a bit of a road trip from this point on, and a wild one at that. There is a story involving a baby with a third leg with anti-leg and pro-leg protesters, in Oklahoma, a Tornado in Texas and even deaf kids trapped in an abandoned mineshaft.  I'm going to go on the record as saying that All About Steve is no more terrible that the most ridiculous Will Ferrell film in its second half, with Bullock unafraid to abandon the Hollywood ideal of beauty and humiliate herself for the sake of comedy. I don't recall the marketing for this film, but if it was marketed as a romantic comedy, then the marketers misled people. There may be some elements of romance, just as any other film, but a romantic comedy it is not.
The highlight of the road trip half of All About Steve is the always strong Thomas Haden Church as TV reporter Hartman Hughes, part of Steve's crew and more concerned with his looks than he is with capturing any actual news. Church's Hughes' active encouragement of Mary to stalk Steve so he can steal her insights for his news reports is absolutely priceless.
Personally, despite a little lull at the end where things did begin to get just a little bit too outrageous and predictable, if that's not contradictory, All About Steve had me laughing straight through. I found it to be an almost surrealist take on the modern comedy. It was a funnier version of the Jennifer Aniston/Steve Zahn stalker comedy Management and made for a strong directorial debut by Phil Traill.
Video Quality
[Rating:4/5]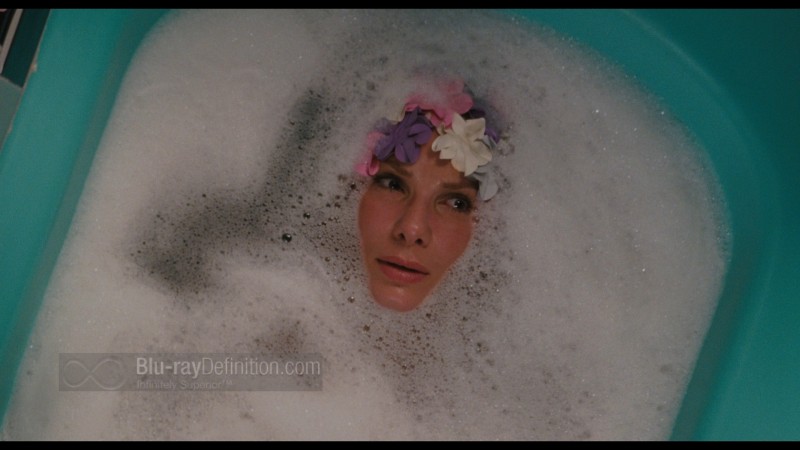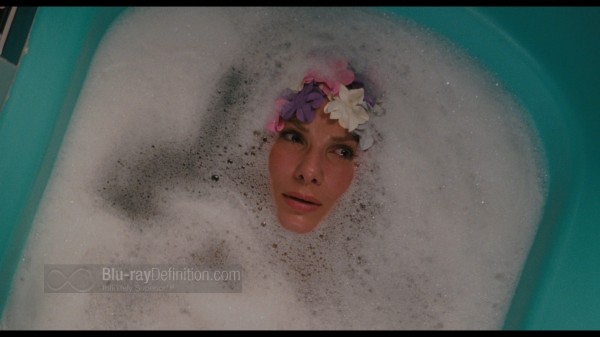 The candy-colored world of All About Steve looks clean and sharply rendered in this 1.85:1 AVC/MPEG-4 1080p/24 transfer to Blu-ray from 20th Century Fox. Film grain is natural, although at times it does jump and soften a tad. Background detail is strong, textures look organic and shadow detail is well delineated. This is a solid effort for the kind of film that one doesn't normally think of as providing a lot of visual "pop."
Audio Quality
[Rating:4/5]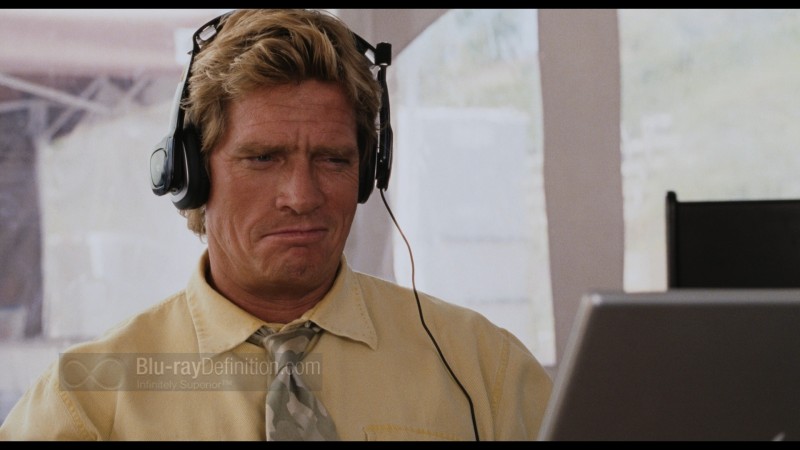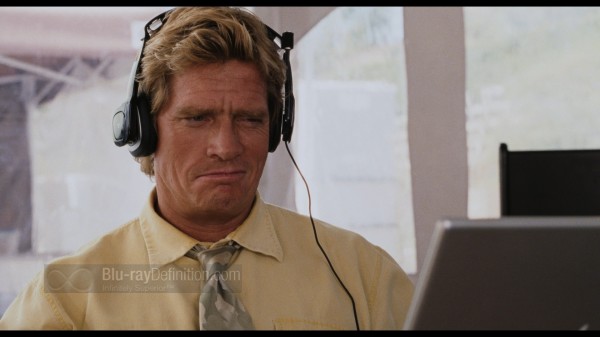 The English DTS-HD Master Audio 5.1 soundtrack offers a decent amount of low frequency extension for its soundtrack and atmospheric sounds populate the surround channels. There are moments where some discrete sound effects are panned around the room (check the film's latter half in the mine shaft). There are good dynamics and dialogue is intelligible, but some very slight crackle can be heard on ocassion.
Supplemental Materials
[Rating:3/5]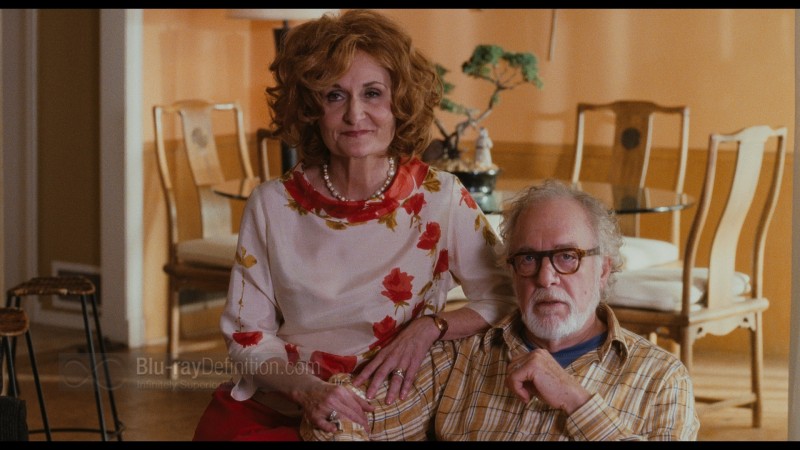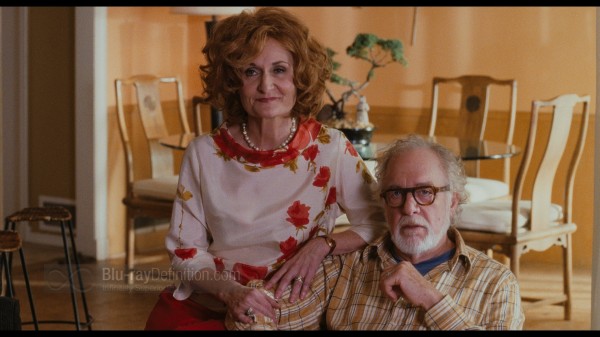 All About Steve arrives on Blu-ray with a nice compliment of high definition supplements that extend the film's comedic elements with gag reels, humorous extended scenes and a friendly and lighthearted commentary that finds the entire lead cast and the writer contributing.
The supplements provided on this release are:
Commentary by Kim Barker, Sandra Bullock, Thomas Haden Church, , Bradley Cooper, Ken Jeong, and Phil Traill
Deleted/Alternate Scenes w/ Optional Commentary (1.85:1; 1080p/24; MPEG-2; Dolby Digital 5.1)
Gag Reel w/ Optional Commentary (1.85:1; 1080p/24; MPEG-2; 0:05.29)
Bradley Cooper and Ken Jeong's A Capella Duet (1.85:1; 1080p/24; MPEG-2; 0:01.42)
Hollywood Dish with Mena Michelletti (1.78:1; 1080i/60; 0:17.47) — A mock Hollywood tabloid show.
All About All About Steve (1.78:1; 1080p/24; MPEG-2; 0:10.38) — A making of featurette featuring interview segments with the cast and filmmakers.
Crew Snapshots to Mary's Rap (1080p/24; 0:03.26)
Fox Movie Channel Presents Life After Film School with Phil Traill (1.33:1; 480i/60; 0:23.42) — The director does a Q&A with film students.
Trailers:

Adam
(500) Days of Summer
The Definitive Word
Overall:
[Rating:3.5/5]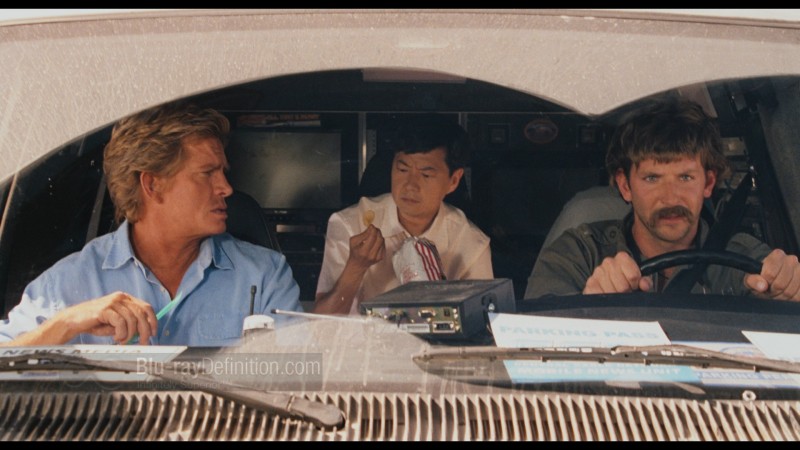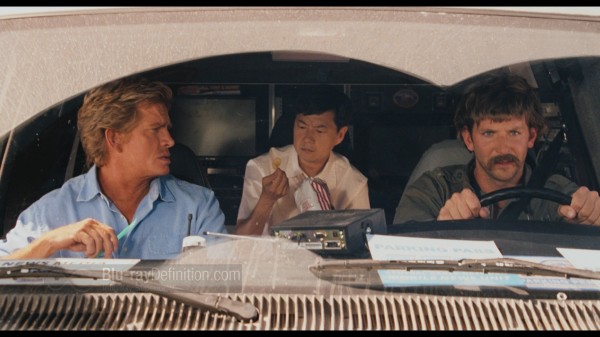 Despite a harsh critical response, I found All About Steve to be quite amusing and far from the trash I expected it to be, which was a pleasant surprise. The Blu-ray release is also quite solid with a strong video transfer, good sound, and interesting HD supplements. Turn off your brain and laugh a while on a Saturday night. This one would definitely make a good rental, at the very least.

BestBuy.com:


Purchase All About Steve
on Blu-ray at CD Universe



Shop with us for more Blu-ray releases at Amazon.com

Win a brand-new Blu-ray Copy of All About Steve
courtesy of TheaterByte and 20th Century Fox