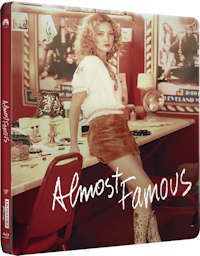 Almost Famous (2000) is writer/director Cameron Crowe's semi-autobiographical coming-of-age ode to rock and roll that journals his experiences as a teenage rock journalist for Rolling Stone Magazine while still in high school.
It's the early 1970s and Elaine Miller (Frances McDormand) is loving but overbearing single mother who is so strict she has banned rock music and even meat in her household. She is raising her two kids Anita (Zooey Deschanel) and William (Patrick Fugit). Anita, the eldest, turns 18, rebels against her mother, and runs away with her boyfriend to become a stewardess leaving behind her stack of records for Will, instructing him to "listen to Tommy with a candle burning" so he will see his entire future. Shift forward a few years, and William is now fully engulfed in rock and roll, writing for his school newspaper, and getting a gig to write for underground rock magazine Creem, run by the legendary music critic Lester Bangs (Philip Seymour Hoffman). Bangs assigns William to do a write-up on Black Sabbath, but when he goes to the concert, ends up unable to get in, instead making friends with some groupies calling themselves the Band Aids, led by Penny Lane (Kate Hudson). William is eventually able to get in backstage after impressing the opening act Stillwater, an up-and-coming band who are more than happy to chat with him, thinking he will give them good press.
His Creem write-up on Stillwater gets the attention of Rolling Stone Editor Ben Fong-Torres (Terry Chen). Torres offers William an assignment for a 3,000-word cover story on Stillwater, embedding William with the band on their Almost Famous tour, much to the chagrin of his mother Elaine, who relents to allow her still underaged, virginal son to go. William is now opened up to the wild world of rock and roll, sex, drugs, and rock and roll, and most of all, Penny Lane, who is no older than he, on whom he instantly has a crush on, but she is also deeply involved with Stillwater lead guitarist Russell Hammond (Billy Crudup).
As a coming-of-age film, a peak behind the curtain on the 1970s rock and roll scene, and a heartfelt tale of unrequited love, Almost Famous is nearly unequalled. Crowe's film is told through the wide eyes of a teenager and is infused with that sense of hope and possibility, yet has an undercurrent of melancholy, that downtrodden, end of the flower power generation that 1970s was heading into. And nearly every moment in the film is infused with Crowe's love of music. He flawlessly picks the perfect song for each moment. Kate Hudson sliding on the empty arena floor to Cart Stevens' "The Wind" or the sing-along to Elton John's "Tiny Dancer on the tour bus, these are all unforgettable moments. Combine these with the music of Nancy Wilson (Heart) and we have a great rock and roll movie that is unforced, effortless, and infinitely rewatchable.
The Video
This is a brand-new remaster of Almost Famous from a new 4K film transfer overseen by Cameron Crowe. It has been brought to 4K Ultra HD in a 1.85:1 HEVC 2160p (4K UHD) encodement with Dolby Vision HDR compatible with HDR10. My frame of reference for this film on home video for many years has been a UK Sony import on Blu-ray that looked middling at best, with some clipped white levels and kind of soft looking detail. The story with this new 4K remaster is that there is a heightened level of detail, but Crowe's filming style just lends itself to a softer, diffuse sort of look, so it is not the most crisp, sharpest looking 4K transfer out there. The film grain is a bit more reined in without detail being smoothed over, however. The Dolby Vision's WCG and dynamic range are applied very judiciously. In comparison to the Blu-ray, there is a slight increase in the robustness of specular highlights in areas like the headlights in the parking lot at the Black Sabbath concert or on the marquee, for example, but it does improve the contrast and white levels. Look at the scene in the diner with Lester Bangs and William – the light coming through the windows is no longer clipping nor is the shine on the chrome on the items behind the counter.
The Audio
Almost Famous comes to 4K Ultra HD with its superb soundtrack of both classic rock tunes and music from Nancy Wilson in a lossless DTS-HD Master Audio 5.1 mix. This mix varies a between very front-heavy, dialogue-driven mix and one that opens up with the "live" concert performances of the band Stillwater or the well-placed classic rock songs that spread across the stereo field and have just enough added ambience in the surround channels. Low end kicks in to give the music a good foundation. There is clear dialogue although I did hear one spot where Philip Seymour Hoffman's dialogue clipped just a tad, perhaps due to the recording and not the transfer or encodement.
The Supplements
This 4K SteelBook release of Almost Famous adds four new bonus features and the rest are port overs from previous releases of the film. The audio commentary is on the Bootleg Cut only. There is also a digital copy code included.
Theatrical Cut
New Releases

Filmmaker Focus: Cameron Crowe on Almost Famous (1080p; 00:08:06) —NEW
Casting & Costumes (1080p; 00:12:52) – Costume tests — NEW
Rock School (1080p; 00:10:48) — NEW
Extended Scenes (1080p; 00:09:00) — NEW
Odd & Sods (1080p; 00:08:53) —NEW

Greatest Hits:

Intro by Cameron Crowe (Audio)
The Making of Almost Famous (1080p; 00:24:50)
Interview with Lester Bangs (1080p; 00:01:55)
Cameron Crowe's Top Albums of 1973
"Fever Dog" Music Video (1080p; 00:04:41)
"Love Comes and Goes" – Demo vocals by Nancy Wilson (1080p; 00:03:51)
Rolling Stone Articles
B-Sides (1080p; 00:05:21)
Cleveland Concert (1080p; 00:15:46)
"Small Time Blues" (1080p; 00:03:02)
Stairway (1080p; 00:12:13)
Script
Theatrical Trailer (1080p)
Hidden Talent (Unhidden Easter Eggs):

Eerie Outtake (1080p; 00:00:45)
Stolen Kisses (1080p; 00:04:59)
Cameron Crowe's Protectionism (1080p; 00:09:03)
Bootleg Cut
Commentary with Cameron Crowe & Friends
The Final Assessment
A classic of the new millennium that gets a fine upgrade on 4K Ultra HD. The songs, the music, the performances – everything in this film is a delight. Highly recommended.
Almost Famous (4K Ultra HD SteelBook) is out on July 13, 2021 from Paramount
---
Rating Certificate: R (for language, drug content and brief nudity) (Theatrical Cut) | Not Rated (Bootleg Cut)
Studios & Distributors: Columbia Pictures | Dreamworks Pictures | Vinyl Films | Paramount Pictures Home Entertainment
Director: Cameron Crowe
Written By: Cameron Crowe
Run Time: 123 Mins. (Theatrical Cut) | 161 Mins (Bootleg Cut)
Street Date: 13 July 2021
Aspect Ratio: 1.85:1
Video Format: HEVC 2160p (4K UHD)
HDR Format: Dolby Vision (HDR10 Compatible)
Primary Audio: English DTS-HD MA 5.1
Secondary Audio: French DD 5.1
Subtitles: English | English SDH | French