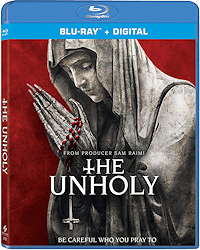 The Unholy is a gothic horror from writer/director Evan Spiliotopoulos is based on the novel Shrine by James Herbert.
The story follows a hearing-impaired girl named Alice (Cricket Brown) who has gained supernatural abilities like healing powers and regaining her ability to hear and speak through contact with the Virgin Mary. Journalist Gerry Fenn (Jeffrey Dean Morgan), whose career has gone off track, is eager to get the story, and he starts to investigate; it isn't long before an eviler source for Alice's powers begins to emerge.
The Unholy is a horror film that never rises above middling levels. In fact, it is downright boring at times, relying heavily on jump scares to keep the viewer awake, much less scared. Actress Cricket Brown may have the most fitting first name for this film, because "crickets" are what you'll be hearing while you watch this. It looks great, but there is an overreliance on the glossy production and not enough on a compelling story.

The Video
The Unholy was shot on the Sony CineAlta VENICE camera, which is a camera capable of 4K UHD, DCI 4K, and 6K capture. This film is available digitally in 4K UHD with Dolby Vision but only out on disc in Blu-ray, which gets a 2.39:1 AVC 1080p encodement. This is a fantastic HD transfer that has no real downsides. It's a clean, crisp picture with strong depth of field, excellent black levels and nuanced shadows, wide contrast, and accurate flesh tones. There is no visible banding or noise.
The Audio
The English DTS-HD Master Audio 5.1 mix is also fantastic to along with the superb picture. From the opening scenes we are surrounded b y solid sound effects in the surround channels, lush atmospherics, wide dynamic range that goes from the quietest whisper to the loudest howl or crashing car. This is great stuff, proving once again that even a not-so-great movie can get reference audio.
The Supplements
Only a digital copy code is included with this.
The Final Assessment
This horror film looks and sound great on Blu-ray but is ultimately forgettable. Unless you are a genre fanatic who must own every horror film, then you may want to take a pass on this one.
The Unholy is out on Blu-ray + Digital June 22, 2021 from Sony Pictures Home Entertainment
---
Rating Certificate: PG-13 (for violent content, terror and some strong language)
Studios & Distributors: Screen Gems | Ghost House Pictures | Sony Pictures Home Entertainment
Director: Evan Spiliotopoulos
Written By: Evan Spiliotopoulos (written for the screen by) | James Herbert (based upon the book Shrine by)
Run Time: 99 Mins.
Street Date: 22 June 2021
Aspect Ratio: 2.39:1
Video Format: AVC 1080p
Primary Audio: English DTS-HD MA 5.1
Secondary Audio: English Descriptive Audio | French DTS-HD MA 5.1 | Portuguese DD 5.1 | Portuguese Descriptive Audio | Spanish (Castilian) DTS-HD MA 5.1 | Spanish (Latino) DD 5.1
Subtitles: English | English SDH | Chinese Simplified | Chinese Traditional | French | Indonesian/Bahasa Indonesia | Korean | Malay/Bahasa Malaysia | Portuguese | Spanish (Castilian) | Spanish (Latin American) |Thai