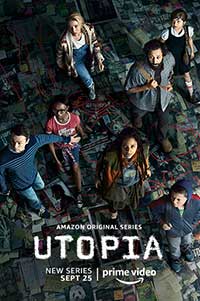 When I saw that Gillian Flynn (Gone Girl) had adapted the original BBC 4 Series of Utopia for Amazon Prime, my antennae definitely perked up. Set in the present time, Utopia refers to a graphic novel laden with clues about a pandemic that is about to be unleashed on the world. The title also refers to a perfect place where The Harvest, a select group of children and young adults connected to Dr, Kevin Christie (John Cusack)are living.  As will be revealed, these individuals have been given specific "purposes" that will enable a clandestine scheme cooked up by Dr. Christie, a billionaire scientist who has made his fortune by developing highly effective vaccines.
There is only one original sketchbook of Utopia and a pair of killers, Arby (Christopher Denhan) and Rod (Michael B. Woods), proceed to wipe out everyone who has seen it except for Grant (Javon Walton), an enterprising boy who manages to make off with it. This initiates an intense search for him and the sketches as Arby's body count continues to mount.
Enter an unlikely group of Utopia fans: chronically ill Becky (Ashleigh LaThrop), nerdy Ian (Dan Byrd), pretty Samantha (Jessica Rothe), and obsessive Wilson Wilson (Desmin Borges). The group dynamic drastically changes when these four encounter Jessica Hyde (Sasha Lane), one of the comic's main characters. Jessica quickly eliminates Samantha to resolve any question about leadership. At times completely unhinged, her real motive is to reconnect with her long-lost father, the creator of the Utopia sketches, and return to her childhood "home" where the Harvest live.
Virologist Michael Stearns (Rainn Wilson) has had one brief shining career moment when he discovered a unique virus. Stearns now works in a basement laboratory at a Chicago college. When a mysterious illness begins killing school-age children all over the United States. Stearns is thrust to the fore by Dr. Christie and his malevolent son Thomas (Cory Michael Smith). He now receives credit for identifying the responsible virus as the same one that he had previously discovered. "Dr. Mike" leads the charge to generate a vaccine that could save hundreds of thousands of lives and, encouraged by large public gatherings, it receives a speed-of-light approval from the FDA.
[envira-album id="125290″]
This is just the beginning of a very dark tale of deception and the Utopia team adds a new and very useful member, young Alice (Farrah Mackenzie), whose mother was taken out by Arby. Wilson has pieced together a number of clues from the comic book pages and when our crusaders discover that there is a very different agenda behind the Christie's mass vaccination program, they determine to stop it at all costs.
This quirky eight-episode series runs the full gamut of emotions from new love to utter desperation.  What stands out in the storyline is how these young people take on a seemingly impossible mission that will have you absolutely cheering for them to succeed.  A talented cast led by Sasha Lane has absolute command of their varied roles. Messrs. Wilson and Cusack are small screen veterans and make strong if quite different contributions—Wilson's Stearns is naïve and troubled while Cusack's Christie is a cool manipulator.  Gillian Flynn has done a masterful job of bringing this script to Amazon Prime Studios by offsetting the pervasive violence with flashes of comedy, particularly thanks to Desmond Borges (whose character does give up his left eye in the process). The graphic novel trope actually works quite well and keeps us waiting for the next "clue" to be revealed.
The imagery throughout, beginning with the opening titles, has an American Horror Story vibe and will definitely appeal to AHS fans as well as to those who groove on conspiracy theory fare.  From a timing standpoint, coming as it does in the throes of a real pandemic, the subject matter of Utopia might make it distasteful for some viewers, but its main focus is really to expose corporate greed and scientific malfeasance in order to manipulate the future. There are certainly some important messages here but as the curtain sets on the final episode, enough questions remain about the fate of Jessica Hyde and her ingrained secrets to make a second season absolutely mandatory. Highly recommended.
Utopia is now available for viewing on Prime Video
[youtube https://www.youtube.com/watch?v=dFSKBllxRIw&w=640&h=360]
---
The Creative Content: 3.5/5
Show Creator: Gillian Flynn
Original Release Date: 25 September 2020
Streaming Service: Amazon Prime Video
Ep. Run Time: 44-55 Mins.
No. Eps. 8
Studios & Distributors: Endemoi Shine North Americana | Kudos | Trailume Productions | Picrow | Amazon Studios | Amazon Prime
Rating Certificate: TV-MA