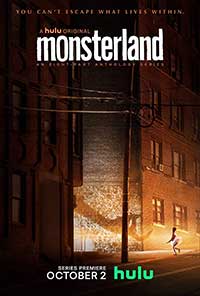 The eight-episode horror anthology series Monsterland is set in various cities around the United States, ranging in size from tiny Port Fourchon, Louisiana to the Big Apple itself. While there are a few bona fide monsters, most of the so-called monsters dwell within those who must deal with the consequences of their decisions and actions.
The roles played by children in their family dynamics provide recurring motifs in several of the episodes. Port Fourchon waitress and single mother, Toni (Kaitlyn Dever), has an autistic four-year-old daughter Jack (Charlotte Cabell). Her life changes when Alex (Jonathan Tucker), a serial killer who changes "skins" with his victims, causes her to make a heart-wrenching decision about Jack's future.
In New Orleans, Annie (Nicole Beharie) and her son George (Christian Cote) are living the good life with her pediatric surgeon husband Joe (Hamish Linklater) until a sinister secret from George's childhood returns to haunt her. Married lawyers, Kate Feldman (Taylor Schilling) and Shawn Greene (Roberta Colindrez) share a daughter Heather (Eva Jette Putrello) but, in the depths of Kate's bipolar disorder, she apparently kills herself, or does she?
Two stories are connected to a massive oil spill in the Gulf of Mexico. In New York, unscrupulous energy company CEO Stanley Price (Bill Camp) is about to testify in front of a Senate panel until he becomes possessed by a demon. In Palacios, Texas, a fisherman "Sharko" Peters (Trieu Tran), now disabled after an accident suffered during the same oil spill, discovers a mermaid (Adria Ajona) washed up on the beach. He hopes that her supernatural powers can restore his health and provide him some needed companionship.
[envira-album id="125305″]
The final episode is the most poignant off all as ex-policeman Brian Cooke (Mike Coulter) and his policewoman wife Amy (Adepero Aduye) grieve for their long-missing young daughter Tabitha until an angel unexpectedly appears on the scene.
For those Hulu network fans that relished the thought of the return of its uneven horror series Into the Dark, Monsterland provides a considerable step up in casting, storyline, and direction.  Based on Nathan Ballingrud's award-winning collection of stories North American Lake Monsters, show creator Mary Laws uses some of the cities in which the author has lived and has set his tales of horror, real and imagined. In a number of instances, Monsterland lets us see how people deal with unthinkable losses and fathomless grief that often take years to reach resolution if they ever do. While there are actual monsters like Episode One's skin-shifter or the creature inside CEO Price in Episode Four, Laws who wrote half of the scripts focuses on how guilty consciences can create monsters in the characters' own minds as they must deal with their own issues of child abandonment, pedophilia, or simply standing by while a friend or loved one dies. Most episodes contain violent scenes, justifying the series TV-MA rating, but more to the point Monsterland makes some telling comments about the human condition. One of the leading reasons to take this show in are the strong performances of young Kaitlyn Dever whose character Toni appears in three of the eight episodes, and those turned in by the  remainder of the casting throughout this series.  Disturbing as it is intended to be, this one is worth taking in and highly recommended.
Monsterland is streaming now in its entirety on Hulu
[youtube https://www.youtube.com/watch?v=-kgtaf-KxeA&w=640&h=360]
---
The Creative Content: 3.5/5
Show Creator: Mary Laws
Original Release Date: 2 October 2020
Streaming Service: Hulu
Ep. Run Time: 43-53 Mins.
No. Eps.: 8
Studios & Distributors: Annapurna Television | Two & Two Pictures | Hulu
Rating Certificate: TV-MA