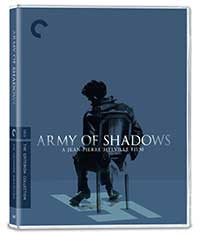 Prepare yourself for the greatest World War II drama you've probably never seen. It took nearly forty years for Jean-Pierre Melville's Army of Shadows (1969) to finally reach U.S. shores. Panned by the French critical press upon its release, the film would never find distribution on our side of the pond until finally being restored in 2004 and opening to much deserved critical acclaim in 2006.
Based on Joseph Kessel's novel of the same name, Army of Shadows chronicles a group of French Resistance fighters in German-occupied France, with the main focus on one small resistance group and its leader, Philippe Gerbier (Lino Ventura) as the band of fighters face the pressures of wartime. But one should avoid the temptation to go into Army of Shadows expecting a heroic war epic. On the contrary, Army of Shadows is an intense, sad, melancholic character drama filled with anxiety and all the woes of war — death, betrayal, and distrust. The weight of it all is made all the heavier by Melville's signature visual style, a cool, nearly monochromatic palette devoid of mid-tones and instead filled with de-saturated colors and pallid flesh tones that practically bemoan the psychological terror each character faces throughout the film.
Differing in style tonally from Melville's earlier war films of the 1950's and 60's, Army of Shadows fell in the middle of Melville's late 60's gangster film boom. The French director with the life-long fascination with Hollywood style was in the midst of probably his most fruitful and cohesive period, creating such French gangster classics as Le deuxième soufflé (1966), Le samouraï (1967), and Le cercle rouge (1970). One can see the similarities in Army of Shadows' clandestine meetings, car chases, and fastidious pacing.
(Editor's note: Large portions of this review were previously published in the review of the previous release of this title from Criterion Collection.)
[envira-album id="122785″]
The Video
This release of Army of Shadows is a straight reissue of the previously OOP Blu-ray release from Criterion Collection and as such the transfer and all bonus materials (see below) remain the same.
Supervised by director of photography Pierre Lhomme, this high definition transfer of Army of Darkness was created on a Spirit Datacine from the original 35mm camera negative, restored by StudioCanal. Thousands of instances of dirt, debris, scratches, splices, warps, jitter, and flicker were manually removed using MTI's DRS system and Pixel Farm's PFClean system, while Digital Vision's DVNR system was used for small dirt, grain, and noise reduction.
Lhomme appears to have remained very faithful to Melville's original stylistic vision in this transfer, which doesn't necessarily make for breathtaking visuals with its nearly monochromatic, icy-cool color palette and often soft, low budget graininess, but a good filmic quality remains and there is certainly a strong amount of shadow delineation in the darker scenes.
The Audio
The monaural soundtrack was remastered at 24-bit from the 35mm magnetic tracks. The stereo track was created by StudioCanal from the original stems. Clicks, thumps, hiss, and hum were manually removed using Pro Tools HD. Crackle was attenuated using AudioCube's integrated audio workstation.
It is a pleasure for Criterion Collection to offer both the original monaural soundtrack (PCM 1.0/48kHz-24-bit) and the remixed 2.0 version as a choice. Purists can stay with the film's soundtrack as it was originally intended and get decent separation of sound and intelligible dialogue, while those who'd like to hear something a bit more expansive with slightly more clarity, but still in the spirit of the original mix, can opt for the DTS-HD Master Audio 2.0 stereo (48kHz/24-bit). The original LPCM monaural track sounds a bit harsher and the DTS-HD Master Audio 2.0 sounds fuller.
The Supplements
This reissue from Criterion Collection doesn't add anything new over the previous release on Blu-ray from Criterion in the way of bonus materials.
Commentary — Film historian Ginette Vincendeau, author of Jean-Pierre Melville: An American in Paris, recorded this commentary for the British Film Institute (BFI) in 2006.
"Jean-Pierre Melville, Filmmaker" (1.33:1; 1080i/60; 0:04.23) — This short television news segment from 1968 reports on director Jean-Pierre Melville's latest production, Army of Shadows. It was produced for the show Chroniques de France and is presented courtesy of Gaumont-Pathé Archives.
Pierre Lhomme (1.78:1; 1080i/60; 0:14.06) — This interview with Army of Shadows director of photography Pierre Lhomme, who supervised the film's restoration, as recorded by Criterion in 2006, on the occasion of the U.S. premiere if the film. Also included are a restoration demonstration created by Lhomme and a gallery of color tests from the film's production, which were later used during the restoration process.
Françoise Bonnot: Editing with Melville (1.78:1; 1080i/60; 0:10.58) — In this interview, recorded by Criterion in 2006, Academy Award-winning editor Françoise Bonnot (Z, Mising) recalls her familial friendship with jean-Pierre Melville and their work together on Army of Shadows.
L'invité du dimanche (1.33:1; 1080i/60; 0:30.19) — In March 1969, the popular French television program L'invité du dimanche dedicated an episode to Jean-Pierre Melville and his new film. This selection of excerpts from that show, hosted by François Chalais and Jacques Chancel and directed by Robert Crible, includes interviews with Melville, actors Jean-Pierre Cassel, Paul Crauchet, Paul Meurisse, and Simone Signoret, writer Joseph Kessel, and André Dewarin (a.k.a. Colonel Passy), as well as on-set footage from the film's production.
Melville et "L'armée des ombres" (1.78:1; 1080i/60; 0:27.33)  — In this half-hour documentary, produced by Philippe Quinconneau for StudioCanal, editor Françoise Bonnot, actor Jean-Pierre Cassel, composer Eric Demarsan, writer and filmmaker Philippe Labro, cinematographer Pierre Lhomme, and filmmaker Bertrand Tavernier share insights and anecdotes about director Jean-Pierre Melville and Army of Shadows.
The Resistance:

Le journal de la Résistance (1.37:1; 1080p/24; 0:34.12) — Shot primarily by twelve French cameramen (led by filmmakers Jean Painlevé and Jean Grémillon) in August 1944, the thirty-three-minute Le journal de la Résistance captures the final French insurrection in German-occupied Paris, the surrender of the Germans, and the mass celebration in the streets. It aimed to restore France's reputation as a unified country and continues to be shown to commemorate that victorious time. Narrated by Noël Coward, the film was sponsored by the Liberation Committee if the French Cinema and is presented here courtesy of the Imperial War Museum/London.
Simone Signoret and Lucie Aubrac (1.33:1; 1080i/60; 0:05.26) — Lucie Aubrac, well-known for her bravery and leadership as a member of the French Resistance, was a key inspiration for the character of Mathilde, created by Joseph Kessel for his novel Army of Shadows and brought to life by actress Simone Signoret. In these brief interview excerpts from Libération, liberation: Le cinema de l'ombre, Signoret and Aubrac reflect on the role of Mathilde and the impact of the film. This program, directed by Pierre Beuchot, originally aired in August 1984.
Ouvrez les guillemets (1.33:1; 1080i/60; 0:23.24) — In these excerpts from an episode of the French television series Ouvrez les guillemets, several former members of the French Resistance discuss their clandestine activities and their collaboration with General Charles de Gaulle and the British government in order to liberate France. The episode, directed by Claude Barma, originally aired in April 1973.

Trailers (1.85:1; 1080i/60):
Booklet: Featuring essays by critic Amy Taubin and historian Robert O. Paxton plus excerpts from Rui Noguiera's Melville on Melville.
The Final Assessment
Army of Shadows on Blu-ray is a triumph for both Melville and Criterion/StudioCanal who have brought this restoration to high definition, finally. It took a long way around, but it was more than worth the wait. Any and all cinephiles owe it to themselves to check out this release immediately. If you missed this title the first time it was issued by Criterion, I recommend you grab it up now. Highly recommended.
Army of Shadows is out on Blu-ray April 7, 2020 from Criterion Collection
---
The Creative Content: 5/5
The Video: 4.0/5
The Audio: 4.0/5
The Supplements: 4.0/5
Studios & Distributors: Les Films Corona | Fono Roma | Criterion Collection
Director: Jean-Pierre Melville
Writers: Joseph Kessel (novel) | Jean-Pierre Melville (adaptation)
Run Time: 145 Mins.
Original MSRP: $39.95
Street Date: 7 April 2020
Aspect Ratio: 1.85:1
Video Format: AVC 1080p
Primary Audio: French LPCM 1.0
Secondary Audio: French DTS-HD MA 2.0
Subtitles: English