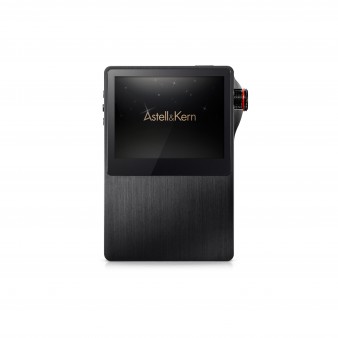 It is hard to imagine life today without an iPod or iPhone giving us a massive amount of music anywhere and anytime that we want it. Apple's Lossless or AIFF encoders can generate files with CD-quality sound but these files can consume a lot of storage space. Therefore, most i-device devotees store their music in highly compressed MP3 or AAC formats, choosing quantity over quality.
There is an ever-increasing number of high-resolution music files, audibly much better than CDs, and with sampling rates and word lengths up to 192kHz and 24-bits, respectively. Typical i-devices will inevitably disappoint serious listeners since they cannot handle these newer audio formats. DSD downloads are now upon us as well, so iPod or iPhone users wishing to hear these superior sounds are once again left standing at the audio altar.
R U Ready 4 This?
During a recent visit to Sin City for the Consumer Electronic Show, I thought that the Astell&Kern portable digital players were the coolest new devices that I saw all week. They can play the highest resolution audio files available and are user-friendly to boot. A&K, under the aegis of Korean-based iRiver, has a series of players, ranging from the AK100($699) to the AK240 ($2499). This review takes the AK120 ($1299), now their middle-of-the-pack offering, for a test drive.
A New Apple for the Teacher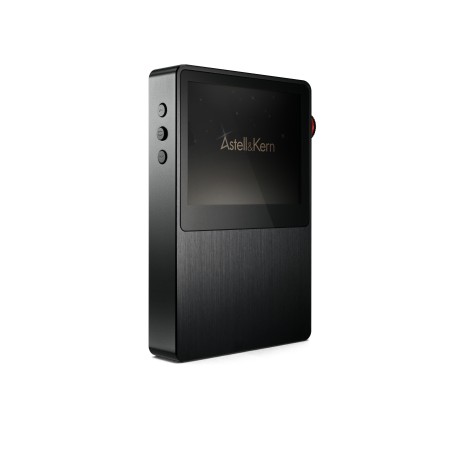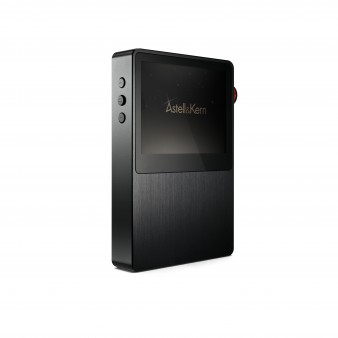 The AK120 is a small but very sophisticated device. Opening the box, I found a "quick start" guide that will get most folks started, and there is a brief tutorial accessible from the touch screen. I would strongly recommend downloading the full user guide that deals with basic and advanced features (available on the company websites, www.astellnkern.com or www.iriver.com). This manual presents the implementation of the iRiver Plus 4 software used to transfer music files from a PC via the supplied microUSB  cable to a microUSB 2.0 port. Unfortunately, at least for now, no comparable software exists for Macs, but on either Macs or PCs, the AK120, when connected, appears as a detachable device and music can be added by dragging files onto the device's Music Folder, no iRiver required
The top of the AK120's stylish black aluminum case has an on/off key, an output for headphones or a PC, and an input for an external device via an optical digital connector. The left side has three buttons for play/pause, skip/fast forward, return/fast rewind. Finally, the right side has a digital volume control with an ear-sparing maximum level of 75 dB. To protect its soft-anodized case, A&K have supplied a luxurious Italian leather case that gives access to the touchscreen, function buttons and microUSB port.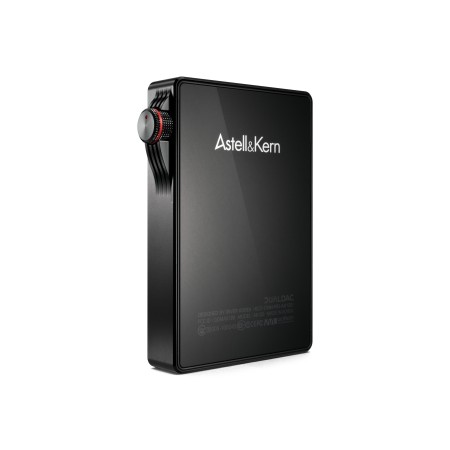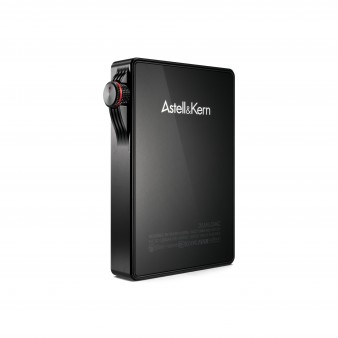 The 2.4" QVGA touchscreen has the same small size as an iPod Classic, making it very easy for users with large fingers to hit wrong icons. The Apple-like display menu selects songs, albums, artists, genres, and folders. An icon has been created for a new category, "MQS" (Master Quality Sound), denoting a special repository for high-res files.  There are four screen color options. Audio codecs supported include MP3, WAV, AAC, DSD, APE, WMA, FLA, OGG, AIFF, and ALAC. There is a defeatable equalizer with either a "Pro" setting (actual values not specified) or a user-adjustable 5-band option with + 10 dB adjustments at 62, 250, 1k, 4k, and 16kHz. Unlike the "Pro" EQ settings that are permanent, the user-adjusted settings cannot be saved to memory. A Bluetooth setting will connect the 120 to BT 3.0 devices as long as they are no more than a few inches away.
The "secret" ingredients in the AK120 recipe are its dual Wolfson WM8740 DAC chips, premium devices by anyone's standard, and directly responsible for this player's high level of performance. And yes, the internal DAC is good enough to be used in a reference-quality stereo system.
Battery power is said to last as long as fourteen hours when playing CD-quality FLAC files. Processing hi-res files eats up battery power like the proverbial Pac-Man, and I had to recharge the battery about every six to seven hours when playing them. Full recharging time when connected to a computer is about six and a half hours. A&K offers an optional dock for charging the 120 in an upright position.
The headphones port has an impedance of 3 ohms that should be friendly to most commonly available earbuds and headphones. For this review, I used the NOCS NS 400 Titanium earbuds, the B&W P3 headphones, and, the coup de grace, the Audeze LCD-2 phones.
Music, Music, Music
The AK120 that I was provided already contained more than 50 gigabytes (GB) of music files, ranging from CD-quality FLAC to DSD codecs. While this seems like a lot of music (and it is), high-res files often exceed one GB and can quickly consume storage space. Fortunately, the AK120's internal memory can be expanded to 192GB by the addition of two 64GB micro SD cards in the slots on the bottom of its chassis. A sliding "door" covers these slots, but it cannot be secured in an open position, so the unit must be slightly tilted left to prevent its premature closure during card insertion. Transfer time varies according to file format and typically runs five to six minutes with DSD and higher resolution FLAC files.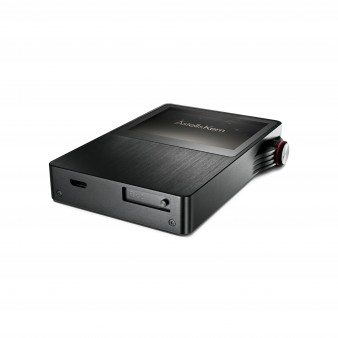 If you are accustomed to heavily compressed MP3 files, it would take you all of ten seconds into my first selection, a DSD file of Copland's Fanfare for the Common Man, to realize that the weight of the drums and the air of the brass is so much bigger and brighter than what you have ever heard from your typical portable player. To understand even better what such files can do for your sonic soul, just catch Jeremy Monteiro's soulful rendition of A Song For You, a solo voice and piano in a studio with just the right amount of reverb. Try getting that performance from a low-res file! But you don't have to scale the top rung of the high-resolution ladder to appreciate the difference that even lossless 44.1 kHz/16-bit WAV files make. Case in point, a nice piano trio version of Try A Little Tenderness that will rub sonic salve on your MP3-weary ears.
Janos Starker's playing of the Bach Suites for Solo Cello, as captured by the 1960s Mercury Records sound engineers, remains an interpretative and sonic marvel. Hearing Starker's magisterial instrument, displayed in 176.4kHz/24-bit files, revealed all of the rich harmonics and bow strokes produced by this artist's talented hands. Switching gears big time, I went for every 96kHz/24-bit track on Pink Floyd's Dark Side of the Moon. A trail-blazing record in many respects, DSotM is particularly noteworthy for its big spatial and special sound effects, delivered in all of their glory by the AK120.
Hi-res fans would absolutely revel in the samplers that A&K included on the 120 from well-regarded audiophile labels like AIX, Chesky, and Naim with some of their very best tracks, and, believe me, these were superb selections covering all musical genres.
Nearing the end of this review, a pair of Audeze LCD-2 headphones arrived. With a sticker price approaching $1000, these deluxe phones took my AK 120 listening experience to an entirely new level. Good as the sounds that I was getting through the B&W P3s, listening to the same playlist all over again was like hearing these files for the first time.
Many, many hours later, finally and reluctantly, I wrapped things up with a 96kHz/24-bit version of Simon and Garfunkel's iconic hit single, "The Boxer". The subtle back beat, upfront guitars and in-and-out weaving of a synthesizer literally leaped out of this little device emphasizing musical points that I had missed on many previous hearings.
I used the Bluetooth function to send music to the BT receiver of a Rotel RA-1570. As noted in the AK 120's manual, you are practically limited, in this mode, to files with sampling rates of 48kHz or lower, pretty much negating the significant sonic advantages of hi-res files. While the wireless streaming worked, most serious listeners would prefer to hardwire the AK120 directly to their receiver or preamplifier to get the best sound that this unit has to offer.
My Travels with the AK120
Portable means, of course,  that you can carry it with you, and, for the first time in my many years of using portable music players (remember the first 1970s Sony Walkman?), I finally got the kind of sound that I would have expected from a good home stereo system. Of course, getting the best listening experience from the AK120 and its hi-res file capability is mating it with the best 'phones or 'buds that you can afford. A&K offers a pricey set of AKR02 armature earbuds for only $1400.00 (there is an AKR01 pair for $199). I did spend some albeit brief time with the AKR02s at the 2014 CES and came away quite impressed. But I must admit that I am not an earbud aficionado and my B&W P3 phones (at nearly one-tenth of the price of the former) still let me hear a substantial amount of what the AK120 can do.
Even better, hooking this player up with the Audeze phones will get any listener through the pearly gates of audio heaven. But there's more. I literally took this player for a ride in my car and during a road run. My Volvo's surround sound Dolby system has never been fed sounds like this and my only regret is that I don't take longer drives. Next, I took a 5-mile run with the AK120 feeding my NOCS earbuds, while certainly not at the B&W nor Audeze phones performance level, I was still impressed with the delivery of hi-res files.
The Good
Ease of use
Flawless operation
Excellent build quality
Handles most current high resolution formats
Upgradable firmware
Expandable memory
Superb DAC performance
The Bad
Small screen with function icons very close to each other.
Lengthy loading times for highest resolution files (DSD, 176kHz/24-bit and 192kHz/24-bit FLAC).
No macros to synchronize with Mac computers.
User-adjusted EQ settings cannot be stored.
Door for SD slots cannot be locked in an open position
The Scorecard:
Design/Ergonomics:
[Rating:4/5]
Performance:
[Rating:4.5/5]
Value:
[Rating:3.5/5]
Overall:
[Rating:4.5/5]
The Definitive Word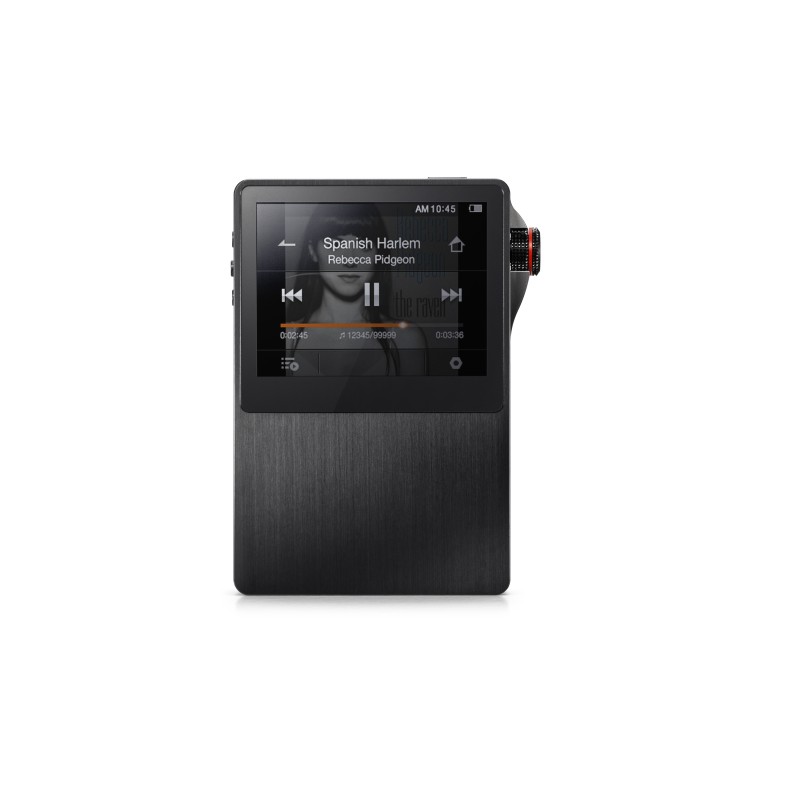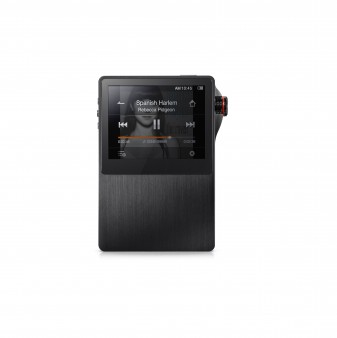 This pocket-sized player will be a game changer for the many who like to have their music on-the-go-go.  Everyone in my office who heard the AK 120 came away shaking his or her respective heads. Typical comments: "I can't believe the sounds coming out of this tiny box" or "I can never listen to my iPod again without feeling that my ears are being shortchanged." Great sound does come at a price, and the AK 120 will extract $1299 from your bank account. Two 64GB SD cards, after typical discounts, will add another $100). For listeners who want to get most of the AK sonic magic at lower cost, there is its little brother the AK 100 Mark II ($799) with 96 gb storage and 1 Wolfson DAC. Of course, adding premium phones like the Audeze will drive the total cost for this system even higher.  However, this is the kind of caveat emptor that should not deter buyers who want the very best portable sound currently going. Highly recommended.
Specifications :
Display: 2.4" QVGA (320 x 240) IPS Touchscreen
Body Color: Black
Body Material: Aluminum
Audio formats supported: WAV, AIFF, FLAC, ALAC, APE, MP3, AAC, WMA, OGG, DSD
Sampling Rate: WAV, AIFF, FLAC, ALAC8 kHz-192 kHz
Word Length: 8-24 bit
Output level: 1.5Vrms
DAC: Dual Wolfson WM8740
Battery: 2350 mAh 3.7V Polymer
Playback time:  up to 14 hours (FLAC 44.1kHz/16-bit), 6 hours (DSD)
Audio Performance
Frequency Response: ±0.02dB (Condition: 20Hz~20kHz) / ±0.2dB (Condition: 10Hz~70kHz)
S/N Ratio:                   113 dB (1kHz 0dB, 24-bit 48kHz, No Load)
Crosstalk:                    -128dB (1kHz 0dB, 24-bit 48kHz, No Load)
THD+N:                     0.0008% Typ (1kHz 0dB, 24-bit 48kHz, No Load)
IMD SMPTE:             0.0005% (24-bit 48kHz, No Load) 800Hz 10kHz (4:1)
Output Impedance:     3 Ohms
Clock Jitter                 50 ps (Typ)
 Dimensions
(W x H x D) : 2.33" x 3.5" x 0.57"
Weight : 5 oz
More Information:
Astell & Kern AK 120 portable digital player (SRP $1299)
[amazon-product]B00D648BDA[/amazon-product]