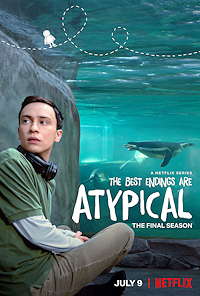 Atypical is a Netflix Original series that has found an unexpectedly loyal fanbase over its three-season run dealing with a young man who has an atypical form of autism. Season 4 finds the main character, Sam Gardner (Keir Gilchrist), recently graduated from high school and living away from his home. He is attending Denton, a local college, and sharing an apartment with his best friend Zahid (Nid Dodani), a co-worker at the Techtropolis electronics store. Sam also is in a romantic relationship with Paige Hardaway (Jenna Boyd) who has dropped out of Bowdoin college and returned home to work as potato-costumed greeter at a restaurant.  Sam's parents Elsa (Jennifer Jason Leigh) and Doug (Michael Rapaport) are still working on restoring their rocky marriage while track star sister Casey (Brigette Lundy-Paine) is having a torrid affair with her track team captain Izzy (Fivel Stewart).
What differentiates this season from its three predecessors are the more mature situations in which each of the principal characters find himself or herself.  Sam has been accepted to a special travel program to Antarctica where he can study his beloved Emperor penguins.  Casey is struggling with her drive to be a running champion so she can get an athletic scholarship to UCLA as her relationship with Izzy is becoming strained.  Sex-obsessed Zahid gets handed a testicular cancer diagnosis and must get his diseased gonad removed.  Elsa suddenly finds herself needing to find assisted living for her estranged mother.  Shaken by the death of his EMT buddy Chuck (Karl T. Wright), Doug is starting to become more introspective about his life and feeling the need to make better use of his personal time.
Atypical (TV) (2017-2021)
With the announcement that this would be Atypical's final season, show creator Robia Rashid has pulled out all the stops and given her audience everything that it could have ever wanted.  What is remarkable is the increasing maturity of Keir Gilchrist's Sam who has finally ditched his self-isolating headphones but still has plenty of idiosyncrasies like his penchant for drawing the "little dude" cartoon whenever he has a problem.  Sam is also gaining his own independence by his learning how to drive a car and planning his own trip to Antarctica.  I appreciated the wryly comic contribution of Nik Dodani's Zahid and Jenna Boyd's immensely likeable Paige who sees behind Sam's autism and gives him unconditional love.  Perhaps the most conflicted character in this excellent cast is Brigette Lundy-Paine's Casey who accurately reflects what happens to an adolescent girl when too much pressure is placed on her to succeed at school and in her personal life.
Atypical wraps up with an ending that should satisfy everyone without being too pat or overly saccharine.  I will miss the Gardner family and will most likely return to this show's four seasons from time to time.  This series is simply too good to forget and put on a distant shelf forever.  Netflix's sitcoms have been a mixed bag but Atypical shows us what a streaming network can accomplish with the right cast and creative team.  Highest recommendation.
Atypical: Season Four is available for streaming in its entirety on Netflix
---
Rating Certificate: TV-14
Show Creator: Robia Rashid
Release Date: 9 July 2021
Streaming Service: Netflix
Episode Run Time: 30 Mins.
Num. Eps.: 10
Studios & Distributors: Netflix | Exhibit A | Sony Pictures Television