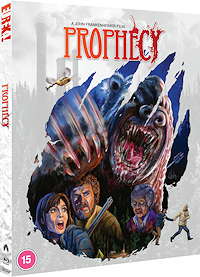 Prophecy is the 1979 eco-horror sci-fi film from director John Frankenheimer. Robert Foxworth stars as Dr. Robert Verne, an inner-city doctor working in the poorest of areas whom we first meet as he rushes to help a black infant, whose family is living in a tenement run by a slumlord, who has been bitten by rats. Dr. Verne is known in the neighborhood and by his colleagues as compassionate and a righteous defender of the disadvantaged, which is why he is approached by the EPA (Environmental Protection Agency) to study and report on a dispute between a logging company and a Native American tribe near the Androscoggin River in Maine. Dr. Verne takes his wife Maggie (Talia Shire) with him on the trip. She's pregnant but has yet to reveal the fact to her husband, uncertain if she even wants to bring a child into the world and he is against having children.
Their arrival in Maine is immediately suspect by the Native population as their journey to their cabin, accompanied by the logging interests, leads to a confrontation with local Native tribal leader John Hawks (Armand Assante) and others blockading the passage into the forest. Hawks blames the local paper mill for poisoning the water and causing the Katahdin, a vengeful spirit that is causing the local animal population to mutate and attack people. But the mill director blames the "Opies" (their slang for original people) for sabotaging them and possibly killing some of their missing lumberjacks and a search team sent to look for them. Further investigation by Dr. Verne as they begin to witness mutated creatures like extra-large salmon and giant bullfrogs, raccoons turned wild, is that the mill has been poisoning the water. The film ultimately leads to an over-the-top monster movie climax abandoning all pretensions of seriousness.
There's a very scattershot feel to this film. While the cinematography is certainly beautiful and as a monster film, there are some grotesqueries that the visual effects people absolutely should be proud of, it is either too serious or too ridiculous to take seriously. There's also the fact that, no matter how hard Frankenheimer and screenwriter David Seltzer try to present this as an anti-western that humanizes the Native Americans, at the core it is another "great White savior" film with the White male coming to the rescue. I can't knock the performances from the cast; they do great jobs with the material. Foxworth is believably earnest, and Talia Shire is a god counterpoint as the woman surrounded by nature and science run amok debating whether to bring life into the world herself. Armand Assante, however, just seems hammy and is totally miscast as a Native American.

The Video
Prophecy was an original anamorphic production shot on 35mm film stock and released in 1979. There is a U.S. release on Blu-ray from Scream Factory, but this Eureka Classics release is the first time the film appears on Blu-ray in the UK. It arrives and an AVC 1080p encodement framed at 2.35:1. The transfer looks presentable, but I wouldn't call it top tier reference. There are some issues with the grain throughout where it can look a little noisy and, I see some source damage in the form of white spots and a little dirt. That said, there are many places in the transfer where the picture looks gorgeous — crisp and clean, with lovely colors, and a good balance of whites and shadows.
The Audio
The English LPCM 2.0 Stereo mix on Prophecy sounds incredible, especially in the presentation of the sweeping, swelling orchestral score by Leonard Rosenman, which has a wonderful dynamic range and wide stereo panning. The dialogue and foley effects also benefit from this with sound effects and dialogue often panning hard left or right during some of the most active scenes and staying clean and dynamic.
The Supplements
The two audio commentaries offer different perspectives, but they do cover a lot of the same territory. Personally, I like the more conversational commentary by Gambin and Westwood. The other bonuses included are nice to have, but the best are the essay and the limited edition (first run of 2000 copies) slipcase and booklet.
Audio Commentary with film writer Richard Harland
Audio Commentary with film writers Lee Gambin & Emma Westwood
Truth in Fiction: Interview with David Seltzer (1080p; 00:12:58)
Katahdin Speaks: Interview with mime artist Tom McLoughlin (1080p; 00:19:50)
Theatrical Trailer (1080p)
TV Spot (1080i)
Radio Spots (1080p; 00:02:28)
Stills Galleries (1080p):

Production Stills Gallery
Posters & Lobby Cards
Archival Articles and Print Ads

Limited Edition O-Card Slipcase featuring new artwork by Darren Wheeling (first print run of 2000 copies only)
Limited Edition Collector's Booklet featuring new writing by Craig Ian Mann; and an archival interview (first print run of 2000 copies only)
The Final Assessment
A somewhat self-important and preachy film that doesn't know what direction it wants to take. This Eureka Entertainment release is still great, however, for hardcore monster movie and genre fans, packed with some great bonus features in collectible packaging.
Prophecy is out on Blu-ray in the UK on 16 August 2021 from Eureka Entertainment

---
Rating Certificate: UK: 15
Studios & Distributors: Paramount Pictures | Scream Factory | Eureka Entertainment
Director: John Frankenheimer
Written By: David Seltzer
Run Time: 102 Mins.
Street Date: 16 August 2021
Aspect Ratio: 2.35:1
Video Format: AVC 1080p
Primary Audio: LPCM 2.0 Stereo
Subtitles: English SDH