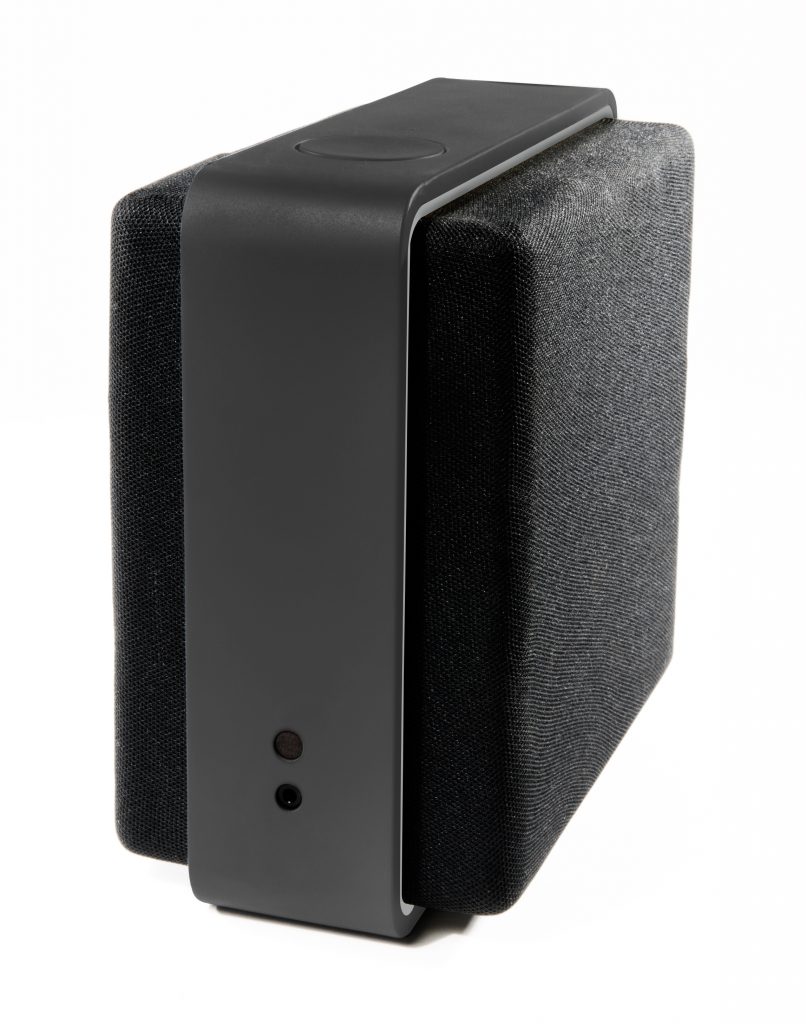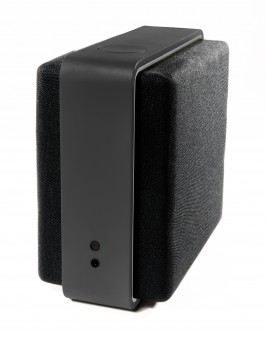 Audyssey Audio Dock Air Wireless Music System
Audyssey, a California-based media company, is no stranger to music streaming, having previously debuted an iPod/iPhone dock that can receive music from Bluetooth-enabled devices. With Audyssey's expertise in room equalization, their sound engineers have taken the lessons learned from larger media systems and applied them to space-friendly (and wallet-friendly) desktop audio devices. This R&D resulted in the new Audyssey "Lower East Side" Audio Dock Air is a Wi-Fi streamer powered by AirPlay®. Of course, all engineering skill in the world would not matter if this product did not offer decent performance for its value, hence the following review.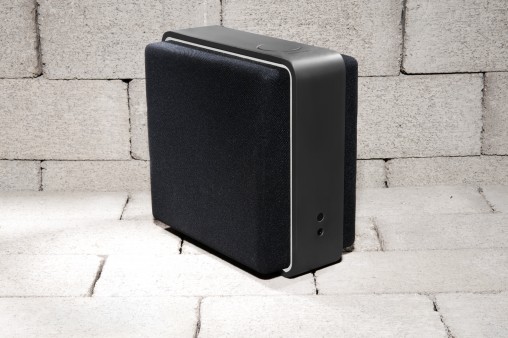 Beam me up, Docky
A book-sized baby, the Audyssey LES Audio Dock Air tips the beams at 5 pounds. In spite of its name, the Audio Dock Air does not actually dock iPods or iPhones.  On either side of the center console, sonically transparent fabric covers matched pairs of ¾" inch tweeters, 3" woofers, and 4" passive bass radiators. The façade sports a 3.5 mm mini-plug headphone jack; the rear panel, a button to pair the Audio Dock Air to other AirPlay® devices, and a 3.5 mm mini-plug for hardwiring a CD or MP3 player (or another iPod for that matter) or a computer. The top has a volume/mute dial and two tiny lights that signal the unit's operating status.  I was surprised to find a USB port on the bottom since engaging a USB device would prevent the unit from standing upright. According to company representative, John Snedigar, this feature is not intended for routine use, but may enable future firmware upgrades.
I always cross my fingers when setting up a new WiFi component. Will it recognize my network and all of my home-sharing devices? Will the connection be stable? Not to worry in the case of the Audio Dock Air. After a read of the quick start instructions, the Audio Dock Air was up and running in less than five minutes with both top panel lights turned green for go!
Going through the home-sharing set up for my iPhone 4 for use with AirPlay®, I was relieved to see the little "envelope" icon open up on the screen. I repeated the same routine with my PC, Mac, and iPad; all communicated flawlessly with the Audio Dock Air.  Absolutely, positively, no problems whatsoever.
Delving more deeply into the Quick Start document (a more detailed Operator Manual is available as a download from www.audyssey.com), I was delighted, make that thrilled, to find that both Spotify and Pandora apps, as well as internet radio station apps will play on the Audio Dock Air.  What I did not expect was the ability to play Rhapsody files, a feature not mentioned in any of the product literature. Multiple Dock Air units can be linked for wireless music throughout your home. This may prove an appealing solution, given their small size and ability to blend in to the background like CIA field operatives.
What goes in DOES come out
The fun part of evaluating new age equipment is seeing how clever designs translate into actual performance. Here, we are talking about getting really big, exciting sound out of a little package. First, I went to the obvious sources, MP3 files on my iPhone. You will never mistake these lower res sources for the real deal, although they will not offend ears even as critical as mine.  I checked out some really good classical material, courtesy of downloads from the Decca Box, one of the best being the Lorin Maazel/Cleveland Orchestra performances of Respighi's Pines of Rome.  This is big wall-of-sound music and if the Roman legions depicted in one section did not exactly overrun my 15' x 10' x 8' listening room, they did sound a bit imposing. Switching to the multi-talented Esperanza Spalding, I loaded Inutil Pasaijem from Chamber Music Society, a cut that features two female voices exchanging English and Portuguese lyrics over a taut acoustic bass line. I had no trouble perceiving the subtle differences in the voices of each singer and the percussive bass accents.
I was quite pleased with the Audio Dock Air's rendering of the Spotify music service since it offers files with bit rates up to 320 kps.  Not exactly "high" resolution, this online service is still more than acceptable for recreational listening. Spotify competes head-on with Rhapsody. The difference provided by Spotify's higher bit rates was easily audible on sources like Lady Gaga's "Born This Way," and Robyn's "Dancing by Myself," two pop ditties that this sexuagenarian reviewer is actually beginning to enjoy.
With all streamed sources, the Audio Dock Air exhibited some delays before putting out the music. These pauses varied from five seconds (internet radio) to ten to fifteen seconds for higher bit rate sources (Spotify), and reflected the buffering needed for the incoming data stream over the network.
Moving on to the obvious, I hooked up my MacBook Pro via its 3.5 mm audio port.  This playback of higher resolution sources such as the many of my HDTracks selections.  I was hoping to perform an acid test for a speaker kit that does not permit direct connection of an iDevice with the ability to play Apple Lossless files. Although this results of this hook up still depend on the computer's onboard sound card, I still got quite decent sound from the Christy Baron "Retrospective " hi-res download, noticeably better than with mp3 files.
An encouraging note for any set of conventional dynamic loudspeakers was the progressive improvement in sound during my audition period.  While the Audio Dock Air's sound was good out of the box, all of its strengths including midrange detail, palpable bass presence, and deceptively large sound picture, kept getter better and better with time.
Silk Purse, Sow's Ear?
Audiophiles continue the search for the sonic holy grail: a tiny component that will fill a room with huge sound. Okay, so during my listening sessions, I didn't look exactly like the guy in the old Maxell tape ad whose speakers blow his hair straight back over his head. However, I was continually amazed to get sound so much larger than its apparent source. The Audio Dock Air generated a rather narrow soundstage, compared to a standard component stereo system. However, at my typical listening distances of 10 feet or more, this hardly mattered.
The Good
Set up was simple and stable
Access to wireless sources was flawless
Plays Pandora, Spotify, and Rhapsody
App-enabled internet radio stations
Stable network connectivity
Apple Remote app provides remote control for connected devices
AirPlay feature enables easy retrieval of iTunes libraries from any source
The Bad
No direct docking of i-devices
Limited breadth and depth of image
FLAC, WAV file playback only through hardwired PC or MAC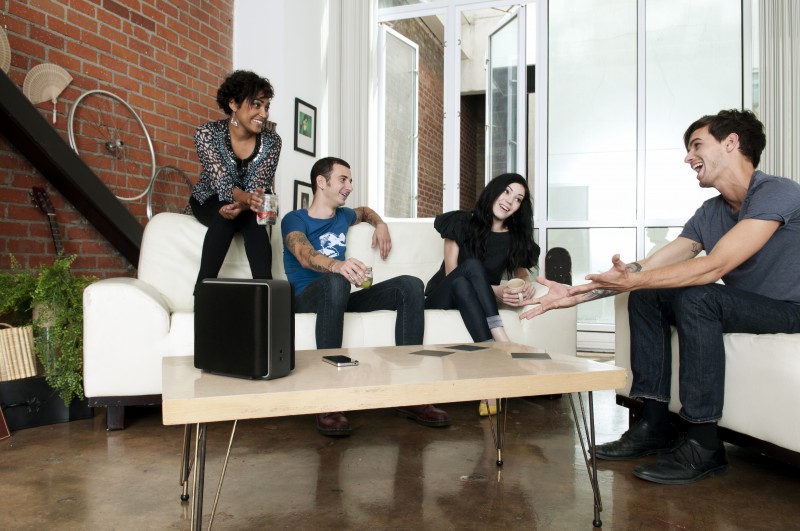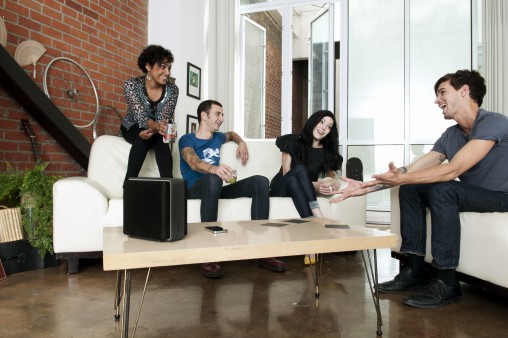 The Scorecard:

Design/Ergonomics:
[Rating:4/5]
Performance:
[Rating:3.5/5]
Value:
[Rating:3.5/5]
Overall:
[Rating:3.5/5]

The Definitive Word
Undaunted, the Audyssey Audio Dock Air has entered into a most competitive audio realm, medium-priced ($200 – $500) single box wireless music streamers.  In the WiFi world, there are so many different paths to pursue that potential buyers can become easily confused. Let me make it simple: there are physical device dockers like the B&W Zepplin Air and virtual "dockers" like the Audyssey Audio Dock Air. The Audyssey Audio Dock Air will definitely appeal to those wanting to get their AirPlay-enabled music sources to play through a very compact chassis. This system is a mini-alternative to the more complex (and expensive) music streamers like the Sonos system. Like the Sonos, it does not require physical docking with an i-device, and, with additional units, it can play to multiple rooms through your home network. The Audio Dock Air does sacrifice soundstage size and frequency extremes, particularly apparent when compared to traditional stereo systems that are more costly and complex to set up. Working within their self-imposed constraints of price and size, the Audyssey folks have produced a component that will deliver satisfying sound for recreational if not critical listening.  Get one for your college-bound kid, aw heck, get one for yourself too. With the substantial expense of today's tuition, room and board, the Audio Dock Air will look like a silly bargain.
–
Specifications :
Two .75 in tweeters
Two 3 in woofers
Two 4 in passive bass radiators
AirPlay wireless streaming
Audyssey EQ
Audyssey BassXT
Audyssey Dynamic EQ
3.5 mm line input
3.5 mm headphone output
Width: 4.7 inches / 12 cm
Depth: 8.9 inches / 22.6 cm
Height: 8.3 inches / 21.1 cm
Weight 5 lbs / 2.27 kg
More Information:
Audyssey Audio Dock Air (SRP $399)
–
[amazon-product]B005V1LA2A[/amazon-product]
Purchase the Audyssey Audio Dock Air at One Call