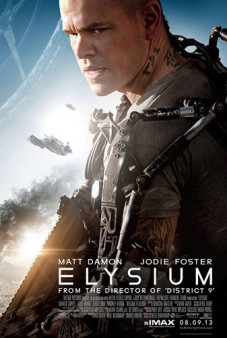 Is Neil Blomkamp's imaginary depiction potentially a real future for some of us in America? Our middle class is quickly being eradicated and with that in mind, it's easy to get lost in the potential reality of Eysium, reeling the audience in like hungry little fish. A timeless theme showcasing two groups pitted against one another: the haves and the have-nots. Blomkamp's previous movie District 9 employed a similar theme, with an alternate execution. His movies are expertly crafted with a pessimistic view of our future society. A friend of mine felt like Blompkamp's depiction of  Los Angeles in 2154 bore a sharp resemblance to the tent city population of Mexico City; I've never been south of the border so I'll take his word for it. Today in Los Angeles there are already several places where English is no longer the main language, perhaps that will spread over time, with that in mind I thought Blompkamp's choice of language on Earth was fitting.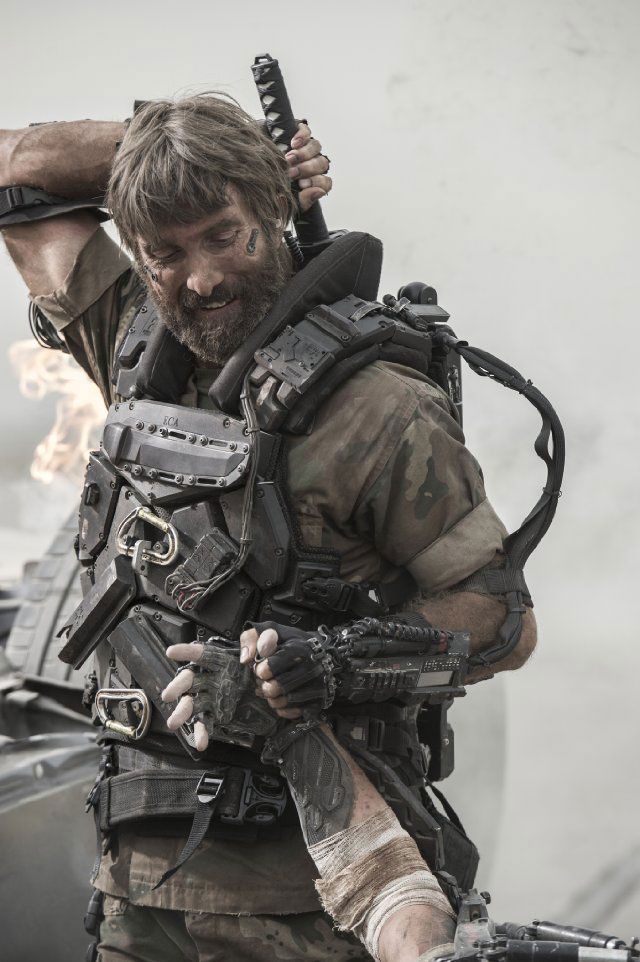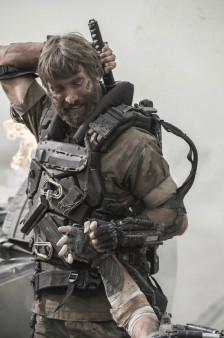 On Elyisum life is perfect, they sip champagne, lay by the pool and have re-atomization beds that cure everything from fractures to cancer. No one really dies on Elysium, unless their bodies are blown to bits that cannot be reassembled. Situated high above the Earth, it's a real life Heaven to those stuck below in what looks like a new sort of hell on Earth. On Earth no one can has access to cutting edge medical treatment, it's only for the rich elite (how far away are we from that now?), the menial jobs simply don't pay, people live in slums and the law is enforced by strictly disciplined machines.
Both Elysium and Earth are run through computer programming with all law's enforced by programmable machines. This was a nice setup for the futuristic plot twist at the end of the movie, the same machines that oppress the lower class with the right program could also assist them. As any hacker knows, machines are only as good as their programming so this reliance on machines proves a weakness for the elite who control them.
Max Decosta (Matt Damon; Behind the Candelabra; The Talented Mr. Ripley; Good Will Hunting) is a product of the Earth, stuck in a corroded system with no way out.  An accident at work provides the incentive he needs to take on the 1% and champion for what's right. With only five days to live Max makes the kind of decisions only a man facing certain death can.  Matt Damon shouldered the burden of his character with a calm inner strength surprisingly well.  As Delacourt, French speaking Secretary of Defense on Elysium, Jodie Foster kicks ass as what could be considered the "bad guy."  Interesting to see language and accents employed in the script as a tool to separate the classes with Foster and Damon on opposite ends of the spectrum.
Aside from Damon, the real star of the movie is Blomkamp's longtime pal and star of District 9, Sharlto Coppley. Barely recognizable as the atrocious soldier of fortune, Kruger, he does a solid job at fighting his own kind on Earth with the selfish hopes of earning brownie points with the powers that be on Elysium. Kruger and Max have a number of fight and chase sequences, all visually compelling and outfitted with the customary explosions. The strength of Max, a poisoned man, is made believable thanks to the exoskeleton he's had drilled into his bones and central nervous system. Even so there are times when the audience is lead to believe it's the characters will more than anything else leading him forward.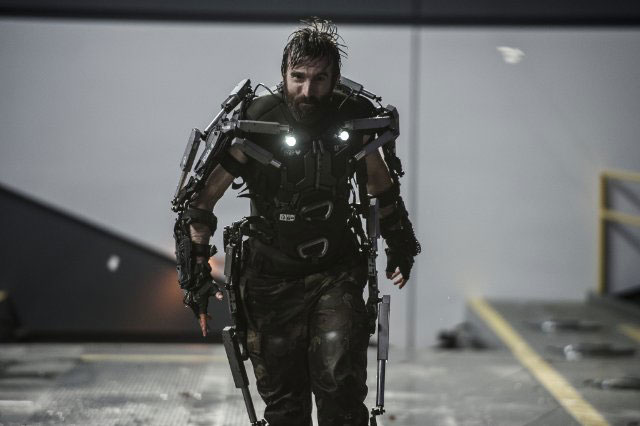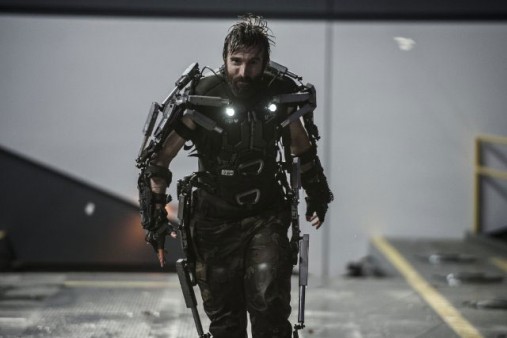 From the color contrast of Elysium's plush opulent beauty, down to Earth's dingy concrete and weed hell the devil is in the details: well written characters, strong supporting cast, and beautiful cinematography that compliments the script. Elysium is a movie well worth the price of admission. Not just a fun futuristic sci-fi thriller, but a warning of how society tends to divide itself.
Aurora Snow Says:
The Film
[Rating:5/5]