"The House of Black and White"

No one has said yet, but with all the changes taking place all I could think was "winter is coming." The second installment of the fifth season is all about transitions. Everyone is going somewhere and in a hurry. Most of the characters are leaving their comfort zones, striking out in search of something new and perhaps even dangerous.
Arya has finally made it to Braavos! She's crossed the narrow sea, flashed her special coin and mentioned Jaqen H'ghar, but to no avail. The hooded man who answers the door of the "House of Black and White" says, "No-one by that name lives here," which like most things on this show has a double meaning. After mulling over the names on her death wishlist, Arya tosses her coin into the water and heads into town. The coin brought her here, but that seems to be as far as it goes. In town three young men gang up on Arya and oddly not one of them seemed surprised when she didn't back down. Maybe they thought she was joking, but we all know better. It would've been hilarious to see Arya take those three boys down, but we never got the chance. The hooded man from the "House of Black and White" mysteriously appears and scares them away. Arya silently follows him back to the grand establishment only to find out that it's dear old Jaqen, who is now "no-one." Which is who Arya must also become.
Brienne of Tarth is quickly going to be known as Brienne the failure. She's seen both Stark girls and failed to convince them of her worthiness. As Arya fades into a memory, Brienne is focused on the other Stark girl she's come across by accident. Sansa isn't alone and convincing her to leave her protector is more challenging than Brienne anticipates. Littlefinger cleverly manipulates them both, merely by pointing out the truth. He reminds Sansa of Brienne's past charges, "This woman swore to protect Renly. She failed. This woman swore to protect your mother. She failed." And then to Brienne, Littlefinger gets in one last little dig, "Why would I want somebody with your history of failure guarding Sansa?" I don't blame Sansa for not jumping to leave Littlefinger. Sometimes it's better to stick with the devil you know, but perhaps not in Cersei's case.
With her father out of the way there are few other men Cersei Lannister is willing to listen to. With her young son crowned king, Cersei is taking full advantage of her position at court. Something her Uncle Kevan Lannister wants no part of.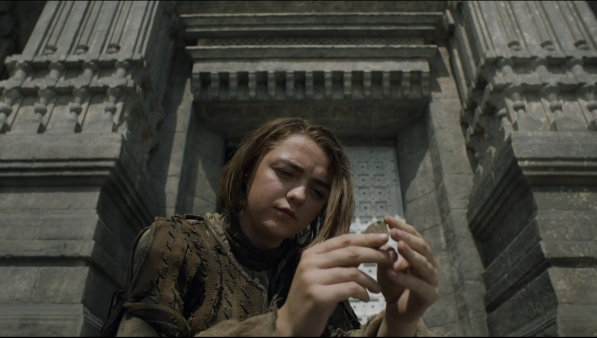 "You're the hand of the King?"
"No Uncle. Clearly it would be not be appropriate for a woman to assume that role. I'm merely advising my son until he comes of age and chooses a hand for himself."
Wise to her tricks, Uncle Kevan makes his stance on the issue clear. "I did not return to the capitol to serve as your puppet," Kevan says to her. "I do not recognize your authority to dictate what is and is not of my concern. You are the queen mother, nothing more."
Unfazed Cersei reevaluates her small council and then based on her subjects' loyalty, not their merit, she doles out positions of importance. There is no grey area with Cersei Lannister, you are either with her or against her. It'll be interesting to see how this great divide plays out in upcoming episodes.
Poor Jaime, forever pining for his sister's love, since he lost his hand her affections for him have withered. Without his sword-hand, Jaime seems too weak to Cersei, a quality she despises most. In a valiant effort to reclaim his manhood and win his sister-lover's heart, Jaimie volunteers to fetch Princess Myrcella from Dorne. It would be a covert mission, only he, Bronn and Cersei would know about it. You know what this means… more Bronn this season! Yay!
Despite the warning Cersei received, her little girl is quite safe in Dorne at least as long as Doran Martell is in charge. "We do not mutilate little girls for vengeance. Not here. Not while I rule," Martell says. But Ellaria Sands demands revenge, an eye for an eye. Convinced the Lannisters murdered Oberyn, she wants to chop little Myrcella into pieces, sending her back to Cersei bits at a time. Martell's wisdom is at times mistaken for weakness. No doubt, Cersei would make the same mistake.
Daenerys on the other hand, rarely mistakes wisdom for weakness, but then again she's the only female ruler who's actually trying to save people. Daenerys must make a decision weighing politics against justice. And for that she turns to her numerous advisers. Ser Selmy, gives her the most pertinent advice and in addition gently reminds her that he served her father. Not only is he a man of experience but he's seen the mistakes her father made and can guide her away from doing the same. Selmy says she must give the Son of the Harpy a fair trial, traitor or not. Daenerys agrees, however her loyal followers do not. One former slave takes matters into his own hands killing the prisoner as he awaited trial. This forces her hand, in the name of justice she orders the former slave's public decapitation for his rash decision. The slave's death creates conflict among Dany's once loyal subjects and hellish rioting ensues. Perhaps it's time for Daenarys to move on, she never really wanted to rule Meereen anyway.
Perhaps Deanerys' cue to leave will be when Tyrion shows up. They can conquer Westeros together! She doesn't know it yet but Tyrion is about to be her most brilliant adviser. And perhaps the drunkest too.
Tyrion and Varys are my new favorite duo to watch. They have the wittiest exchanges yet. Take this for example:
Tyrion: "There's a bug."
Varys: "Yes, do be careful you might actually consume some solid food."
Varys: "Are we really going to spend the entire road to Volantis talking about the futility of everything?"
Tyrion: "You're right no point."
Whereas Tyrion's scenes are the most captivating, Jon Snow's are the least exciting. Maybe Stannis is to blame? Everything about Stannis is dark, brooding and borderline boring. I like Jon Snow, a lot in fact, but his story arc isn't as compelling as the others even though he was just elected Lord Commander of the Nights Watch. I hope this is just the beginning for Jon Snow. He deserves titillating scenes too!

Aurora Snow Says
Episode Rating:
[Rating:4/5]

Purchase Game of Thrones on Blu-ray (Amazon.com)