–
DreamWorks delivers big with their latest animated feature Home, a heartwarming story about family, friends and the cutest alien invasion ever. A familiar tale, one we are all well acquainted with, Home focuses on the story of a young human girl who forges an unlikely alliance with an alien and together they teach each other the meaning of true friendship. With clear, simple to follow themes for the kiddos the well-written script and superb voice performances are sure to capture the attention and hearts of adults right along side the youngsters.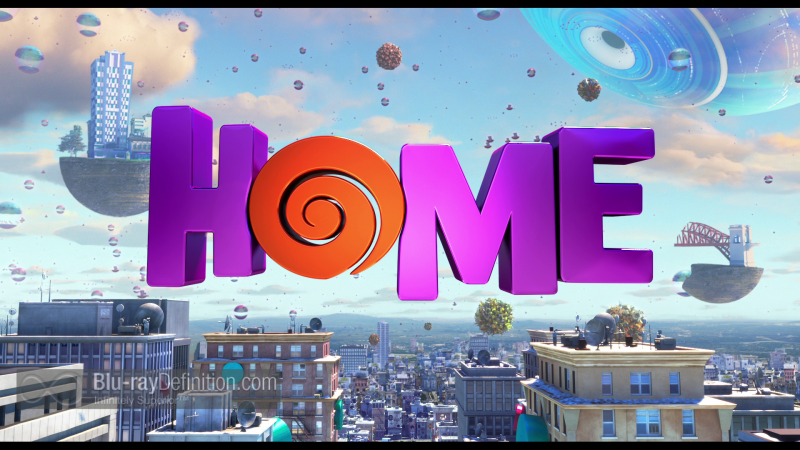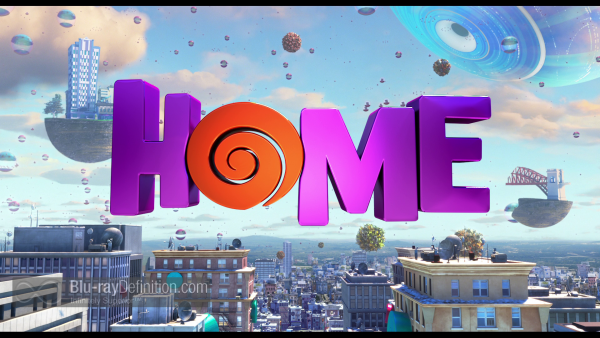 Renowned for their cowardice, the Boov are an alien species from deep space, constantly on the run from their alien oppressors, the Gorg. To survive, the Boov flee at the first hint of danger, relocating to new planets long before the "planet-destroying-Gorg" finds them. This time the Boov are sure they've found their forever home in the Milky Way Galaxy, which of course is Earth. Before the alien invasion takes place, the Boov alter gravity and scan the Earth for useless junk to remove like toilets and bicycles. Full of blissful naivete the Boovs do the humans a favor by relocating them to Australia, gifting them with new homes and a human fun land with endless bovine secretions (also known as ice cream).
In the chaos of relocating humans, a young girl is left behind, torn away from her mother. Voiced by Rihanna, Tip is on a mission to find her mom (voiced by Jennifer Lopez) alongside her trusty cat named Pig. As Tip ventures out amongst the aliens she encounters a fellow fugitive, a Boov named Oh (voiced by Jim Parsons).
Oh has never fit in but it was his worst mistake ever that turned the other Boov's against him. Oh put the entire species in danger by emailing house warming invites to the entire galaxy, including the Gorg.
In a beautifully orchestrated encounter, Tip wanders the aisles of a local convenience store grabbing supplies, gulping soda while Oh too basks in the safety from other Boovs, chugging oil until Pig the Cat discovers him. Tip jumps into action locking Oh into a cooler with a broomstick. Confused, Oh asks to be released, "Can I come into the out now?"
"NO. You cannot come into the out now."
And the childish, yet humorous logic the Boovs possess can easily be summed up in Oh's one line response: "Oh, but I can, all you must do is remove the stick."
With serious sincerity, Oh sees everything very literally. Which is how most Boovs react with confusion to human logic. Tip allows Oh to fix her wrecked vehicle once she realizes he's no threat. Oh fixes the car Boov-style turning it into an icee-fueled vehicle any kid would love. Oh offers to help Tip find her mom, and thus the beginning of a rocky but beautiful friendship.
Oh cannot understand why Tip feels hostile towards the Boovs. Oh has been led to believe the Boovs are the good guys, thanks to the incompetent guidance of their leader Smek (voiced by Steve Martin).
Smek's character teaches young viewers that being an appointed leader isn't the equivalent of a good leader. Like Smek some leaders are ignorant, unwise cowards too wrapped up in their own self-importance to listen or care about the public's best interest. Unfortunately once in the leadership position, the public, which in this case is the Boov, will follow blindly. This an extremely refreshing lesson, not often communicated in films targeted for youngsters.
With a comedic script rife with misunderstandings, the value for bravery is at the core of this films success, but the heart of the film lay elsewhere. Jim Parsons' stellar performance as Oh, transformed an otherwise annoying character into a likeable one. Parsons' unique style flowed effortlessly into Oh, bringing the unique Boov to life.
While Home delivers on its familiar and cutesy themes, it manages to surprise viewers with a twist towards the end — the real reason the Gorg are after the Boov. A delightful turn of events that is as unexpected as it is appropriate given the movie's themes of family and friendship.

VIDEO QUALITY
[Rating:5/5]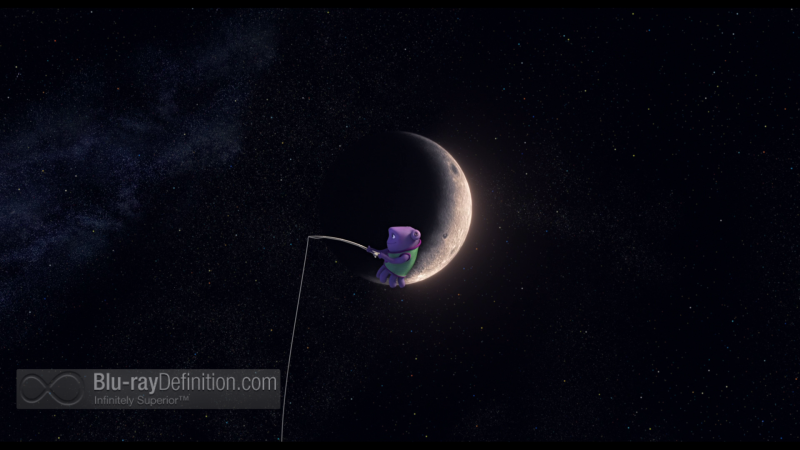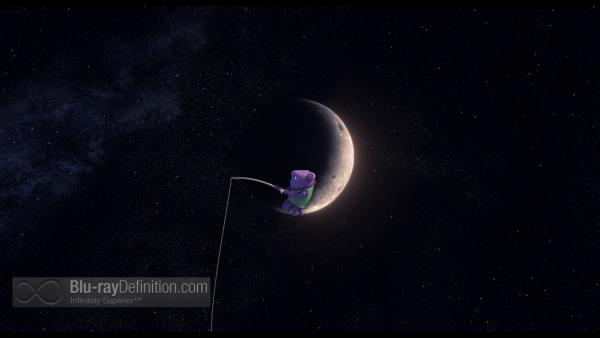 A graphically intuitive animated film, this 1080p transfer of Home features a variety of eye-popping settings, all of which are brought vividly to life with an incredible use of color and depth. Epically detailed scenes include small intricate objects that can be seen for miles. The attention to detail and intricate specifics in this movie are stunning. From the Boovs and their ships to the intergalactic atmospheres and the icee-fueled car, every object is constructed with character and care; it's the sort of attention to detail usually associated with a Disney/Pixar film. This is an excellent film from DreamWorks, pure quality all around!

AUDIO QUALITY
[Rating:4.5/5]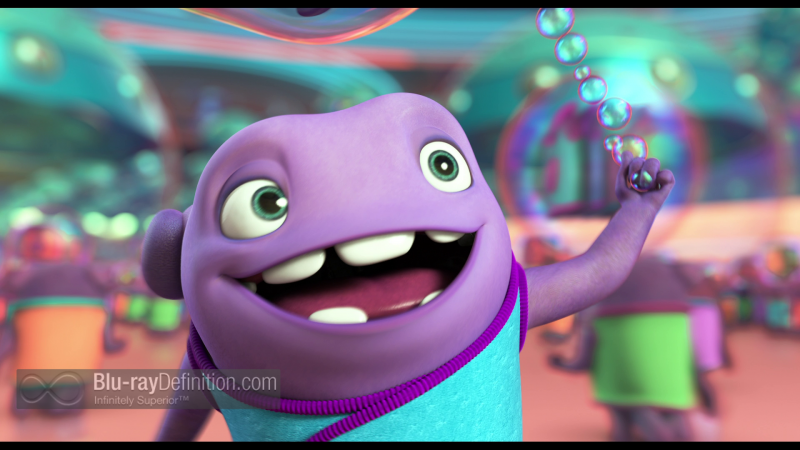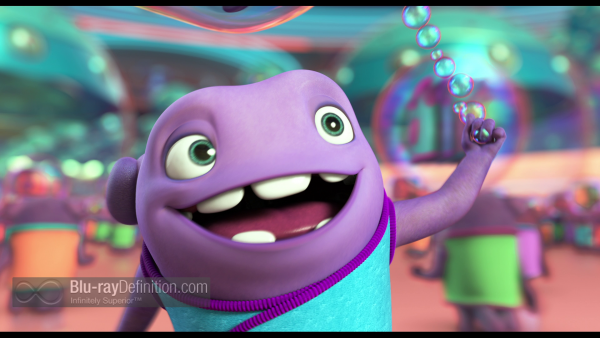 Home's DTS-HD Master Audio 7.1 lossless soundtrack is amazing. Especially when the music starts. The surround sound gets a workout, especially during the alien invasion, which was a great excuse for the film to flex and show off its audio muscle. With its well-paced, fun upbeat music the soundtrack manages to keep things lively without being out of place or heavy handed. The subwoofer tracks definitely get the party started, with the subtle but leading sounds that guide us to the center of the experience.

SPECIAL FEATURES
[Rating:4/5]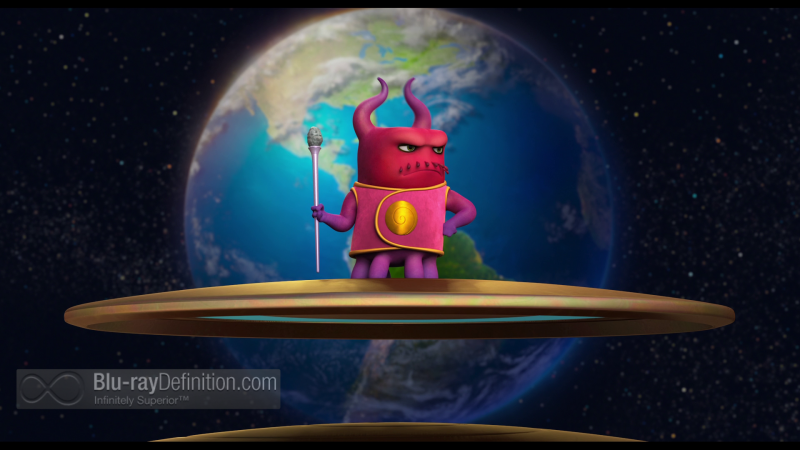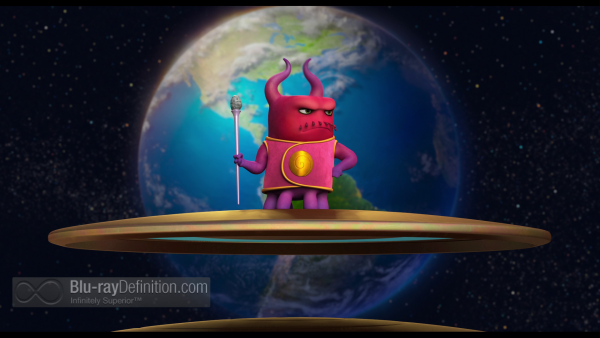 Best Party Ever – Fun party invite from Oh detailing the special features
Oh's Party Place — Upbeat feature packed with music and entertainment):

Oh's Shake Your Boov Thing – how the Boovs "experience" human music
Party Tunes – fantastic mix of lively upbeat music videos set to clips from the movie, though it includes "Feel The Light" Jennifer Lopez Music Video, and "Feel the Light" Jennifer Lopez Lyric Video the real highlight here is "Oh's Boovy Jukebox" which boosts over a dozen beautifully animated music videos that will make you want to smile and bop along with the characters.
Oh's Party Planning Tips – follow these hilarious tips from Oh to throw the best Boov/human party ever.
Oh's costume party – interactive feature that allows you to choose between Oh or Smek for creative Boov styled dress up

Short Boovies – Three adorable shorts that are great companions to the film, including: "This is Being Boov" (learn all about the Boov species including their many genders), "Almost Home" (go on this hilarious journey of discovery as the Boovs search for a home planet before getting to Earth), and "Testing Lab" (how the Boov test Earth objects for usefulness).
Deleted Scenes – "Introduction With Tim Johnson," "What A Dump," "Hide and Seek," "Oh's Apartment," "Empty Earth," "The Swamp Chase," and "The Key Fight."
Be an Artist!– Story Artist Andy Erekson briefly introduces himself, encouraging viewers to rewind and pause as he demonstrates how to draw Oh, Tip and Pig the Cat. Clear detailed instructions with easy to understand narration; Erekson makes it look so easy!
Oh's Other Extras:

Home: Boov Pop! Mobile Game – advertisement for Boov puzzle game app.
Stars of Home – Jim Parsons, Rihanna, Jennifer Lopez, and Steve Martin briefly discuss the characters they voice.
Gallery – a series of still images from the film, with optional slideshow
Theatrical trailer
The World of DreamWorks Animation – Music videos from other DreamWorks Animations
Aurora Snow Says
OVERALL:
[Rating:4/5]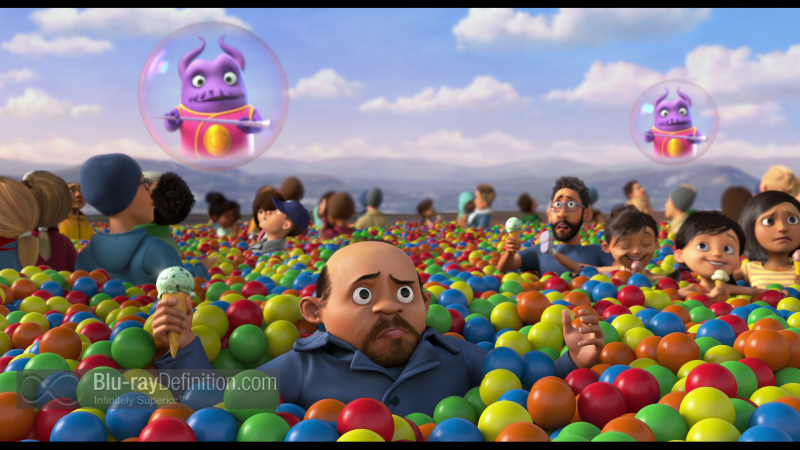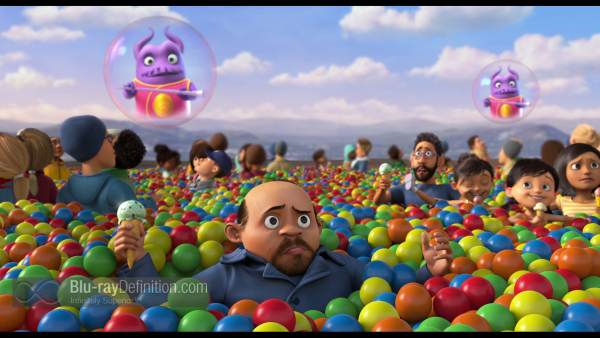 Home is a movie that's all heart, it's the perfect summer movie for both adults and kids who just want to have fun. With its familiar themes and lighthearted take on deeper concepts, this film provides plenty of opportunities to dance and laugh right alongside its characters. Beautifully animated in exquisite detail this colorful feature, in my opinion, is well worth watching (and still enjoyable after the fifth time around).

More Screen Captures