Summer is traditionally rerun season, giving us a chance to catch up on TV shows we might have missed, before we are showered with the latest fall offerings… which I suppose will continue to grow the available small-screen catalog even further! This year, a variety of studios have reached back in some cases more than half a century for the latest crop, bestowed in the Blu-ray format for uncompromising picture and sound, plus more than a few snazzy extras to enhance our viewing pleasure.
House of Cards: The Complete Third Season (Sony)
Orange is the New Black: Season Two (Lionsgate)
Home entertainment is at a crossroads, leaving me in somewhat of a quandary. On the one hand we are being the offered the "convenience" of streaming movies and TV shows via the Internet, as opposed to the dependable quality of a physical disc like our beloved Blu-ray. I use the quotation marks because of a recent debacle when Netflix had difficulty booting on my PlayStation 3, followed by long buffering delays over my so-called high-speed Internet put the kibosh on an evening's enjoyment.
And so I'm grateful that Netflix Originals continue to find their way onto disc. House of Cards remains one of the best, and an intense third season saw Frank Underwood (Kevin Spacey) settling into his new role as Chief Executive. Turns out that being president brings its own new set of challenges, and even his schemes might not be enough to get the job done. First Lady Claire (Robin Wright) tries her hand at diplomacy, with disappointing results, while the Russian president (Lars Mikkelsen) turns out to be a crude yet formidable adversary. And no sooner has Frank been sworn in than he needs to start work on his re-election… or actually, his first election, since he really just backstabbed his way to the top. Lowlights include some pretty heavy-handed product placement this time around, while most memorable for me was a weirdly epic and long-overdue sex scene in Chapter 28. Fun fact, this season was actually shot in 6K, and although delivered here at a mere 1080p, visible compression is minimal and the quality beats streaming hands-down, at least in my experience. And no rebuffering! A better-than-average behind-the-scenes mini-documentary and a Blu-ray-exclusive featurette about a slow-burning sub-plot are the only two extras, if you don't count the UltraViolet Digital Copy.
I'm all caught up on the recently aired Season Three of Orange is the New Black so I feel I can say this with confidence: Season Two is likely the best of the entire series. We dig deeper into the lives of Piper (star Taylor Schilling) and many of her fellow residents of Litchfield Penitentiary, and there's a darker, more menacing undercurrent with the arrival of Vee (Lorraine Toussaint), a ruthless heroin dealer who's crossed paths with more than one of these ladies before. It's still damned funny, but also some of the best character-driven drama on the small screen.
And I will point to Episode 8, "Appropriately Sized Pots," as my favorite of the bunch, too. Miss Rosa (Barbara Rosenblat) has been one of those interesting background characters since the very beginning, a sad older inmate withering away from cancer. But we finally get to see who she was in the outside world, and it is not only the most thrilling backstory, but it makes the heartbreak of her current predicament almost unbearable. In a good way.
Vee gets her own featurette, plus there are two audio commentaries with multiple cast members, a tip of the hat to the writers, an exploration of the central flashbacks, and a set tour with the real Piper, plus an UltraViolet Digital Copy of the season.
Battlestar Galactica: The Definitive Collection (Universal Studios)
The demand to make the beloved 1978-79 sci-fi series a better visual fit for modern home theaters inspired not only a complete high-definition remaster but also a reframing for 16:9 screens. So how does Galactica look in widescreen? The show was extremely well-produced back in the day, and thank goodness they always maintained safe action area, so the top-and-bottom cropping loses precious little vital information, although of course it does alter the compositions. The process is addressed in a brief featurette, the only extra exclusive to this set and the only one that does not appear to be a simple port from the 2004 DVDs. This stellar 18-disc box also includes the original 4:3 presentations, which give us a chance not only to compare the framing but image quality as well: The two versions have a distinct look so decide for yourself, but I think that the character of the 1.33:1 episodes is not merely truer to the original intent but also more pleasing to the eye overall. The same holds true for the included companion series, Galactica 1980, in two formats and with two different visual moods. Worth noting is that this box is the only way to get the classic series in its originally broadcast format on American Blu-ray. This "Definitive Collection" is not to be confused with "Battlestar Galactica: The Remastered Collection" which contains the two series on 16:9 Blu-ray only. Also in the Definitive set is the 35th Anniversary theatrical cut of the pilot movie. Infinite kudos to the gang at Universal Studios for the film's DTS-HD Master Audio 2.1 soundtrack, which approximates the vintage Sensurround experience!
Adventure Time: The Complete Fifth Season (Cartoon Network/Warner)
First a bit of a bummer for Blu-ray aficionados: The extras this time around are definitely a tad thin. Give a listen to the zero audio commentaries as compared to the commentaries by creator Pendleton Ward (who reportedly exited as showrunner during Season Five) et. al. on every episode from Seasons 1, 3 and 4. I for one am still a huge fan of good audio commentaries, but I fear that they are becoming a lost art. The soundtrack is once again a rudimentary Dolby Digital Stereo, too.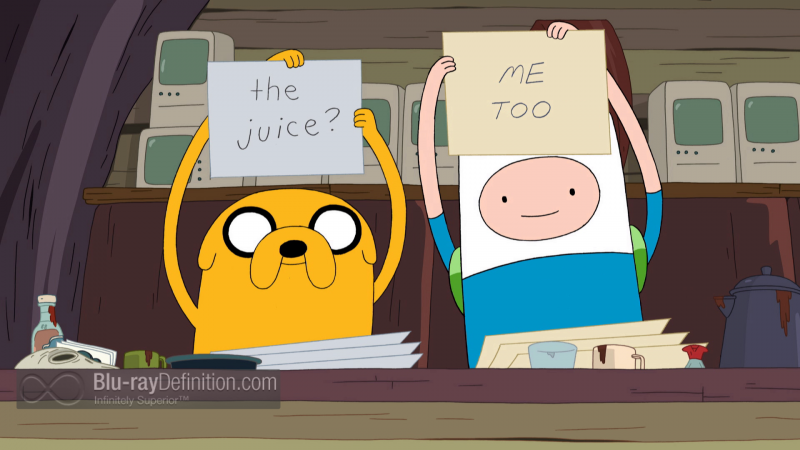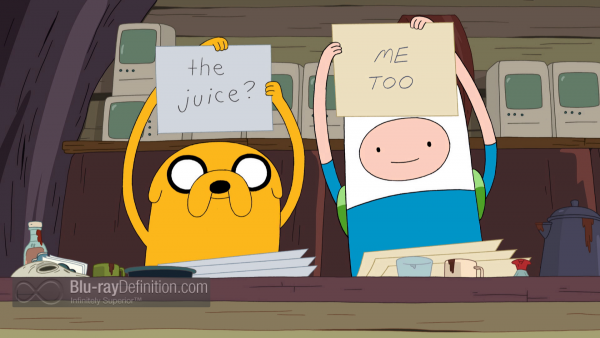 The good news is that this so-called "Fifth Season" actually spans 2012 to 2014, encompassing 52 episodes totaling almost 10 hours, double that of the previous season sets. (Each half-hour showing contains two roughly-11-minute Adventures.) We pick up right where Season Four left off, with Finn the human and Jake the talking, physics-defying, big-brotherly pooch in another dimension. This seems like more of a Jake-centric season than usual, particularly after Episode 6, "Jake the Dad"! But there's plenty of gleeful frolics for all of our favorite characters in the post-apocalyptic Land of Ooo, along with lots of new arrivals—voiced by an impressive guest cast—leading to a serious bombshell in the final installment. And the inspired but un-fancy 16:9 animation is as trippy as ever.
A nicely encapsulated 15-and-a-half-minute retrospective on the show offers up heaps of praise for the departed Mr. Ward, while an ample assemblage of rough, developmental animatic clips offers a glimpse of the creative process. An UltraViolet Digital Copy is included via a unique printed code, best redeemed on Flixster.
I Love Lucy: Ultimate Season 2 (CBS/Paramount)
TheaterByte Editor Brandon DuHamel and I were a bit thrown by the inclusion of the Season 2 premiere, "Job Switching" (featuring a certain high-speed candy conveyor belt) in color, but we were relieved to confirm that great effort has obviously been invested in properly restoring these 31 sitcom classics, recreating the experience of the original monochromatic broadcasts right down to the long-unseen Lucy & Ricky stick figure open/close and the vintage commercials. People who fear the unknown can opt into the more familiar heart-on-satin credits.
Season Two boasts a fantastic lineup that also includes the announcement and arrival of Little Ricky as well as The Ricardos' move to their larger apartment. A fine selection of bonus content has been distributed across all five discs in this set, even an audio commentary ported from the 1991 Criterion Lucy laserdisc. Some inclusions are welcome presentations of supplements we might expect (creator profiles, flubs, promotional materials and quite a lot more) while others were a pleasant surprise (a Red Skelton bit about I Love Lucy merchandise: who knew?)
The Wire: The Complete Series
Boardwalk Empire: The Complete Series (both HBO)
Similar to much-loved series Breaking Bad, The Wire exhibits such a keen understanding of the television medium and what's more, what a grand and singular achievement a well-conceived and well-executed small-screen drama can be. Creator/head writer David Simon, a former journalist on the police beat of Baltimore, envisioned an unflinching look at a major American city from different points of view, and HBO indulged him across five brilliant seasons. We see Charm City—often at its worst—through the eyes of drug dealers, longshoremen, politicians, teachers and students, and the press. The focus shifts significantly but familiar characters are maintained even as new ones are introduced, challenging us and rewarding us with the audacious storytelling. In addition to a an exceptional cast (interestingly headed by Brits Dominic West and Idris Elba), the show owes much to its seasoned crime writers George Pelecanos, Richard Price and Dennis Lehane, as well as writer/former homicide detective Ed Burns.
The recent remastering was not without its share of controversy: The visual style of the show was very deliberately crafted, and all 60 episodes premiered at 4:3 (consider the time period, 2002-2008), but as with Galactica, this series has been reframed for modern audiences at 16:9. However, as someone with only a passing familiarity with the show before I dove into this set, I must attest that the 1.78:1 works rather well here, and the video quality is outstanding throughout. Ported supplements include four documentaries about the show, three little prequel vignettes and a total of 22 audio commentaries. New-for-Blu is a special reunion event from The Paley Center for Media. I wonder if anyone in the audience was wearing a wire….
Inspired by Nelson Johnson's painstakingly researched book Boardwalk Empire: The Birth, High Times, and Corruption of Atlantic City, HBO's Boardwalk Empire concentrates particularly on the section covering Prohibition, and the corrupt, complex political boss Enoch "Nucky" Thompson. As we've come to expect from Home Box Office, everything about this series was top-drawer, from its casting to the elaborate costumes, authentic sets and wonderful period soundtrack.
We begin right as liquor becomes outlawed, and we learn (at least I did) that Atlantic City was poised to become a major source of illegal booze to supply a thirsty nation. Steve Buscemi portrays Nucky as a man with at least three faces: the pretense of the dutiful public servant, the ruthless illicit businessman beneath, and his rarely shared human side saved for the few people he really cares about. The G-Man determined to bring him down (Michael Shannon), on the other hand, is a tightly-wound fish out of water with demons of his own, so his investigation won't be easy but it certainly won't be dull, either. A blend of notorious real-world figures and a bit of juicy fiction made this a Sunday night staple, even if we could feel it run out of steam toward the end of its five-year run.
The extensive interactive special features from across the single-season releases are all preserved here, weaving in a lot of fascinating historical fact amid all of the behind-the-scenes revelations, even though they've managed to shave off a few physical discs along the way to this eco-friendlier package. Platter 20 is exclusive to this box, combining a few interesting bibs and bobs with deeper discussions that clearly benefit from time and perspective.
HBO has also included a multi-format Digital Copy for each of these landmark series.
Thunderbirds: The Complete Series (Timeless Media Group/Shout! Factory)
Clearly Gerry Anderson's Supermarionation had a profound impact on pop culture, still remembered fondly after several series in his unique medium and several decades past, and Thunderbirds was his masterpiece. While Matt & Trey's Team America: World Police celebrated the absurdity of these big-eyed puppets and the exaggerated bravado of the characters, fans prefer to look past the goofiness and revel in the innocent "Gee whiz!" excitement of it all, much as we do with classic Godzillas I suppose. Set in 2065 (conveniently 100 years from the show's debut: hey, we're halfway there!), the series followed The Tracy Family, a deep-pocketed band of do-gooders traveling the world to rescue those in need from all manner of danger. The exquisitely realized miniature vehicles (including the mega-cool airships of the title) are a marvel, and seeing them again reignites to the pre-adolescent boyishness inside so many of us.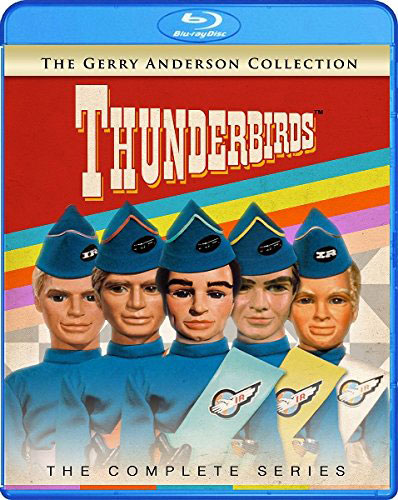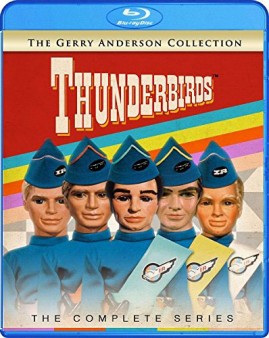 Timeless Media has done an outstanding job with this high-definition 4:3 presentation, the colors are vibrant and details are razor-sharp… sometimes even ones we're not supposed to notice, such as the wires holding up our heroes. The new DTS-HD Master Audio 5.1 soundtrack helps ease The Tracys into the digital age, but thankfully the original mono is included as a DTS-HD Master Audio 2.0 option. "Launching Thunderbirds" is a fine companion documentary, and tucked away on Disc 6 is a printable PDF of a vintage promotional brochure for the show—all text but an interesting read—if'n you have a Blu-ray drive on your computer.
Powers (Sony)
The live-action adaptation of Brian Michael Bendis & Michael Avon Oeming's graphic novel Powers became the first scripted series produced for the burgeoning PlayStation Network this year. I'm reluctant to call the source material a "comic book" because the subject matter is gritty and decidedly adult, and Oeming's artwork isn't the prettiest you're likely to see. It depicts a world where costumed superheroes—or "Powers"—are all around us, but they are often flawed individuals and hence their alliance with mere mortal law enforcement can be uneasy. The locale has shifted from the more colorful Chicago to the more convenient Los Angeles, and fans expecting a straight rendition of the very first story arc, "Who Killed Retro Girl?" (Powers Vol. 1, issues #1-6), might be surprised by the added twists and turns. I can't say that I agree with all of the choices (most visibly the topline casting of devilishly quirky Sharlto Copley as big lug cop Christian Walker), but viewers searching for another offbeat men-and-women-in-tights drama will want to check it out.
A sizable collection of deleted scenes has been assembled across the three discs, in HD, in addition to a ten-minute overview of the series and a slightly longer look at its distinctive visual style, plus a couple of minutes of bloopers. Most of these extras are exclusive to Blu-ray. A code for an UltraViolet Digital Copy completes the package.
DVDs:
Once again, there were some titles too good to ignore, even though they are available on DVD but not Blu-ray:
Parks and Recreation (Universal Studios)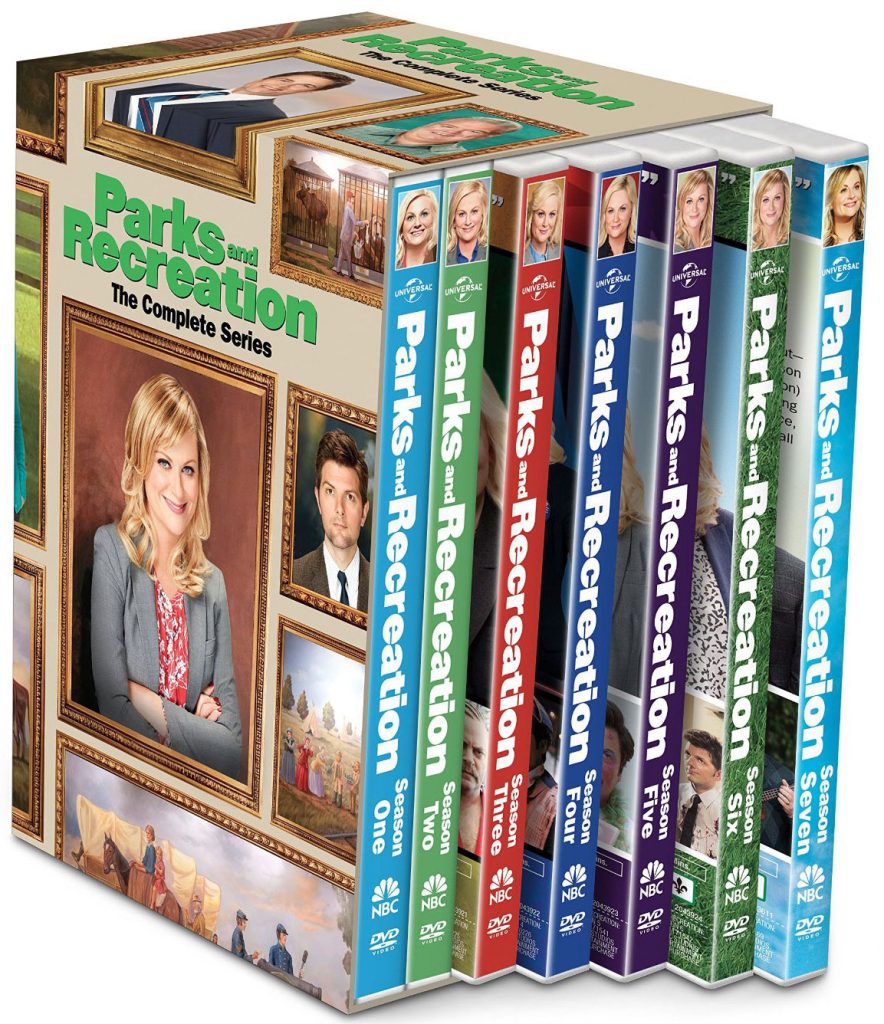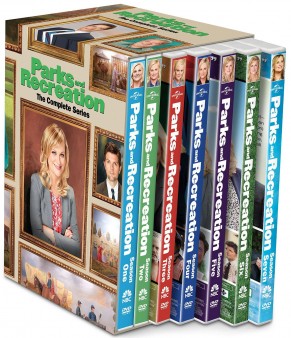 I suppose I'm guilty of pre-judging this show, dismissing it as a pale imitation of The Office in terms of style (another faux documentary) and content (the wacky troupe of co-workers, this time in a local government agency). When I would stumble upon it whilst channel surfing, particularly in later seasons, I'd be struck by just how clever and earnest it was, but I just couldn't commit. My sincere thanks then to Universal for putting out this 20-disc, seven-season set of what is truly an underappreciated gem of sitcom history. In short order, the endearing pluckiness of civil servant Leslie Knope (star Amy Poehler, one of the great comic actors of our time) won me over. She brings as much heart as humor to Parks and Recreation, as does the A-list supporting cast which includes Hollywood's newest It-Boy, Chris Pratt.
Although repurposed from the single-season releases, the bonus material is quite substantial: extended cuts of select episodes, plenty of deleted scenes, audio commentaries, bloopers, webisodes, music videos and more.
Mystery Science Theater 3000 Volumes XXXII & XXXIII (Shout! Factory)
MST3K for me epitomizes "guilty pleasure": For those unaware, this series is built around some of the schlockiest movies ever made, but instead of serving them up at face value or merely adding snarky bumpers a la Elvira's Movie Macabre and its ilk, here the hosts sit and watch these cinematic duds with us, in the front row. We see their silhouettes and hear their bons mots from start to finish, like having our good-natured buddies right there in the room… if our buds were lightning-quick, keenly insightful and able to pull in obscure references from the far corners of pop culture. I was compelled to revisit MST3K when I learned of the lineup for Volume XXXII—Space Travelers (a.k.a. Marooned), Hercules (the Steve Reeves original!), Radar Secret Service and San Francisco International (my wife probably would watched this one unaltered)—some of their most promising titles in years, and the entertaining dissections by Joel Hodgson, Mike Nelson and "robots" Crow and Tom Servo are up to the task. But with plenty of summer left to go I was also tempted by Volume XXXIII, containing Daddy-O (with music by an up-and-comer named John Williams), Earth vs. the Spider (so cheesy even arachnophobes will probably groan), Teen-Age Crime Wave and the doomed TV pilot movie Agent for H.A.R.M. Each volume is like its own marathon in a box, best enjoyed with junk food and perhaps the adult beverage of your choice, too.
While the running indictment of these turkeys—plus copious little skits spread strategically throughout each episode—should really be supplement enough, we're also given well-produced featurettes that explore everything from the original movies to the old-school producers who made them to MST3K itself and its surrounding mythology.
Parenthood: The Complete Series (Universal Studios)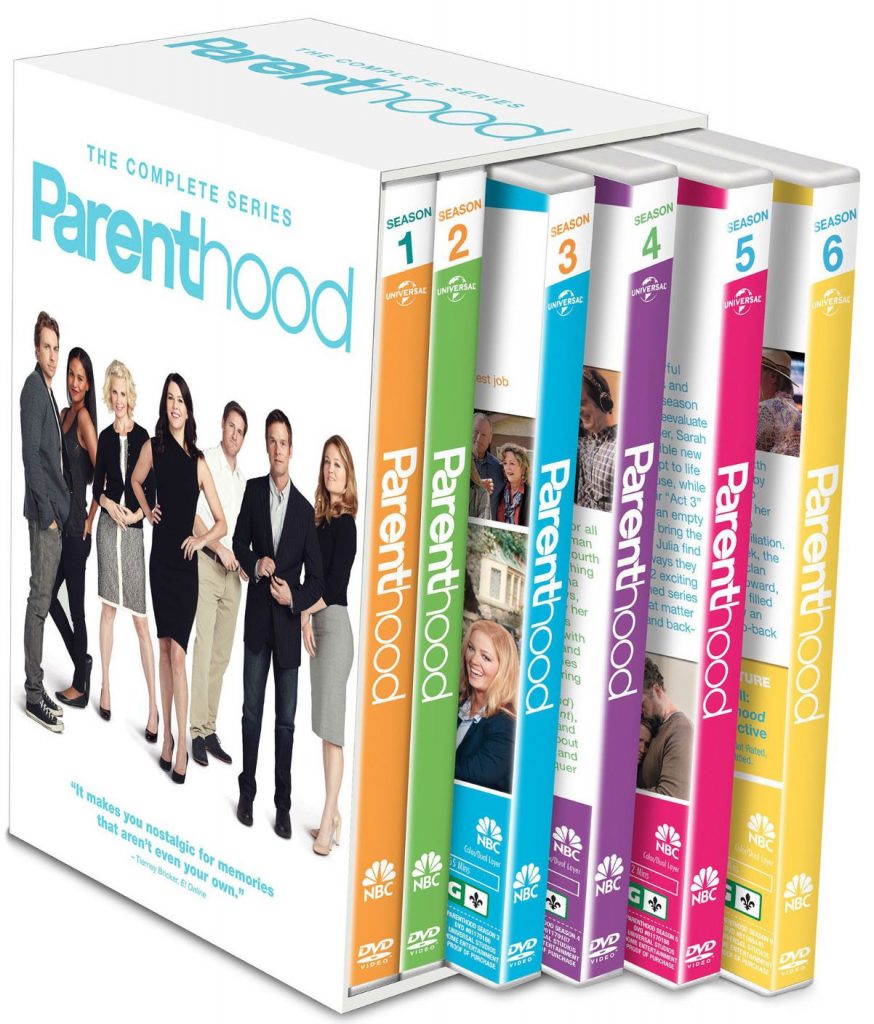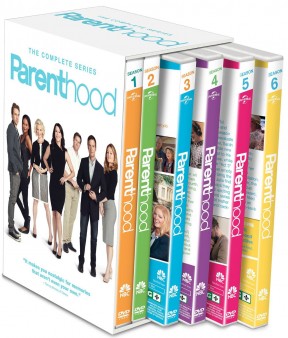 Yes, this second attempt at a weekly series actually surpassed the material that spawned it. Prolific small-screen scribe/producer Jason Katims put his own unique spin on this study of the triumphs, heartbreaks and everyday challenges of child-rearing in a rapidly changing world. That's "child" in the broadest sense as we spend six seasons with an extended, multi-generational brood, The Bravermans, in one of several deviations from The Buckman clan from Ron Howard's 1989 film and the short-lived 1990 spin-off. (That's a good thing, as I've come to view the original Parenthood as one of the oft-great Mr. Howard's lesser efforts.) It's still mighty witty, with terrific dialogue and pithy performances from a fantastic cast, but it's real drama and not the schmaltzy kind, without any over-reaches for dubious laughs. Most importantly, the DNA remains largely the same: rebellious teens, kids with real issues and a range of parenting styles that most moms and pops will find themselves relating to, sooner or later. As a bonus, the pacing of episodic television means that problems take time to work out, as in life, without a too-neat two-hour cinematic happy ending.
Most of the bonuses can be found in the front half of this 23-disc set: a total of six audio commentaries, deleted scenes and a few featurettes; but by the final season all they could muster was a so-so series retrospective. But the show's the thing, and if you were as curious as I was, now it's conveniently boxed up for us.