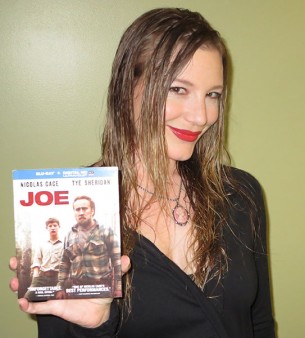 From director David Gordon Green comes an authentically pieced together drama about a morally confused man who finds redemption. For Green this project was a labor of love, a passing of the torch so to speak. Based on the book by Larry Brown, Joe was then adapted for the screen by Green's college professor Gary Hawkins and from that Green created his own version of Joe. It was Green's intense familiarity with his subject matter that gave this movie its thick muscular texture.
Not your usual Nicolas Cage movie, this one has a slow artistic burn, a quiet that you can feel deep in your bones. It's like watching something from another era. Cage turns in a spectacular performance as Joe Ransom, the high functioning alcoholic. Joe is a tightly wound man with a propensity for violence, a condition he attempts to temper with visits to the local brothel. He drinks too much, enjoys his hookers and has an obscure criminal past. Yet despite some of his more unsavory qualities Joe is a likeable character. He's an honest hard working man with kind tendencies and a moral code that doesn't often align with the law.
A well respected foreman of a tree poisoning crew Joe is the films anti-hero. His crew poisons perfectly healthy trees so the lumber company can replace them with more useful ones. It's this kind of cheeky dark humor that lifts the film out of its dour context. It's also a perfect example of what this film is: gritty, rough, and a little disturbing. Yet there is a restrained satisfaction that comes from seeing these characters develop through their actions, instead of a narrative.
Desperate for work, 15 year old Gary Jones (Tye Sheridan, Mud) approaches Joe begging a job for both himself and his father. While the tenacious kid proves he can work just as hard as anyone else on the crew, his father, Wade,  is another story. Wade (Gary Poulter) is a child abusing, hardcore alcoholic who has no interest in earning his keep. Putting food on the table for his mother and sister is up to Gary and it's a burden he doesn't bear lightly. Gary is the one bright light in an otherwise dark world, he has a strong work ethic and refuses to let life get the best of him. Reluctantly taking pity on the kid, Joe takes Gary under his wing and becomes a father figure to him. As his surrogate father Joe teaches Gary about the things that matter in life like driving, drinking beer and what the hookers like. Joe may not be the best role model, but he's better than Wade.
Despite the strides he takes to be a decent man, at times it seems the world is against him. As Joe works to nurture and protect his new friend despicable forces beyond his control draw ever closer. Wade and another scumbag, Willie (Ronnie Gene Blevins) both in their own respective ways, force Joe to lose control giving in to his animalistic instincts. While Wade seems to be more than just an antagonist it's Willie's only point. Willie only exists so we can see Joe riled up, a fact Blevins played up.
Gary Poulter brought an authenticity to his role that a Hollywood actor couldn't have, he really was a homeless alcoholic. He had that gravelly voice you hear on the streets, the pinched sunken in face of a long time substance abuser, and that carefree looseness required to survive. Casting him was a huge risk that paid off. Green wanted to expose the raw nerves of the poor south and his unique casting allowed him to do just that.
Sheridan's thoughtfully understated performance was the perfect contrast to Cage's brooding charismatic character. Both actors exude a quiet strength that builds into a powerful dynamic on screen exchange in remarkable performances between the two.  Cage outdoes himself in this role, this is the movie that could revamp his career. It's also obvious that between this and Mud, Sheridan has a bright future in Hollywood.
VIDEO QUALITY
[Rating:4/5]
Digitally filmed on the Arri Alexa Joe is presented by Lionsgate with an AVC encoded 1080p transfer in 2.35:1. Though it's a dark film without much color to it, the details are well presented even when dealing with shadows. Oddly enough, most of the films colors are represented in Cage's beard, autumn browns peppered with gray tones. Hard to say if that was purposefully done or not. Brilliant use of the locations and local color to set the cinematic feel of the movie, which was for the most part a crude gritty film with a slick sheen over it.
AUDIO QUALITY
[Rating:4/5]
Presented in lossless DTS-HD Master Audio 5.1,  Joe supplies a decent score with atmospheric sensibilities. Dialogue is clean and clear. The occasional gun fire explosion is just as immersive as the quietly dark thought provoking scenes. The score clearly amplifies the films mood gifting the audience with a surreal sense of companionship. Overall this is a predictably adequate sound track with little to complain about.
SPECIAL FEATURES
[Rating:2.5/5]
Commentary with Director David Gordon Green, Composer David Wingo and Actor Brian D.Mays — A fascinating commentary well worth listening to for its insights into the film
The Making of Joe : I highly recommend watching this spell binding behind the scenes look at what went into the production with cast and crew interviews.
The Long Gravel Drive: The Origins of Joe: a thorough look at both the history of Joe and how the story was developed for the screen.
Deleted Scenes:

Wade Black Widow
Wade and Willie Full Scene
Aurora Snow Says
OVERALL:
[Rating:4/5]
A tale of bleak morality that may be too grim for some yet satisfying for others. With its strong sense of foreboding and concealed sense of humor this is a movie that comes recommended. The powerful performances of Nicolas Cage, Tye Sheridan and Gary Poulter will stick with you long after the movie ends. And if nothing else, they are more than worth watching.
[amazon-product]B00IKM5OYW[/amazon-product]