"Darkness on the Edge of Town"
ABC's Once Upon a Time has returned for its mid-season premiere, and for once there are too many villains to count. Each one it seems, is in search of their own "happy ending," which, in my opinion, does not make for a riveting story. Perhaps my expectations were too high, but, really, what were the writers thinking?! Stuffing as many Disney characters as you can into one episode does not make it good. Quality over quantity would be a good motto to heed.
Here's the gist of it: Rumpelstiltskin recruits Dalmatian slayer Cruella De Vil, the sea witch Ursula and Maleficent to do his evil bidding. Villain status aside, what unites these three women is unclear. It feels like the writers tossed too many ideas together and instead of testing the strength of the storyline, threw it all together and said let's see what happens.
Given Rumpel's history with these ladies, they'd have to be crazy to trust him now. Or desperate. He's betrayed them in the past; he's stolen, lied and left them for dead. And yet when Rumpel is down on his luck, kicked out of Storybrooke, a man with no magic and a limp, now is when he chooses to seek these ladies out. A sign, perhaps, that Rumpel is also near despair.
Frankly I'm surprised the modern day Ursula let him in. She's apparently forgiven him, otherwise she wouldn't have let such a despicable man sleep in her apartment and eat her food while she works all day at the aquarium – a  job that clearly makes her miserable. Somehow, Ursula and Rumpel track down Cruella De Vil, who also finds herself on the verge of ruin as the FBI takes all she has including her husband. Cruella does manage to keep one very obvious fur coat and her old trademark sedan. It's the small things like this that can be very charming. It's a bad sign when the costumes and props become more exciting than the story.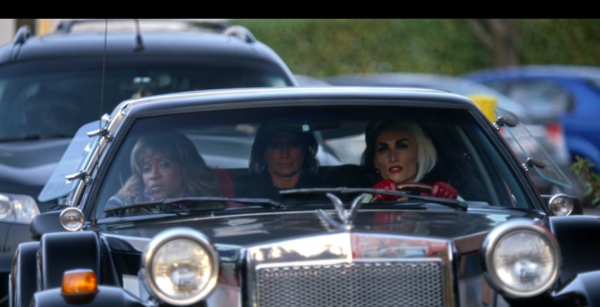 In a rather absurd turn of events, Rumpel convinces his fellow villains that they're all entitled to a happy ending. All they have to do is find the author; he'll rewrite them and TA-DA they'll all live happily ever after. Because no one actually wants to change, these villains don't want to earn their happiness, they just want to be gifted with it. Instead of taking responsibility and owning up to their own shortcomings, the villains have decided they are not to blame. No, it's the author who is at fault for all of their unhappiness. As Cruella so aptly put it, "I suppose that's better than blaming bad judgment and Gin." No kidding!
Regina might be one of the few villains who truly deserve a rewrite. She's changed, made sacrifices and earned more than a few hero points. But Rumpel? He hasn't changed one bit. He continues to manipulate Belle, even outside of Storybrooke. Speaking of which, I was thrilled to see a computer, even an old clunker, incorporated into the story. Can't wait to see how the "magic box" as Hook refers to it, will change Belle's life as she explore the Internet. Perhaps there will be some online dating in Belle's future?
The villains don't do much in this return, so to make up for it the writers threw a giant black winged monster into the mix. This particular beast eats those with the darkest heart or those with the most potential for darkness. When Regina and Emma take him on – guess which one of these new best friends he wants to eat? It's the blonde. Perhaps we're about to see a darker side of Emma Swan. That could make the rest of season four very interesting.
Overall this was a rather lackluster episode, it had too many ideas and not enough follow through. Plenty of strong female characters, but without a proper storyline they become pointless. I hate to see such wasted potential. I'm still holding out hope for next week's episode. Let's find that author and rewrite this fairy tale; the hunt is on!
Aurora Snow Says
Episode Rating:
[Rating:3/5]