"Sympathy for the De Vil"

Since her debut in the eleventh episode of this season, little has been known about Cruella De Vil's past. Until now. And it was worth the wait. "Sympathy for the De Vil" is a misleading title, yet that's exactly how the opening sequence of this episode makes you feel.
A young Cruella, she's the picture of innocence with those big blue eyes, as she stares up at her mother quivering with fear. Her mother's Dalmatian snarls at her baring his teeth, he's the enforcer. Unless Cruella wants to be doggy kibble she's going to stay in line. I instantly understand why the adult version of Cruella hated Dalmatians so. It was a brilliant back story.
Poor Cruella. Locked away in the attic by an evil mother. Forced to endure solitude for all eternity, whittling away her childhood friendless except for a few books and a stolen radio. As luck would have it, a nosy reporter came by looking for "interesting stories." Because that's what reporters do right – they go door to door asking for interviews? Maybe they did back then, it was a 1920's vibe.
The nosy reporter had heard stories about Cruella's mother, but nothing really about her daughter. No, he'd heard tell of her remarkable dog training skills. Mother's dogs were so well trained, it's hard to believe magic did not play a role. She had better control over her animals than Caesar the Dog Whisperer. It was impressive. And yet I wondered, if a woman could train her dogs like that, why couldn't she also teach her daughter to heel? The same principles must apply, in theory of course.
Mother turned the reporter away, obviously in a hurry to get rid of him but it was too late Cruella had spotted the visitor. Unbeknownst to Mother, Cruella called out to him from her far away attic, having heard his quest for an interesting story. She offered to give him one if only he'd set her free. The reporter rescued her, he was her knight in shining armor. The young adult Cruella wanted to go somewhere lively, a place her mother never would have approved of. She'd been hidden away for so long she was missing out on the world.
The reporter took her out for a night of dancing and drinking in exchange for her story. As Cruella shared her secrets, and that of her mothers the reporter fell in love and began to share some secrets of his own. He was no ordinary reporter. He was a writer with a magic pen and enchanted ink, whatever he wrote came true and to prove it he wrote for Cruella a diamond necklace and earrings (which instantly appeared). Impressed with his skills Cruella pledged to run away with him, she'd meet him at his hotel after she ended things with her mother. And that's where things get interesting.
The evil inside Cruella could no longer be contained. The author endowed her with the magic to control all animals and what she did next was so horrific, the scene could only be implied because those kinds of graphic details aren't meant for a PG-13 audience. Cruella had poisoned her own father! And every one of her mother's husbands thereafter. Mother wasn't keeping Cruella away from the world; she was saving the world from her insidious daughter.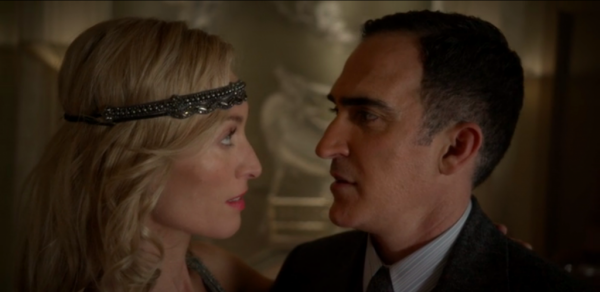 When his new love failed to show, the author went in search of her and what he found was devastating. Hunched over a sewing machine, he found the waif he'd danced with less than 24hrs hours putting the finishing touches on her new fur coat. After ordering her mothers Dalmatians to shred her to death, Cruella skinned them. Realizing his mistake the author fight over his magical ink which then leads to Cruella's makeover. No longer the hot blond, the ink morphs her into what we see now – a woman with crazy eyes, thickly drawn eyebrows and skunk like hair. It was a fitting transformation; her outward appearance finally reflected her true inner nature.
For once, we have a villain who was simply born that way. This is a new development for Once Upon a Time. Most of our villains have a good streak, or turn evil after some life-altering event. Not Cruella. That woman's heart is the blackest of them all. Or should I say was? Cruella was killed off right when she became a substantial character. Ugh. I'm sad to see her go. Maybe she'll be back like Zelena? Speaking of which, Zelena was thankfully absent from this episode and it was all the better because of it.
There were some interesting developments with Regina, Belle and Rumpel, but Cruella was the real star in this. It was her time to shine. It's not just the heroes who have their moments. And perhaps that's where OUAT is leading us, as Emma's heart turns dark. Cruella said it best, "Some people struggle not to be drawn in by the darkness. Ever since I was a little girl I said, why not splash in and have fun?" Heroes move over, the villains are about to enjoy some of your limelight.

Aurora Snow Says
Episode Rating:
[Rating:4/5]