Classé Sigma-SSP Surround Sound Preamp/Processor

An audio company that has been in the business for nearly four decades must be doing something right. That description aptly fits Classé Audio, a Canadian high-fidelity corporation that has been building preamplifiers and amplifiers since 1980. Classé products have been extremely well received by the press, and, most importantly, by home audio enthusiasts. The Sigma-SSP Surround Sound Preamp/Processor represents Classé's most recent entry into the home theater.

Out of the carton and into my home theater!

Good packaging reassures me that the component within will be first rate. This was certainly the case with the Sigma-SSP, right down to its custom-fitted baggie.  After I saw the "Assembled in China" label, the "Designed by Classé in Canada" label that followed was most reassuring. Like most high-end audio companies that make components overseas, Classé assuredly holds its own B&W group factory to very high quality standards, passing on the savings in labor costs to its consumers.
The black façade is simplicity itself (rack mounting is available with the supplied hardware). Starting the left side, there is a standby/on button changing from red to blue when powered up. Below are an IR window, a 6.35 mm headphone jack, a USB charging host connector designed for iPad™, iPod ®, and iPhone® and for installing firmware updates. Next is an HDMI port for a video camera or laptop computer. At the center is a blue-and-white display flanked on the left by a menu button and on the right a small mute button. A large rotary volume control with a range of -93.0dB to +14dB completes the front panel.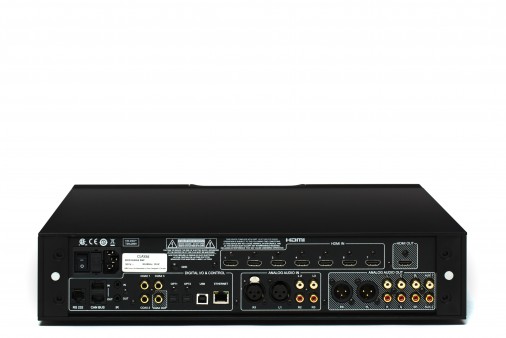 The rear panel is busy but neatly laid out.  At the top left are a Main Power On/Off Switch and a power cord receptacle. At the bottom left are an RS-232 port and a CAN-Bus Input/Output.  The CAN-Bus allows several Classé components to be interconnected (Note: This feature was not active in the current firmware version of the review sample.] There follow an IR Input and Output, three SPDIF coaxial inputs for digital devices, one SPDIF coaxial output, two optical inputs, a USB-B port for a computer, an Ethernet port for streaming audio via Airplay or DLNA as well as IP control for the Classé app. Moving further to the top right there are seven HDMI inputs and one HDMI output. Below are a pair of analog balanced inputs, a pair of single-ended inputs, and a bank of analog outputs (one balanced, six unbalanced). Of interest are the AUX1/2 outputs that can be configured for either a pair of rear channels, a pair of height channels or two-channel down-mix or mirroring the front L/R channels in a bi-amplified set up.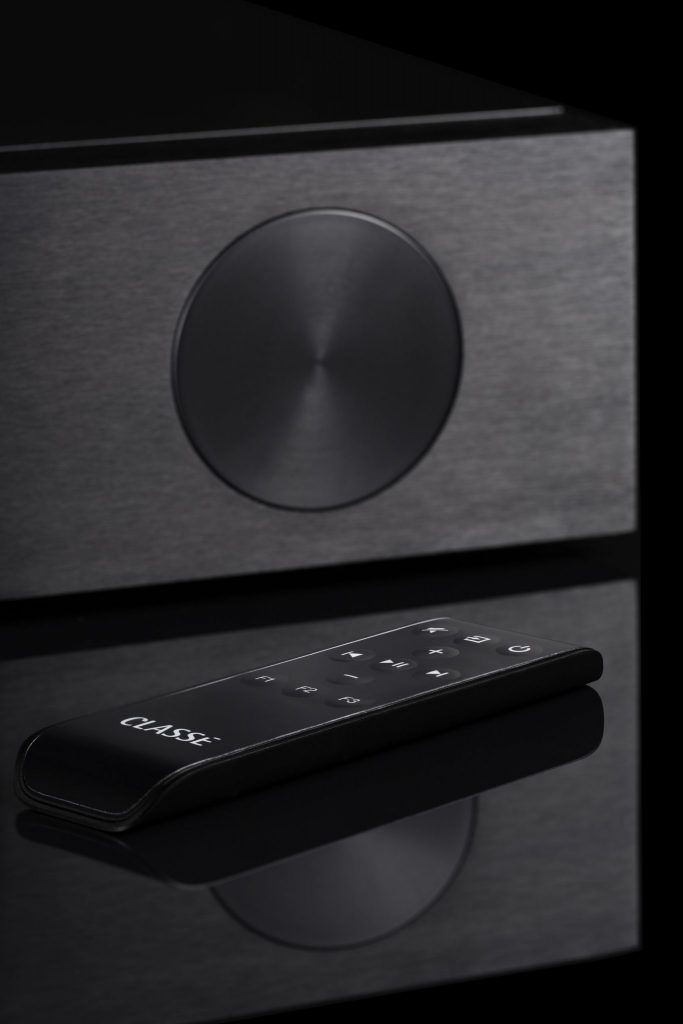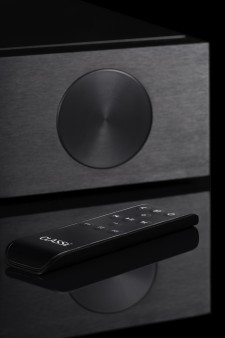 The remote control unit is very basic and provides mute/source selection/standby functions, volume up/down buttons, play control buttons for USB and network-connected sources, and three function keys (Fkeys) that can be programmed for specific functions or commands. According to company president David Nauber: "the remote for the Sigma SSP fits into our overall strategy for the product. Since we have the [Classé] app and many or most installations are likely to be controlled by either an automation system or universal remote…we did not want to include a full featured remote if it would likely just remain in the box. … As much of the product's cost as possible has gone into performance." For those wishing a bigger remote unit, there is the above-mentioned Classé mobile app.
Please Pick a Menu
The Sigma-SSP uses its System Set Up menu that perform the following operations:
Configure up to 18 source component inputs
Adjust loudspeaker parameters
Tailor the display screen
Set volume control parameters
Set up a parametric equalizer
Set up tone controls
Select Remote F key functions
Assign DC triggers
Teach IR commands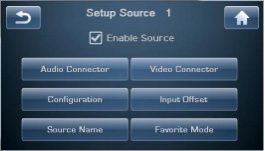 This is where the Classé Sigma-SSP surround pre/pro starts to separate itself from the field. Some time and perseverance is required to scroll through the menu screen pages. However, this initial (and lengthy) process is well worth doing for each source component in one's A/V system. Each source may be assigned a specific name, speaker configuration, favorite mode, video connector, and input offset.  The Favorite Mode can assign preselected post-processing sound modes to each source. The Input Offset adjustment allows the Sigma-SSP to address sources with widely varying volume levels, allowing each source to be played back at similar levels within a range from -10 db to +10 db.  The SSP can be customized to disable unused inputs, simplifying the source selection process as only the active inputs will be seen together, often on a single screen.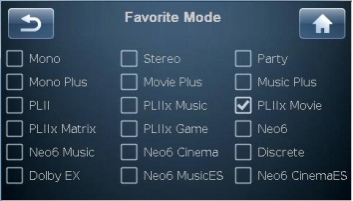 Some home theater owners have multiple analog music sources such as turntables, tape decks, and analog radios. A Digital Bypass turns off digital signal processing that provides a better signal path for such sources. The default display can be customized once all source components are set up; most users will settle for the default home screen.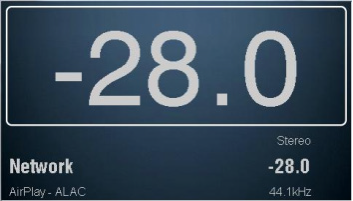 After all of that work, how did it work?

I have discussed the set up process at length because, as the old adage states, patience is a virtue. After completing the set up, this is easily one of the most versatile and sonically impressive surround processors that I have ever used.
After inserting the Classé Sigma-SSP and the Classé Sigma Amp5 amplifier (reviewed separately) in a multichannel system consisting of Martin Logan ESLs (CLX, EFX, Stage X) and a pair of Balanced Force 212 powered subwoofers, my high expectations for this pre/pro were well met. I could end the review right now by stating "trust me I'm a doctor," but in the current medical care climate, I better justify my conclusions with some details.

Audio or Video?

When you purchase a surround sound processor, you hope that it will mete out equal justice for sights and sounds. The Sigma-SSP's sonic virtues that emerged during subsequent listening sessions (after 100 hours break-in) are due in no small part to four Wolfson 8741 stereo DACs with differential output for each channel. The DACs are assigned to left/right channels, center/sub channels, and surround/auxiliary channels.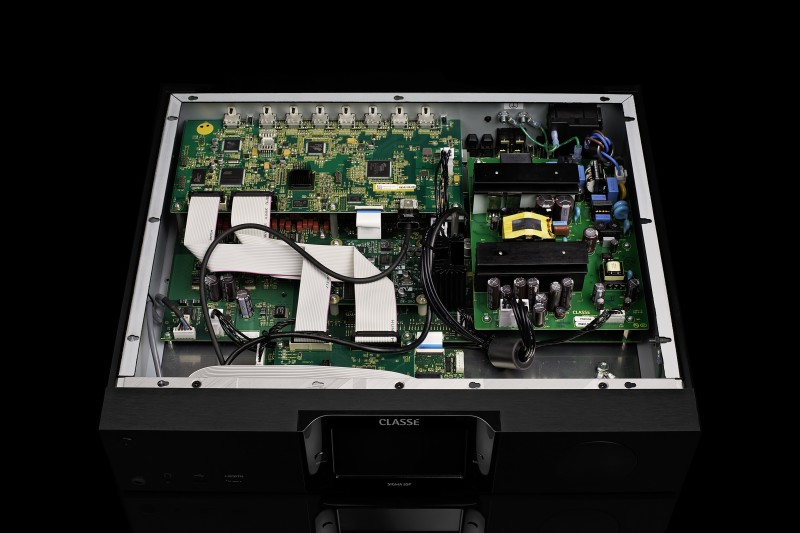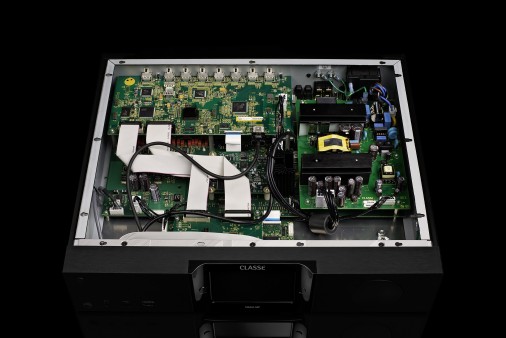 I listened to a number of audio-only Blu-ray Discs like the Decca reissue of Puccini's Turandot and Inscape's American Aggregate on Sono Luminus. SACDs included piano-centric releases like Joel Fan's West of the Sun (Reference Recordings) and Fiona Joy's Blue Dream (Little Hartley Music). Both provide great renditions of an instrument that is very challenging to record. A Red Book CD, Susan Nigro's delightful New Tunes for the Big Bassoon (Crystal Records) offers up the full body and versatility of the orchestra's largest woodwind. Played into the Sigma-SSP through my Oppo BDP-105 universal disc player, there was superb capture of each selection's essence, clear and uncolored.
Going to AirPlay sources, the SSP handles a large number of audio codecs: AAC, MP3, Apple Lossless, AIFF, and WAV. DLNA-supported formats are ALAC, MP3, FLAC, WAV, Ogg Vorbis, WMA, and AAC. This will be a boon to those storing music on their Macs or i-devices as I found out first hand with audio files on my iPad and MacBook Air. The USB port handles playback of computer-stored music files with resolutions up to 192kHz/24-bit. Cat Steven's Tea for the Tillerman, a 192kHz/24-bit download, has powerful guitar licks and distinctive vocals on Wild World. The Sigma-SSP partnered with the Oppo player got everything just right.
The Sigma-SSP's HDMI 1.4 ports will support all native video resolutions up to 1080p @ 24/50/60 fps. This surround pre/pro neither adds nor subtracts from what you see, leaving the signal processing up to the video source. A potentially important consideration for the future is that the Signa-SSP's cannot pass a native 4K or 8K signal.* Such source material is currently quite limited but would need a direct connection to a compatible display. The Video Preview function allows the video signal to be seen on the touch screen, particularly useful if the SSP is not in the same room as the home theater. Lossless high-resolution multichannel DTS-HD Master Audio and Dolby TrueHD codecs are supported; Auro 3D and Dolby Atmos are not.* There is a plethora of post-processing modes for handling mono and stereo sources: Movie Plus, Music Plus, Dolby PLII, Dolby PLIIx/PLIIz Music/Movie/ Matrix/Game, Neo6, Neo6 Music/Cinema/Discrete, Dolby EX, Neo6 Music/CinemaES.
Entering the video realm, the Blu-ray playlist included Into The Woods and Unbroken, and a premiere recording of the operatic version of Brokeback Mountain. Streaming Interstellar from the VUDU app on my Oppo player also looked quite impressive in 1080p. There were no obvious glitches at any native resolution from 480p to 1080p. While the less than pristine quality of many cable TV sources was readily evident, after all most so-called high-definition broadcasts are 720p, the 1080i channels like National Geographic and Discovery Networks looked pretty spectacular.

*(Editor's note: Classé sent us thus note after the writing of this review: "A video board upgrade to HDMI 2.0 with HDCP 2.2 will be offered in the future, so owners may upgrade when and if they need it. Likewise, the audio DSP board is upgradeable so a future version supporting Dolby Atmos will be offered. The SSP is limited to eight channels, so this will translate to 5.1.2. I'm not sure how many customers will require this, but it will be made available for those that do.")
Answered Prayers

Those who want to build their A/V systems around a do-everything component must consider both audio and video performance.  Fortunately, no compromises are needed with the Classé Sigma-SSP surround pre/pro. It handles nearly all the current sight and sound formats letting the source components do the math while the SSP simply propels the results onward to the amplification stage.

The Good
Excellent construction values
Superb versatility
Lots of inputs
Handles nearly all current audio and video formats
Outstanding DACs
The Bad
Remote control has limited functionality
Initial set up is labor-intensive
Cannot handle native 4K video sources or multichannel soundtracks like Dolby Atmos or Auro 3D in their native resolutions
The Scorecard:
Design/Ergonomics:
[Rating:4/5]
Performance:
[Rating:4.5/5]
Value:
[Rating:4/5]
Overall:
[Rating:4/5]
The Definitive Word

The Classé Sigma-SSP delivers superb performance with most of today's audio/video formats, and would serve as the heart and soul of a top-flight home theater system. Potential buyers should consider downloading the Classé mobile app as the supplied remote has limited functionality. Compared to Classé's flagship pre/pros SSP-800/CT-SSP (at approximately twice the price) this new unit has fewer balanced outputs and a more limited remote control, but adds more HDMI inputs, and, more importantly USB-B and Ethernet connectivity. Considering its outstanding audio performance and capable video signal management, the Classé Sigma-SSP should be well worth considering for home theater fans either when planning a new A/V system or when upgrading their current A/V systems.  Highly recommended.
Specifications :
USB audio up to 192k/24b
USB (Host) charging capability 2 Amps
AirPlay supported formats: AAC (8-320 kbps), Protected AAC (iTunes Store), HE-AAC, MP3 (8-320 kbps), MP3 VBR, Audible (formats 2,3,4), Audible Enhanced Audio (AAX, AAX+), Apple Lossless, AIFF, WAV
DLNA supported formats: Apple Lossless (ALAC), mp3, FLAC, WAV, Ogg Vorbiss, WMA, AAC
Frequency response: 8 Hz-200 kHz < 1dB, stereo digital bypass, 8 Hz-20 kHz < 0.5 dB, all other sources
Channel Matching (left to right) better than 0.05 dB
Distortion (THD+noise) 0.0005%, digital source/bypassed, analog source 0.002%, processed analog source
Maximum input level (single-ended) 2 Vrms (DSP), 4.5 Vrms (bypass)
Maximum input level (balanced) 4 Vrms (DSP), 9 Vrms (bypass)
Maximum output level (single-ended) 9 Vrms
Maximum output level (balanced) 18 Vrms
Gain Range: -93 dB to +14 dB
Input impedance (single ended) 100 k Ohms
Input impedance (balanced) 50 k Ohms
Output impedance (singled ended) 100 Ohms
Output impedance (balanced) 300 Ohms
Signal-to-noise ration (ref. 4Vrms input, unweighted) 104 dB bypassed analog source, 101 dB, processed analog source (re.full-scale input, unweighted) 105 dB, digital source
Channel separation > 100 dB
Channel matching (left to right) > 0.05 dB
Crosstalk (any input to any output) > -130 dB @ 1 kHz
Rated power consumption: 35 W
Mains voltage: 100-240 V, 50/60 Hz
Overall dimensions: 17.0" (433 mm) x 14.57" (370 mm) x 3.75" (95 mm) ( W x D x H)
Net Weight: 18 lb (8.21 kg)
More Information:
Classé Sigma-SSP surround pre/processor  (SRP $5000)