Shameless Season 5 Premiere: "Milk of the Gods"
The fifth season of Shameless kicks things off on a much brighter note than where season four left off. Season four, in my opinion, was the heaviest season of them all in which we saw a responsible Fiona build a life above the poverty line and then tear it down with a series of bad decisions. This season she's off to a good start, let's see how long it lasts.
Lip Gallagher who seemed to resist college, higher learning and a shot outside of his ghetto roots, now shows signs of change this season. He's become (dare I say it?) responsible. He's home for the summer, but he can't get his mind off of his wealthy princess of a girlfriend. Looks like Lip might be falling in love. Lying in bed, smoking, he ignores the call of his old friends, turning away from a drug-fueled night of partying to instead text his college girlfriend. Perhaps Lip has finally begun to believe what everyone has always said, he doesn't belong in the ghetto. He's finally realizing his future is brighter.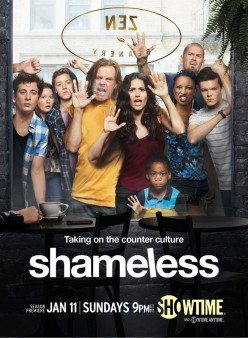 We last saw Frank Gallagher defying the Almighty himself, all but resurrected from the dead. Here Frank has a new liver and a new lease on life — so what does he do with it? *SPOILER ALERT* He builds a mini brewery in his basement, crafting the finest beer one can make from bacon and wood chips stolen from an outdoor playground. As Frank has calculated his fancy new liver can handle exactly one beer a day, so he reasons that beer should be as potent as possible. Hence Frank's motivation to brew 130 proof beer. And that is how drinking just one beer can land you naked in the middle of a park on a concrete table. One of the great mysteries of Shameless is whether or not we will ever see true change in Frank.
One character, who hasn't changed and yet also opened up dramatically, is Mickey Milkovich. After coming out to his father in a very public way, one might expect some life changing events, but for Mickey it almost looks like business as usual. His now public homosexuality doesn't seem to be affecting his very macho business. In fact it would seem he's experienced only positive repercussions since coming out. His boyfriend, Ian, is now working at home as the "manny" as they share a home with Mickey's wife and an assortment of other characters. It's one big happy family, Svetlana gets help with the baby, while still having a husband at home to pitch in and pay the bills.
It's hard to say where Ian Gallagher is headed, but nowhere good that's for sure. At first glance he seems great. He's in a loving committed relationship with Mickey. He sees his man off to work with a kiss goodbye and then goes about his day as a manny, feeding, changing and running errands with the baby. He swears he doesn't have a problem, and is as healthy as ever, but his sex drive says otherwise. Ian just can't get enough and he doesn't really care who with or where. With the baby in a stroller facing another direction, Ian and some dude he met at grocery store exchange hand jobs in the parking lot. Then later that day he's meeting another stranger in a restaurant bathroom. Then, that same evening he goes home to his man with an insatiable appetite for more. Ian won't listen to his family and refuses to think of himself as bi-polar. It's up to Mickey to get him to go, but Mickey doesn't yet know there's a problem.
The one character who starts the season off in a complete state of disarray is Veronica. She's discovering just how overwhelming motherhood can be. You lose your body, suddenly those boobs are no longer yours, they're the babies'. Everything you do is for the babies, or with the babies in mind. In those first few months, it's difficult to have an identity outside of being a human milk machine. V has had enough. Biting her nipples was the last straw. She wants to be herself again, and that begins with switching her loveable little munchkins over to formula.
Interestingly enough, its Kevin's motherly instincts that have kicked in. He's a complete natural. He's surfing the Internet for baby advice, chatting with other mothers in mommy chat rooms and finding solutions for the nipple biting. Veronica failed in her attempt to seduce her husband, he hardly thinks about sex these days. His over dedication to the babies might be causing a rift in the relationship.
Any real life parents will tell you that the challenges they're facing are very realistic, but often not talked about. And that's what I love about Shameless. This season continues the tradition of saying out loud what most people only think, ranging in topics from nipple biting to the joy of baby poop to grown women with daddy issues. This show is never afraid to go there.
Now that Frank is married and no longer using her for her liver, Sammi Gallagher doesn't know how to interact with her father. She was his buddy, his long lost daughter and his loving caretaker, but now she's just useless (to him).  So she's acting out in over-the-top ways that are almost unbelievable, even by Shameless standards. With complete disregard for her child Chuckie, she brings random men home to their little trailer and does pretty much what you'd expect. Sammi wants Frank to tell her to stop, to acknowledge her bad behavior, but what she doesn't understand is that he genuinely doesn't care. In a vain effort to get Daddy's attention Sammi sees to it that she's "caught" having sex in Sheila's living room, but Frank more or less shrugs his shoulders and moves on. The more Frank ignores, the worse it will get. Which leaves Sheila to clean up the mess.
Sheila has perhaps had one of the most dramatic character transformations. In season one she was a frightened agoraphobic who could hardly step foot in her front yard. Now she's the voice of reason. Sheila does her best to talk sense into both Frank and his misbehaving daughter, but her efforts may be for naught, because unless she stages an intervention of sorts neither will be listening to her anytime soon. They're both users and unbeknownst to Sheila she's an enabler.
All in all, the Gallaghers have set themselves up for an interesting summer. Carl is still the same old ornery kid and Debs is finding out what it's like to grow up. (Though neither character had much screen time in the premiere.) Fiona seems to have found a place where she can shine as a waitress. Patrons are leaving her hundred dollar tips, her boss is enamored with her and even rock stars are trying to get a piece of the Fiona action. One could speculate that we will see a pattern emerge with Fiona in which she builds up a good life only to once again tear it down, much to the dismay of the viewers who care so deeply about her success. Oh, but isn't destruction just so fun to watch? That's why we all tune in isn't it?
Aurora Snow Says
Episode Rating:
[Rating:4/5]