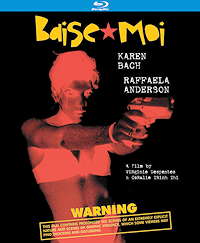 Baise-moi, the controversial French indie film from 2000, wears many monikers from feminist revenge thriller to graphic anti-porn. The title, which literally translates to "kiss me" but has a further slang meaning of "f**k me". The translation in the U.S. of "Rape Me" is completely wrong although rape does play a role in the film. One of the lead characters, Manu (Raffaela Anderson) is raped in one of the most brutal scenes of the film. After she shoots a man dead with his own gun, she later makes the acquaintance of porn addicted call girl Nadine (Karen Bach) who earlier that night strangled her overbearing roommate to death. The two women then go on a violent road trip that involves sex, murder, and robbery.
The film stirred lots of controversy in France over the non-simulated sex scenes performed in the film by the actors who were all involved in the porn industry in some way. The female directors, Virginie Despentes, who wrote the book the film is based on, and Coralie have been very adamant that their film is not pornography, and it isn't. It does contain explicit sexual content, but the sex is not the focus or shot in the way a porn film would be. A good insight into this, better than I could ever provide, would be the audio commentary from film historian Kat Ellinger, a rape survivor herself, who is able to speak to the elements of Baise-moi from a much more personal and different point of view.
Now, while there is much to be said and liked about the film from an empowerment perspective as well as the immediacy of its gritty indie production, its narrative is what makes it not standup very well. It seems too disjointed at times. There's not enough character development and there's too much coincidence and hard breaks from one scene to another. For instance, how Manu and Nadine just happen to meet is completely random and their total acceptance of each other's violence having hardly known each other seems strange. Still, this is a film that does manage to draw you into its chaotic world.

The Video
Baise-moi was shot on video so there's nothing much that can be done to make this low budget indie look any better than it has ever looked. There's a high amount of video noise and soft detail with low contrast. That said, this Blu-ray, framed in the original 1.66:1 and encoded in AVC 1080p is a minor upgrade over the previous DVD releases thanks to more efficient compression and higher bandwidth.
The Audio
The audio track for Baise-moi is a French DTS-HD Master Audio 2.0 stereo mix. The low budget indie production doesn't always have the best clarity and since I am not a native French speaker, I can't really speak to how intelligible it always is, but it sounds generally fine and the musical soundtrack of French hardcore punk, European electronica and what not comes through with a lot of punch.
The Supplements
The audio commentary, making of, and Q&A for this film really do bring a lot of deeper insight to what is a much misunderstood and controversial film. I recommend giving them all a go.
Audio commentary by film historian Kat Ellinger
The Making of Baise-Moi (SD; 00:40:33)
Women in Film Q&A Recording with the Directors (SD; 00:08:17)
Baise-Moi Trailer (SD)
THIRST Trailer (1080p)
The Final Assessment
An infamous arthouse classic from 2000 that gets a good bundle of enlightening bonus features. If you're a genre fan than definitely pick this up.
Baise-moi is out on Blu-ray July 27, 2021 from Kino Lorber
---
Rating Certificate: Not Rated
Studios & Distributed: Canal+ | Pan Européenne | Take One | Toute Premiere Fois | Kino Lorber
Directors: Virginie Despentes | Coralie
Written By: Virginie Despentes | Coralie
Run Time: 77 Mins.
Aspect Ratio: 1.66:1
Video Format: AVC 1080p
Primary Audio: French DTS-HD Master Audio 2.0 stereo
Subtitles: English SDH