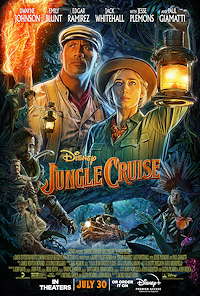 At last count, Jungle Cruise has become the seventh feature-length film inspired by a Disney theme park attraction. The script written Michael Green, Glenn Ficarra, and John Requa owes much of its  style to Pirates of the Caribbean, receives generous dollops of Raiders of the Lost Ark, and also pays homage to the classic 1951 film The African Queen.
In the 16th century, conquistador Don Aguirre (Edgar Ramirez) and his men became ill in a remote South American jungle during their long search for the Tears of the Moon, a tree whose petals can cure any disease. After the jungle tribesmen revive them, the conquistadors destroy their village. Aguirre and company are then cursed by the village shaman, turned to stone, and confined to the jungle for eternity. Fast-forward to 1916 England where MacGregor Houghton (Jack Whitehall) presents the Tears of the Moon research, conducted by his botanist sister (Emily Blunt), to the Royal Explorers Society. When her work is dismissed because of her sex, Lily steals an ancient arrowhead from a chest in the Society's storage area that will help her find the magic tree if she and MacGregor can outrace German Prince Joachim (Jesse Plemons) and his submariners.
The Houghton siblings head to the Amazon River and hire Captain Frank Wolff (Dwayne Johnson) who runs daily river cruises on an aging boat that has just been repossessed by harbormaster Nilo Nemolato (Paul Giamatti). Frank underbids Nilo for Lily's services and has his pet jaguar Proxima create a disturbance that allows him to recover his boat. With Lily and MacGregor on board, Frank then eludes Joachim's submarine attack. The trio   cruise down the Amazon using a map drawn by one of Aguirre's men. To complicate matters, they are attacked by a tribe of headhunters who turn out to be one of Frank's river cruise sideshow attractions. The tribal leader, Trader Sam (Veronica Falcon), translates the signs on the arrowhead that reveal the location of the magical tree that only blooms under a blood moon.
What follows is a fast-paced river ride with Joachim's Germans in hot pursuit of Frank's boat. Finally Frank tells Lily that he is really Aguirre's cartographer who escaped being turned to stone but must always remain near the river. His only hope to end his curse and his four-century-long life is to get one of the petals from the Tears of the Moon.
The chemistry between the odd couple of the massive Dwayne Johnson and the petite Emily Blunt percolates as Jungle Cruise moves down the Amazon. Lacking the choice repartee between Humphrey Bogart and Katherine Hepburn in The African Queen, Johnson and Blunt provide overused "skippy" and "pants" verbal exchanges that reflect the era's attitudes toward women. Whether or not you chuckle at DJ's corny jokes, they indicate that we should not take this storyline too seriously.  Jack Whitehead's portrayal of Lily's gay brother is overwrought but does offer an effective comic foil for the two leads. While Jesse Plemons's phony German accent never convinced me that he was a member of Kaiser Wilhelm's aristocracy, he is a relentless and boo-worthy adversary.  Jungle Cruise has plenty of CGI special effects in the same league as those in Pirates of the Caribbean and will keep your eyes glued to the screen.  Acclaimed film composer James Newton Howard delivers an energetic score that effectively supports the action generated by director Jaume Collet-Serra's spot-on pacing.  If you liked the Pirates of the Caribbean or the Indiana Jones film franchises, you will certainly enjoy Jungle Cruise. Whether viewed on big or small screens, you will get two hours of sheer entertainment and isn't that why you watch movies in the first place? Highly recommended.
Jungle Cruise is now being shown in theaters and is streaming on Disney+ with Premiere Access
---
Rating Certificate: PG-13 (for intense sequences of adventure violence)
Studios & Distributors: Walt Disney Pictures | Davis Entertainment | Seven Bucks Productions | Flynn Picture Company | Walt Disney Studios Motion Pictures
Country: USA
Language: English
Run Time: 127 Mins.
Aspect Ratio: 2.39:1
Director: Jaume Collet-Serra
Written By: Michael Green | Glenn Ficarra | John Requa
Release Date: Michael Green | Glenn Ficarra | John Requa