Estimated reading time: 7 minutes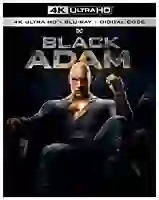 In the Black Adam comic books, the character is the dark alter-ego to Shazam and that is what DC and director Jaume Collet-Serra tried to carry over into this film. Dwayne Johnson stars as the titular antihero who was imprisoned for five thousand years.
Awakened in modern society by Adrianna Tomaz (Sarah Shahi), Teth Adam (Johnson) is told that the people of the city of Khandaq for whom he was once a champion, need him again. But Teth Adam has problems adjusting to the modern world and may not be the hero legend has painted him as. Adianna's son Amon (Bodhi Sabongui), a kid obseesed with superheroes and comic books, is certain Teth Adam is the champion they have all been waiting for to help free Khandaq from the foreign mercenaries controlling their lives and stealing their resources (READ: U.S. intervention in the Middle East).
Enter the Justice Society of America. A collection of superpowered heroes including Hawkman (Aldis Hodge), Doctor Fate (Pierce Brosnan), Atom Smasher (Noah Centineo), and Cyclone (Quintessa Swindell). They have been sent by Waller (Viola Davis) to get Teth Adam under control and make him give up the powers he was granted by the wizards thousands of years before. Showdowns ensue between the JSA and Adam until another enemy emerges who threatens Adranna, her son, and Kandaq.
There is a lot left out in the development of the character of Black Adam that makes for a underwhelming story arc. Anyone unfamiliar with the antihero from the comics may struggle to get the connection between this story and the much lighter Shazam. Therefore, research may be needed beforehand to fully grasp what is going on.
The film is not totally a disaster, however. As I went into it expecting the worst, I happened to be pleasantly surprised that it was not close to being the worst comic book movie I have seen. That honor goes to Thor Love & Thunder. Black Adam has a lot of good action, great eye candy visual effects, and even some comic relief that works well, which means it is perfectly adequate popcorn entertainment.
The Video
Black Adam was shot in 4.5K on the Arri Alexa LF and Arri Alexa Mini LF with various lenses in the anamorphic format. It uses a 4K digital intermediate and is mastered in Dolby Vision HDR. The 4K Ultra HD Blu-ray arrives in a 2.40:1 HEVC 2160p (4K UHD) Dolby Vision encodement.
The imagery on this disc is flawless. There is a thin layer of filmic "grain" that seems to be added to the image so that it does not look entirely digital. With that said it is still very pristine and richly detailed. Textures are etched into costumes. Shadows give up extended detail and nuance without crush or elevated black levels. The Dolby Vision grading also provides colorful visual effects as can be seen in the electric blue air cycles the bad guys ride around on or in the brilliant orange and red fire in the battle between Black Adam and the big villain.
The Audio
Black Adam comes with a Dolby Atmos mix. I was not impressed with this audio mix. I had to turn this up 6db above my normal listening levels, so it was mastered at a rather low level, but that is not the biggest issue. Although there is a lot of low frequency extension going on in this mix, it does not seem to hit with the impact it should. It is mostly EQ'd low frequency without the midrange punch. Sometimes explosions or crashes seem almost quiet but have the big low-end rumble. These are signs of this mix being dynamically compressed, but not necessarily peak limited.
The score and songs never have a chance to breathe. Musical swells do not ever seem to be able to escape from the din of the mix and, even early in the film when Smashing Pumpkins' "Bullet with Butterfly Wings" is used, there are no dynamics in the song. Most sounds seem to stay on the same plain. There is very little quiet-to-loud dynamic separation of sounds. There is also a sense that the height channels do not factor in much. They are there, but whatever is happening with them does not offer much height awareness. I almost got the feeling this was a mastering meant for streaming and not for disc. It reminded me of the lack of impact Godzilla vs. Kong had streaming on HBO Max versus the fantastic 4K Ultra HD mastering.
The Supplements
A good array featurettes is included on the Blu-ray Disc along with a couple of mini documentaries that delve into the history of Black Adam and the JSA in the comics.
Movies Anywhere Digital Code
Blu-ray w/Feature Film and Bonus Features
The History of Black Adam (1080p; 00:10:08) – The comic book origins of Black Adam.
Who is the Justice Society? (1080p; 00:14:16) The comic book origins of the JSA.
From Soul to Screen (1080p; 00:06:09)
Black Adam: A Flawed Hero 1080p; 00:05:09)
Black Adam: New Tech in an Old World (1080p; 00:04:49)
Black Adam: Taking Flight (1080p; 00:03:32)
Kahndaq: Designing a Nation (1080p; 00:06:27)
The ROCK of Eternity (1080p; 00:05:42)
Costumes Make the Hero (1080p; 00:08:25)
Black Adam: A New Type of Action (1080p; 00:06:38)
The Final Assessment
Black Adam is not a perfect film by any means and certainly will not save the DCEU, but it is better than a lot of the recent Marvel films (flame retardant suit fully activated). The visuals on this 4K Ultra HD disc are also fantastic despite what I feel is a disappointing Atmos mix.
---
Black Adam is out on 4K Ultra HD Combo Pack January 3, 2023, from Warner Bros.
---
Rating Certificate: PG-13 (for sequences of strong violence, intense action and some language.)
Studios & Distributors: Warner Bros. | New Line Cinema | DC Entertainment | Seven Bucks Productions | Flynn Picture Company | Motion Picture Foundation of Hungary | New Zealand Film Commission | Québec Production Services Tax Credit | Warner Bros. | Warner Bros. Home Entertainment
Director: Jaume Collet-Serra
Written By: Adam Sztykiel | Rory Haines | Sohrab Noshirvani
Run Time: 125 Mins.
Street Date: 3 January 2023
Aspect Ratio: 2.39:1
Video Format: HEVC 2160p (4K UHD)
HDR Format: Dolby Vision (HDR10 Compatible)
HDR10 Metadata:

MaxLL: 718 nits
MaxFALL: 301 nits

Primary Audio: English Dolby Atmos (Dolby TrueHD 7.1 Core)
Secondary Audio: English DD 5.1 | English Descriptive Audio | French DD 5.1 | German Dolby Atmos | German DD 5.1 | German Descriptive Audio | Italian Dolby Atmos | Italian DD 5.1 | Spanish DD 5.1
Subtitles: English SDH | French | German SDH | Italian SDH | Spanish | Danish | Finnish | Norwegian | Swedish